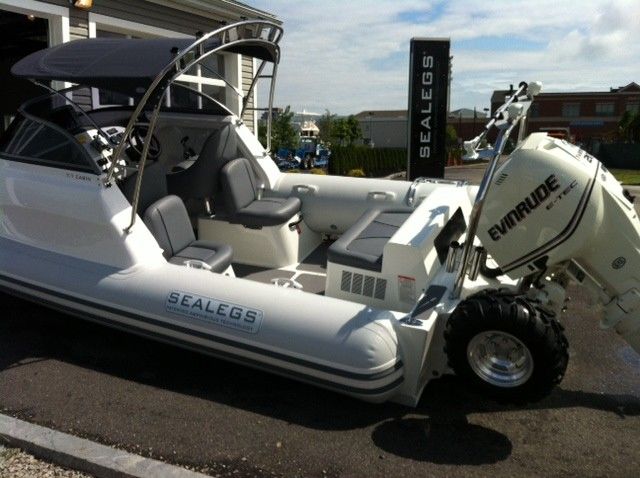 Photo Credit: Kellie Speed
Million dollar oceanfront dream home? Check. Yacht and private dock? Check. Sealegs amphibious boat? We thought not.
Introducing the newest in luxury powerboats known as Sealegs, possibly one of the coolest boats we have seen in a long time. Picture it as an speedboat with wheels. The amphibious vehicle can drive six miles per hour on land and into the water where it can reach speeds up to 40 mph. We recently visited the only US location in Hingham, Massachusetts where we caught up with CEO and co-founder David McKee Wright, who was in town from New Zealand, to learn a little more about the brand while getting a firsthand test drive of the boat.
"Sealegs was really a concept borne out of convenience," he said. "It is aimed at people who own a beautiful waterfront home and want to take a boat right into the water in just five minutes without the hassle of getting it into the water. It really takes the stress out of boating. Having the ability to just grab a rod, be on the water in five minutes and go fishing? That to me is priceless."
These all-aluminum boats are popular with the military because they have the mobility of an all-terrain vehicle that can quickly and easily turn into a powerboat with the simple flip of a switch. Once the boat is in the water and the switch is flipped, the tires rise above the waterline and it is simple to drive on the water. "It really goes beyond recreational use," he added. "There are so many practical purposes to Sealegs. I like to say we never came to the US. We came to New England. We chose to set up our North American office in Hingham because the area is ideal for its islands, bays and harbors."
There are five models available, including the largest, most luxurious model — the 7.7 meter Cabin and 7.7 meter RIB vessels. Prices begin at $159,000. Sealegs North America is located at 2 Essington Drive in Hingham. For more information, call (888) 4SEALEGS or visit their
official site
.
Photo Courtesy of Sealegs
Photo Courtesy of Sealegs
Photo Courtesy of Sealegs
Photo Courtesy of Sealegs