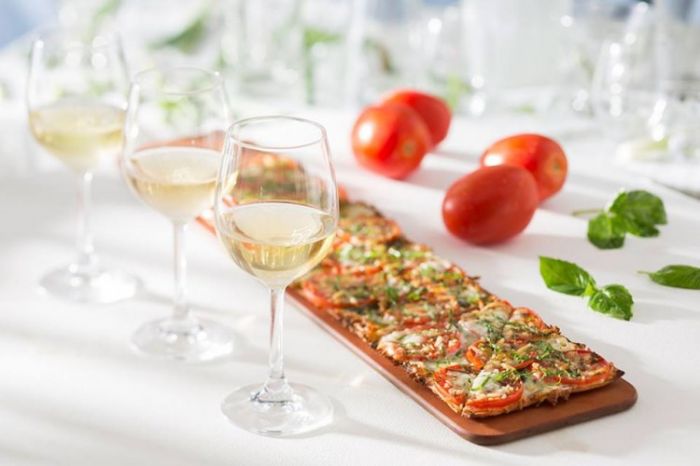 Seasons 52
Seasons 52, the fresh grill restaurant featuring seasonal menus and weekly specialty menus, has just opened in Chestnut Hill. Each healthful dish here isprepared in appropriate portion sizes with no item on the menu weighing in at more than 475 calories. From flatbreads to mini-desserts, you won't mind indulging here knowing you aren't overindulging.
We visited the restaurant on opening night November 14. It seemed to be off to a great start with a bustling bar, live entertainment and a full dining room. Our friendly server greeted us and suggested a wine from the impressive wine list of more than 100 bottles, 60 of which are available by the glass. Wines can price in at nearly $20 by the glass, which was a bit of a sticker shock when the bartender suggested a Chardonnay.
The restaurant focuses on natural cooking techniques like wood-fire grilling, brick-oven cooking and caramelizing vegetables with small amounts of seasoning and oil. We got started with a sampling of the beautifully presented cider-glazed grilled chicken skewers served standing up with a pineapple around the skewers placed atop a cool apple slaw with sundried cranberries and toasted pumpkin seeds. The grilled garlic pesto chicken flatbread was addictingly good topped with mozzarella cheese, balsamic onions, roasted red peppers and fresh arugula.
Once we were finished with our appetizers, another server cleared our plates and asked if we wanted coffee or desserts (we hadn't ordered dinner yet and realize the restaurant has some kinks to work out). For main entrees, we loved the juicy maple glazed half chicken served with a side of fall vegetables topped with a flavorful chicken jus. We also sampled the cedar plank salmon, which was ordered well but arrived rare. Our server apologized for the err and whisked it back to the kitchen. A few minutes later, the dish reappeared but was still somewhat under cooked at a medium rare temperature.
For desserts, Seasons 52 offers a nice array of "mini indulgences," perfectly portioned sweet treats that include everything from chocolate peanut butter mousse, key lime pie and pecan pie with vanilla mousse to Belgian chocolate rocky road, pumpkin pie with ginger snap crust and a raspberry chocolate chip cannoli (our favorite).
Seasons 52 is located at 220 Boylston Street in Chestnut Hill, Mass. For more information, call (617) 558-1152 or visit www.seasons52.com.
Seasons 52
Seasons 52