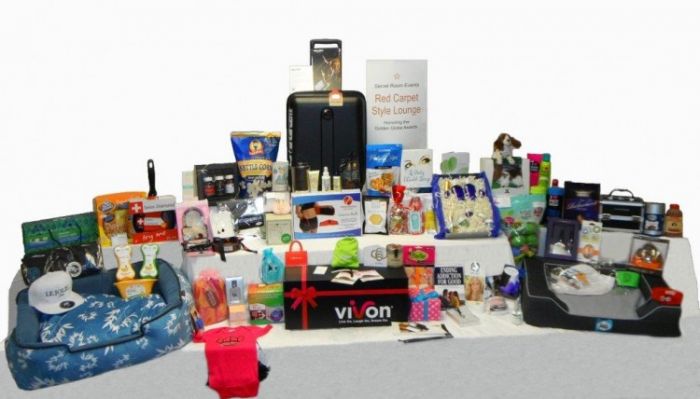 Secret Room Events
Secret Room Events Golden Globe Style Lounge Gifting Suite! Wow! The name speak for itself! Little that I knew that this year was going to be invite to it! Yes, I received an email from the wonderful Rita Branch the face and one of the owners of Secret Room Events to RSVP ME! I was accepted to go! Yayyyy! Enough with my exiting story! Well, this doesn't happen everyday day, its only once a year! However, It really makes it worthwhile to wait for it! Let me walk you through step by step so you become me and you feel like a celebrity too!
After the Valet parking, I arrived at the check in table with my PR score girl provide by Secret Room Events! Nice! There is the real Red Carpet with the Step and Repeat wall! OMG! Toni Garrn is on it! The angel from Victory Secret, I was wondering when Leo Decaprio was going to show up since she is his girl friend! My legs started shaking! I was thinking that I should wore flat shoes to keep myself more relax. OMG! Bruce Dern a Golden Globe nominee from the movie Nebraska is next! I love that movie! It did remind me the good old time that my grand father used to talk about it! No way! There is Joe Lo Truglio from Brooklyn Nine Nine! He is a nominee too! He is with His Wife and his doggy! A doggy in a gifting suite? Never though about it but its supercool to see it happening! I love Joe in the TV show, he is my favorite, I love to take a picture with him! But, I said to myself "this is too much for me and it just the beginning but I have to keep myself together!" Well, my turn to be in the red carpet! Yeeesss! I felt like a celebrity and posed like one of them too! Now, I understood the reason celebrities gals wear high heels to make them look more sexy and I was so happy that I didn't wear my flat shoes, nailed it!
My Pr girl took me to my first stop, Peta! I see the beautiful billboard with the picture of Eva Mendes nude with a cuote " Rather go naked than to wear fur." PETA's animal rights campaigns include ending fur and leather use meat and dairy consumption fishing hunting trapping factory farming circuses bull fighting, etc. It really touched my heart, then I understood the reason Joe Lo Truglio brough his doggy to the Gifting Suite. Now, I like him more:) We went to the meet all the sponsors, Pet Head has an amazing shampoo that I love the smell! I was wondering if they could do one for myself! lol! Wow! Vivon gave me a bed for my lovely doggy "kuskus" better than a tempura bed! I was wondering if i can have one for me, but i was to shy to ask for it, well, kuskus, he may have to take my bed and I will take his! lol! Love this bed from Vivon! We stopped by the Francesca Jewelry, their jewelry was amazing and their model, super hot! I wana look like her, glad I got a nice neckless, It Jewelry was one of the kind, all the way from Australia! Here I am about to meet their main sponsor, South Beach Skin care! Dermatologist recommended Lifecell Skin is an anti aging cream that helps reduce the appearance of wrinkles & fine lines! Do you want to try it? go to Lifecell & LeJolie.com, trust me, you wont be disappointed!:} My PR girl took me to all the sponsors and I love them all and the swag bag too! Awesome experience!
Celebrities may receive many perks but they have a responsibility to give back to the less fortunate or the ones that can't speak for themselves like animals. I have a doggy that I would give my life for him, therefore, peta did it for me! Secret Room Events cares for the sponsors, the celebrities and the animals! I realized that is not just about receiving goodies, it is about giving back too! Love rubbing elbows with my favorite Celebrities but among all that, I love the Secret Room Events Gifting Suite experience! Can't top that! You are one of the kind! Thank you Rita Branch for all the perks and for making me feel like a real celebrity! You made my dream come through! Hope to see you soon!:) xoxo
As guests leave they will be gifted an amazing gift bag with so many goodies from the following gift bag sponsors:
Lorenza Filati
Pioneer Pet Products
Delsey
Food should taste good
Crabtree & Evelyn
Just for red heads beauty products
Tuvaluhome
Letarte
Ponytail pals
Klassy Kouture
Kernel seasons
Pela case
Musq cosmetics
Go! Sac duffel bags
Byron Baycookie company
Serenity Skincare, natural & organic
Next Pharmaceuticals
Wendell Estate honey
One-step ahead
Couture By Sophie
Nocturnal workshop
Thorlos/Experia socks
Therasage
Skini-inc.com,
Beverly Hillscosmetic and laser center
Brown books publishing group BBPG
The purr-ifier
RX clinical cosmeceutials
Made by my dad introduces Frogglez goggles
Concealed Carrie
The fifth paw
DWP dog products
Mary Jurekdesigns,Inc,
Make my day Beautiful! Cosmeceutical Skin care and makeup
Bootzies
The Mug Hugger
Ending Addition for good
Amamante Nursing wear
Grandma's secret spot remover
Terry Top
Eco eggs by Maud Borup
Pretzel perfection
UPF sunshop
Pursenal Butler Purse Stands and Accessories
Box Sox
Southern Belle Boutique
Gas light Popcorn
Secret Room Events Red Carpet Style Lounge to include Peta Pet Lounge, filled with so many goodies for all our Pets we love so much.
Special thanks to Rita Branch of Secret Room Events for a taste of the Golden Globe spectacular experience.
Contacts
Secret Room Events: Rita Branch rita@secretroomevents.com
JC Olivera, Secret Room Events
Bruce Dern
JC Olivera, Secret Room Events
Colin Walker
JC Olivera, Secret Room Events
James Dumon
JC Olivera, Secret Room Events
Jim O'Hare
JC Olivera, Secret Room Events
Joe Lo Truglio
JC Olivera, Secret Room Events
Toni Garrn
JC Olivera, Secret Room Events
Tony Hale