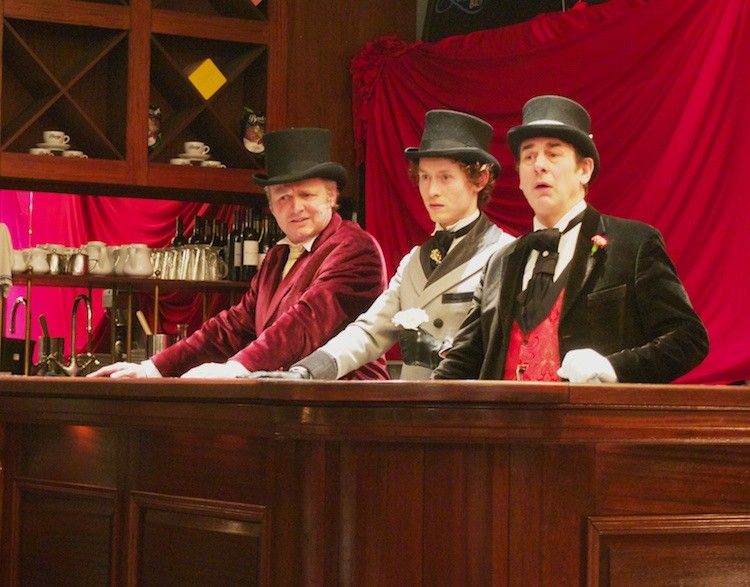 Columbia Hillen
Dublin enjoys an enduring reputation for theatrical productions but, unfortunately, tourists often don't look beyond - and some hotel concierges don't bother to advise beyond - the usual downtown stalwarts of the Abbey, the Gaiety and the Gate.
Yet, with a tad bit more inquiry, a whole new world of quietly sparkling theatrical gems appear, often offering visitors not only better value for money but also delightful surprises.
For something different, while still remaining firmly in the downtown area, try Bewley's Café on the lively pedestrian shopping walkway known as Grafton Street that runs from the corner of Trinity College to St. Stephens' Green.
The esoteric façade of Bewley's (see photo), which is located centrally between these two points, is instantly recognizable, having lost little of its old world charm. Taking inspiration from the great European cafes of Paris and Vienna, owner Ernest Bewley – whose family started its tea and coffee empire by landing an unprecedented cargo of 2,099 chests of tea directly from China to Dublin, thereby breaking the then East India Tea Company's monopoly - undertook a complete refurbishment of the building many years ago, influenced also by exotic oriental tearooms and Egyptian architecture. Thus the colourful façade, inspired by the discovery of Tutankhamen's Tomb in 1922, complemented by six magnificent stained glass windows by renowned artist Harry Clarke installed in 1931.
The grandeur of the café led to its becoming an essential part of the social, literary and cultural life of Dublin in the mid-1900s and a regular haunt for Ireland's most famous artistic figures, including James Joyce (who mentioned the cafe in his book 'Dubliners'), Patrick Kavanagh, Samuel Beckett and Sean O'Casey, and more recently Bob Geldof and Sinead O'Connor.
Building upon that legacy, Bewley's now hosts both lunchtime and evening theatrical performances (http://bewleys.com/bewleys-grafton-street-cafe/bewleys-theatre) at which guests not only absorb the old world ambiance around them, but enjoy fine food and the skills of some very talented actors.
My companion and I have enjoyed several shows there over the years, the most recent in mid-April being Oscar Wilde's 'The Picture of Dorian Gray,' on the second floor overlooking the street with candlelit tables decorated with a single red carnation in a slim white vase, the ceiling featuring intricate cornice mouldings and a hanging chandelier, an open fireplace and framed portraits of Irish literary luminaries on the walls.
The show, adapted and directed by Alice Coghlan, starred Michael James Ford, Simon Coury and Michael Winder and is highly recommended. The choreography is sharp and precise with performers utilizing every open space between diners' tables – including a bar area in the corner - as they cross and crisscross the imaginary stage, the restaurant floor, thus indicating changes of time and place, while successfully maintaining suspense as the plot develops to its dramatic finale. Some annoying noises emanated from the street outside – actors said later it was the worst they had experienced – but lines were spoken loudly enough to drown them out while the excellent acting, with performers playing several different characters, absorbed our interest so much that the street noise often faded into the background of our consciousness. The only stage props were two chairs, a palette and a standing easel, with no painting on it.
Unfortunately, due to time pressure, we were unable to see the lunch-time play, 'Mangan's Last Gasp,' a world premiere. Directed by Iseult Golden, it focuses on an imaginary death-bed encounter between Irish writer James Clarence Mangan, considered Ireland's greatest poet before Yeats, and Dr. William Wilde, Oscar's father, ophthalmologist and founder of Dublin's Eye and Ear clinic. Both surreal and darkly comical, it stars Gerard Lee as Mangan and Michael James as Wilde.
Many wonderful Irish theatre productions take place in locations outside downtown Dublin, so on this particular visit to Dublin we decided to try something new and headed for the Marino College of Further Education beside Connelly House close to the main train and bus station, where 'Freud's Last Session' was being presented by The Orchard Theatre Company of Limerick as part of the local Five Lamps Festival (http://www.fivelampsarts.ie/theatre).  Here, on a creatively designed stage in a classroom with tiers of school benches, we thoroughly enjoyed a passionate conversational duet between Pius McGrath and David Collins, acting as psychoanalyst Sigmund Freud and CS Lewis, the Irish writer of fantasy literature including the Narnia series, who meet at Freud's London home and discuss – mostly from diametrically opposed positions – philosophical issues such as love, sex, death, God and the meaning of life. The play was directed by Simon Thompson. 
So next time you're in Dublin, keep in mind that theatre is bountiful citywide. It's just a matter of investigation.
Columbia Hillen
Columbia Hillen
Columbia Hillen
evabirdthisle