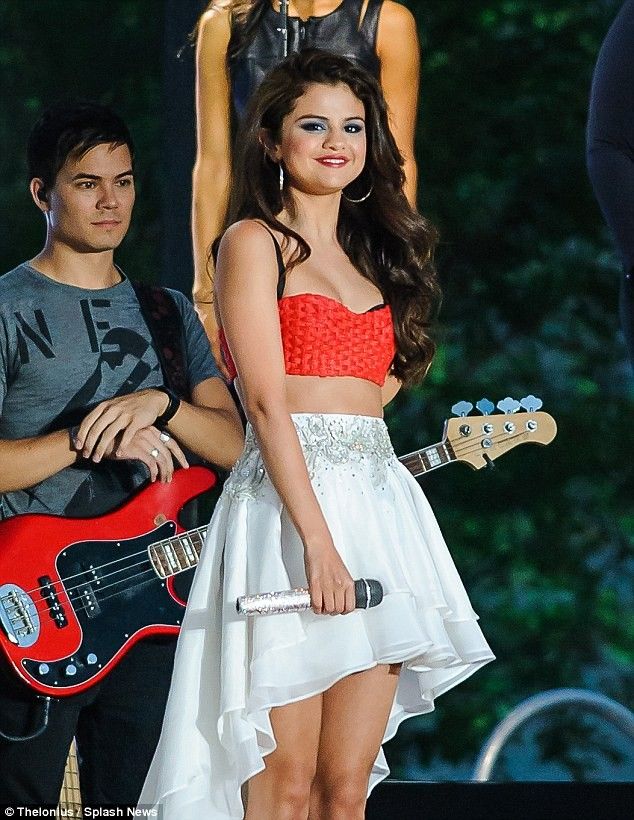 Thelonius/Splash News
I can respect a patriotic color scheme, and sometimes red, white and blue isn't the easiest set of color to work with, but Selena Gomez completely missed the mark with her Fourth of July ensemble. Wearing some expensive couture that unfortunately looked downright cheap at first glance, heroutfit only went from bad to worse on further inspection. A shame, because Gomez is quite the looker.


Temperatures in New York soared to 80 degrees on Saturday.
And Selena Gomez looked red hot in her bra-top and high-low skirt during a pre-taped concert at Liberty State Park for Macy's Fourth of July Fireworks Spectacular.

The Spring Breakers starlet - who turns 21 next month - flaunted her cleavage, midriff and long legs in a red-braided top and bridal-white cascading skirt.
The Come & Get It singer finished off her patriotic ensemble with blue eyeshadow, an iridescent microphone and white gladiator heels.
The 37th annual event will air live on NBC Thursday with performances from Selena, her BFF Taylor Swift, Tim McGraw, Mariah Carey and her husband Nick Cannon. (Read More)