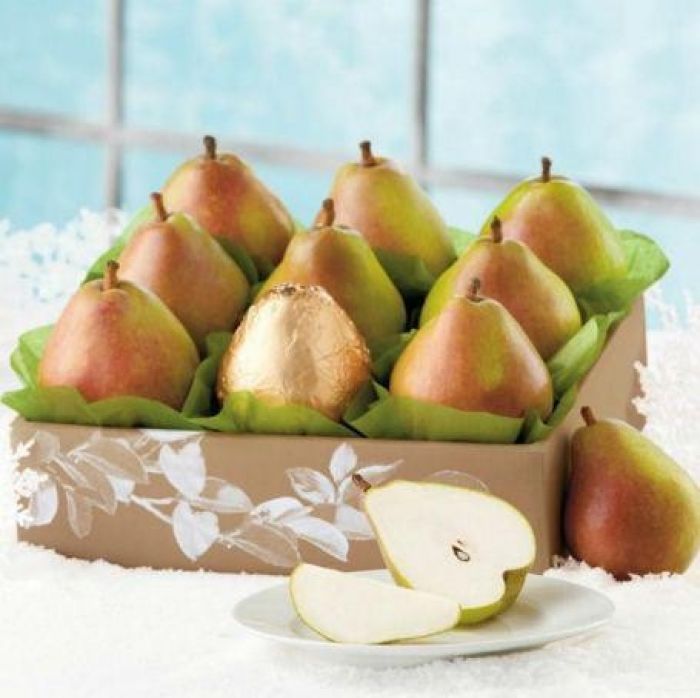 Harry & David
Now that Valentine's Day is fast approaching, how can you send your loved one something special to let them know you care about them in a healthful way? Check out Harry & David's lineup of beautiful fruit baskets.
We love the Valentine's Day pear gift box filled with nine juicy Royal Riviera Pears. These sweet fruits come are grown in southern Oregon where they are hand picked and now dressed up with pink foil and candy heart stickers to celebrate this special day. We think there is no better or easier way to say "Be Mine" or "I love you."
Whether you slice them up and add them to your favorite salad or dessert or simply prefer to eat them as they are, you will love these incredibly fresh and juicy pears. And the best part? You can order them online and have them shipped directly to your Valentine's door.
When the box arrives, be sure to keep the pears in the original box with the cover on at room temperature. They have fully ripened when the base of the stem yields slightly to gentle pressure. Once this occurs, you can place the pears in the refrigerator and enjoy for up to 10 days.
Harry & Davidalso has acute Valentines-themed handmade gingerbread house and a date night-in dinner for two, includes a creamy lobster bisque soup, delicious lobster risotto and two perfectly rich chocolate cakes.
For more information, call (800) 547-3033 or visit www.harryanddavid.com.