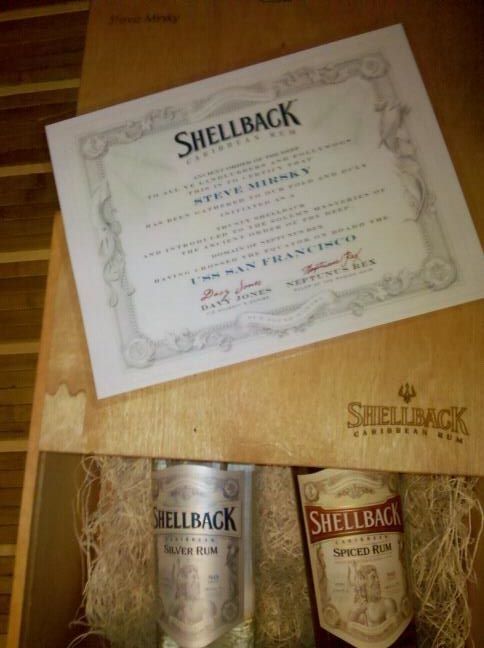 Steve Mirsky
Shellback Rum takes fan building seriously. It starts with their "crossing the line ceremony" where you become an actual shellback…a shellback? Think English privateers…lots of times synonymous with pirates…trading Caribbean rum as a commodity on the high seas. Sailors plied death-defyingly rough ocean swells and when somebody crossed the equator, it was a huge deal! Not many survived long enough to make it through the eve of this equatorial crossing. Those that did were dubbed shellbacks.
The tradition continues across the world and now Shellback Caribbean Rum celebrates today's wogs who rise above mediocrity experiencing mysteries of the unknown. Here's how it works…pollywogs, meaning those of who haven't yet tried Shellback rum receive subpoenas to appear before King Neptune & His Court. Upon tasting, you get to print out your very own certificate on their website declaring, "Ancient order of the deep….To all ye landlubbers and pollywogs….This is to certify that you have been gathered to our fold and duly initiated as a trusty shellback and introduced to the solemn mysteries of the ancient order of the deep."
"Shellbacks understand who they are today isn't who they will be tomorrow. New experiences continue to define and shape them as they evolve as people", says Gerard Thoukis, Shellback Caribbean rum ambassador. "Best of all is the rum speaks for itself". I'll climb aboard with him there! A tasty new introduction to the world of rum, Shellback's Silver and Spiced bottles offer a smooth and undiluted flavor profile at a $16 price point that trounces competing brands.
Tasting both, vanilla is immediately apparent on the nose and palate. Distilled at the century-old West Indies Rum Distillery in Barbados, Shellback also features floral overtones layered with a light tropical fruitiness. A smooth, clean finish defines the Silver while the Spiced is aged for 1 year in Bourbon oak barrels with no added sugar or artificial flavors. An impressive lineup of natural spices sourced from around the world infuse each bottle. Like cinnamon bark oil from Sri Lanka; ginger oil from China and Africa; clove oil from Madagascar and India; nutmeg from Indonesia; cassia from Vietnam and China; vanilla from Madagascar and allspice from the Caribbean.
Jump aboard matie!
Photo courtesy of Steve Mirsky. Coverage made possible by participating in a sponsored tasting.