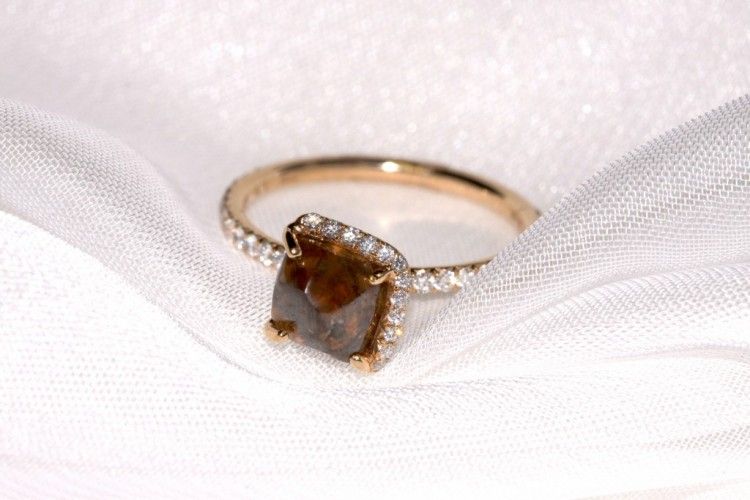 Diamond in the Rough
Got rose gold fever? This warm alternative look to white or yellow gold originated in the 1920s from a triple banded-gold ring made by Cartier. It has become a phenomena in recent years. Rose gold has become a hot ticket item in jewelry shops and online. Now, soon-to-be-brides are reveling over this 'pretty in pink' gold for their engagement rings and wedding bands.
What exactly makes rose gold rosy? Gold is mixed with copper to create this warm tone. The typical mixture is 75% gold and 25% copper. Increasing the amount of copper to 50% would create a red gold instead. Why has this simple mixture become so popular? Women are looking for an alternative look for their engagement rings. In a sea of platinum and gold jewelry its easy to see why women are allured by this flirty pink tone. Rose gold provides an alternative to the traditional look. It is especially complimentary to many skin tones and provides a warm setting to enhance the clarity and beauty of stones with extraordinary color.
The use of rose gold in design rough diamond jewelry allows for a dynamic and originaldesign. Rose gold juxtaposed to a green gemstone can create the perfect harmony of contrast.Guess what!? Add vivid pink micro pave diamonds and you've got a stunner piece (of course, if your budget allows). This type of gold can also compliment a dark stone such as a chocolate brown or champagne colored gem. The multiple tones play and dance together in the light to create a visual master piece. Rose gold becomes an additional tool in the arsenal of design.
Check out this beautiful 18k rose gold Champagne Bubbles ring above. This particular diamond ring features a 2.70 carat chocolate brown uncut diamond accented by a half-halo of micro pave diamonds. The 18k rose gold setting is a flattering compliment to the natural rich color of the center gem. For more information about this piece, please call 888-245-5145 or email info@diamondintherough.com.