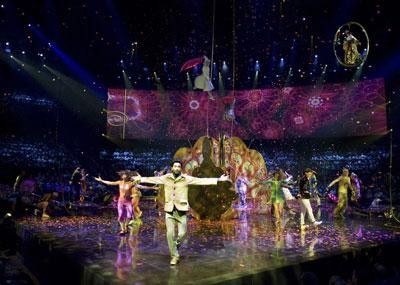 LasVegas.com
I have been seeing more and more articles geared toward family-friendly activities taking place throughout Las Vegas lately, and decided I would answer back with this these shows that will please adults far more than children, if children are even allowed (I am guessing the X Burlesque show doesn't, right? Sure hope not.).
Cirque du Soleil's LOVE at the Mirage takes audiences on a magical journey through the fantastical world depicted by the timeless music of the Beatles. Acrobatics, aerialists and a cast of colorful, intriguing characters combine to create a mystifying visual pared with the already sensational soundtrack. Read More
Billed as "The Sexiest Show on Earth," X Burlesque at the Flamingo showcases the talent of six beautiful women and their seductive dance moves, which span from slow and sensual to gyrating and upbeat numbers to create a titillating feast for the eyes. Read More
"Le Rêve - The Dream" is one vision you won't want to wake up from. Le Rêve, which means "The Dream" in French, is all about leaving reality behind to explore the sometimes surreal and dark world of the subconscious during sleep.
The water-based show at Wynn Las Vegas, was inspired by a 1932 painting of the same name by Pablo Picasso. The painting, which portrays Picasso's mistress, is colorful and abstract -- qualities that are also embodied in the show. Read More