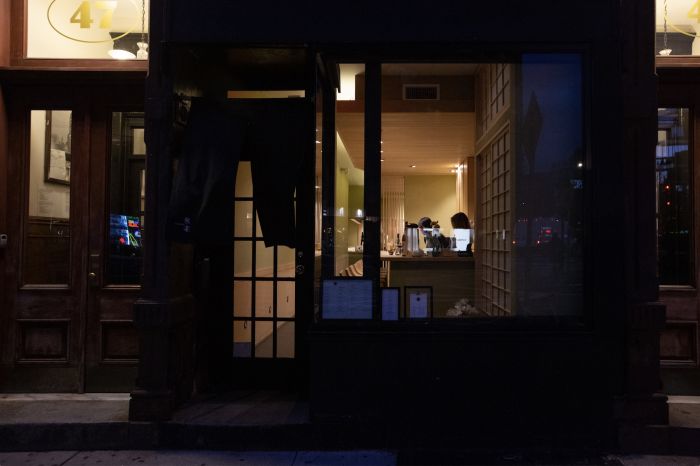 Shuraku
It is no secret that some of the best Japanese restaurants outside of Japan are found in New York. The secret, however, is found at Shuraku, a hidden gem located in the heart of West Village. Easy to miss from the outside, Shuraku (located on 47th 8th Avenue) is a restaurant offering an evolution of Japanese cuisine. With a focus on Japanese Robatayki and Izakaya, Shuraku offers a curated menu focused on seasonal ingredients from Japan and around the world.
At the kitchen's helm is Chef and Owner Joe Conti, an Italian-American from New Jersey who spent nearly two decades in Corporate America before pursuing his passion in restaurants full-time, having trained at acclaimed New York restaurant, Torishin, and gathering inspiration from time spent in Asia.
Shuraku means place of gathering ("shu") - an ethos represented throughout the restaurant from its design to the essential dining experience. Chef Conti can be found every evening behind the Chef's Counter, allowing him to attain the feeling as if guests were joining him at home in his kitchen. This is the core of Chef Conti's hospitality.
The restaurant celebrates minimalism while bringing a piece of Japan to NYC with traditional pottery and influences to its decor. The chef's table provides a special experience for diners, allowing the guests to experience watching the chefs at work - a dazzling spectacle as if watching a show.
Simplicity and quality is key at Shuraku. At the heart of Shuraku's menu is its eight-course omakase tasting menu, a seasonal rotation of Chef Conti's inspiration and dedication to traditional Japanese techniques, while using the freshest specialty ingredients from Japan like Miyazaki Wagyu A5 Beef and fish from the famed Toyosu Fish Market in Tokyo. The precise heat from the Japanese imported grill allows the clean and natural flavors shine. Beyond the seasonal menu, Chef Conti offers a menu served a la carte throughout the restaurant, featuring his take on Japanese favorites like Karaage (traditional Japanese fried chicken that takes the Shuraku team three days to prepare) and Tako Wasabi, made entirely in-house with Hokkaido Octopus, and beyond.
We sat down to talk to Chef Conti to talk all things Shuraku and pick his brain about Japanese grilling.
JL: What should people know about the Japanese grilling technique that one may not know?
JC: Japanese grilling is all about bringing out the natural flavors of quality ingredients. You stand with the highest quality fish, beef, chicken or vegetables and the goal is to highlight and enhance the flavor. There are no heavy sauces or overpowering spices. Just a touch of sake or salt, maybe a hint of butter or soy. That's it! We let the ingredients speak for them selves.
JL: What was the most memorable/impactful dining experience and why?
JC: The first night we opened after months of restaurant design, menu design, recipe testing, sake selection, focusing on every detail you can image about the customer experience, our very first customer leaned over the counter to me and said "you guys have the coolest toilet." I just starting laughing. You try to pay some much attention to plating and service and its the toilet that was the stand out. It is so memorable for me because it reaffirmed that the attention to all the little details are what creates the overall experience.
JL: What is the quintessential dish at Shuraku and why?
JC: We have a seasonal appetizer that changes every six weeks or so based on what we can get from the Tokyo fish markets and local vegetables. I love this concept of using ingredients that are seasonal fresh and just the way they are intended to be. I also think our Karaage (fried chicken) and an icy cold Sapporo is pretty representative. We spend an inordinate amount of time finessing that recipe to make it just the way we want it.
JL: Favorite ingredient to cook with and why?
JC: Bonito Dashi. Dashi is a broth we make with Bonito and Kombu. You end up using this broth in so many dishes across the restaurants from marinates to soup bases, vegetable dipping sauces, etc. It is really fundamental to Japanese cooking and it give each restaurant its unique flavor profile.
JL: Kitchen tool you can't live without?
JC: A razor sharp knife. The first thing I was taught in a Japanese kitchen was how to sharpen my knife and to make sure it was always razor sharp. It is the tool of the craft.
JL: Secret weapon spice/ingredient/technique?
JC: Ichiyaboshi or Kobujime. These are techniques for air drying or kombu curing meets (usually whole fish or chicken) overnight. The process really concentrates the flavors and creates unique textures.
Shuraku is located at 47 8th Ave, between Jane Street and Horatio Street. The restaurant is open for dinner Tuesday through Sunday. Reservations are accepted via Resy or by calling (212) 807-0010. For more information, visit www.shurakunyc.com, or follow @shurakunyc on Instagram and Facebook.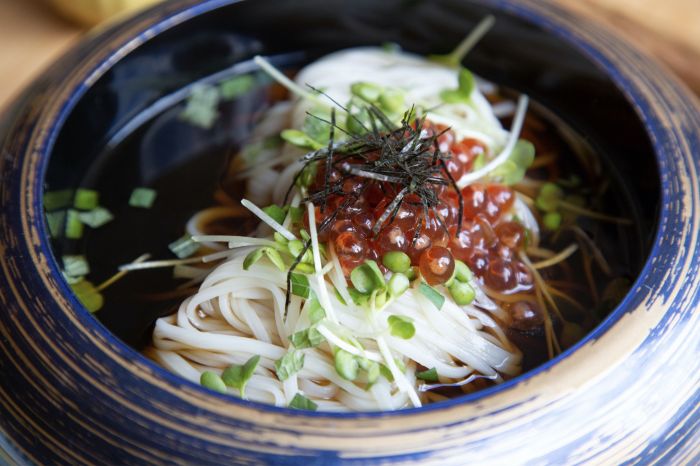 Kathryn Michael Sheldon