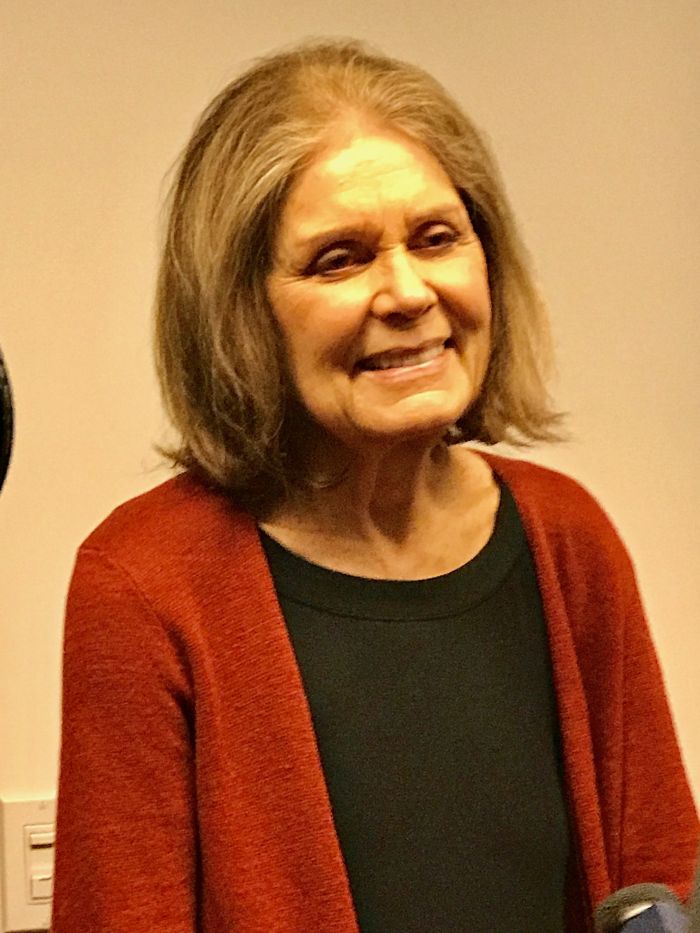 Jill Weinlen
Listening to Gloria Steinem while she was a featured speaker at "A Conversation on DACA" at Los Angeles City College, I learned this 83-year-old activist still works hard to give women a voice. Hours before she arrived in California, she was campaigning for Marie Newman, Congressional candidate in the city of Chicago, against Dan Lipinski who inherited his seat. Steinem tweeted out "Lipinski pretends to be a Democrat, but votes with Trump against healthcare, minimum wage, reproduction rights, and LGBTQ rights," She urged everyone to get out and support Newman. "It's crucial," said Steinem.
Inside the Herb Alpert Music Center, the lecture hall was filled with students, facility and community members eager to hear the wisdom of Steinem. She started out by saying – 'Trump is not my president. We have all the powers we had [before Trump was elected] of lobbying and pressuring and making clear that the political consequences are great. We may look up and feel powerless and think there's nothing we can do, but it's not true. There are things we can do at each level."
As a writer, lecturer, political activist, and feminist organizer, this media spokesperson travels around the world discussing issues about equality, sex and race, gender roles and child abuse. Through non-violent conflict resolution, she aims to teach peace and motivate others to rise up for justice.
Gloria graduated from Smith College in 1956. Within a few years, she became a brilliant feature writer and political columnist for New York Magazine. During the 1960s, she wrote a two-part series titled A Bunny Tale, about going undercover as a bunny at the Playboy Club. The articles proved the injustice women receive in these Men Only Clubs.
In the 1970s, Steinem co-founded Ms. magazine and remained one of its editors for fifteen years. She continues to serve as a consulting editor for Ms. and was instrumental in the magazine's move to join and be published by the Feminist Majority Foundation. Steinem educated women by saying, "Remember I'm not crazy, the system is crazy," reflecting how women in the 70s were made to feel crazy if they worked outside their home. They were made to feel like second-class citizens. "In the 70s, if you were a feminist, you were labeled a lesbian," said Steinem. "There were all kinds of myths that are gone now. We are the majority."
Discussing the repercussions from the recent decision to rescind the Deferred Action for Childhood Arrivals (DACA) program, initiated under President Barack Obama in 2012, Steinem told the audience "People should not be bargaining chips." She told her audience, she is more comfortable speaking at Los Angeles City College than Harvard or Yale. "It's far more interesting because we all look like the people in our country and can instruct one another."
After marching in the second Women's March, she voiced how there is more unification right now than last year at the first National Women's March. Many of these empowered women found a sense of unity and purpose in the #MeToo movement. She strongly believes black women were a huge part of the civil rights, and the heart of feminist activism. She gave examples of how black women voted overwhelmingly for Hillary Clinton in the 2016 US presidential election, while white women voted more for Trump. "Black women are more feminists than white women. Look at what they did for Doug Jones in Alabama," Steinem said.
Now that Dreamers are rising up with allies and pushing forward, Steinem believes "We need Dreamers in this country. They are more motivated, hardworking and have lower arrests," Steinem said. "Don't say what should I do today, say what can I do today. There are people all around who will listen to you and ask what can they do," Steinem said. "I've been around a long time and have never seen such social activism to have a voice and make a change. The Dream Act bill shouldn't be included with border wall funding or increasing border security. It's not about politics, it's about people."