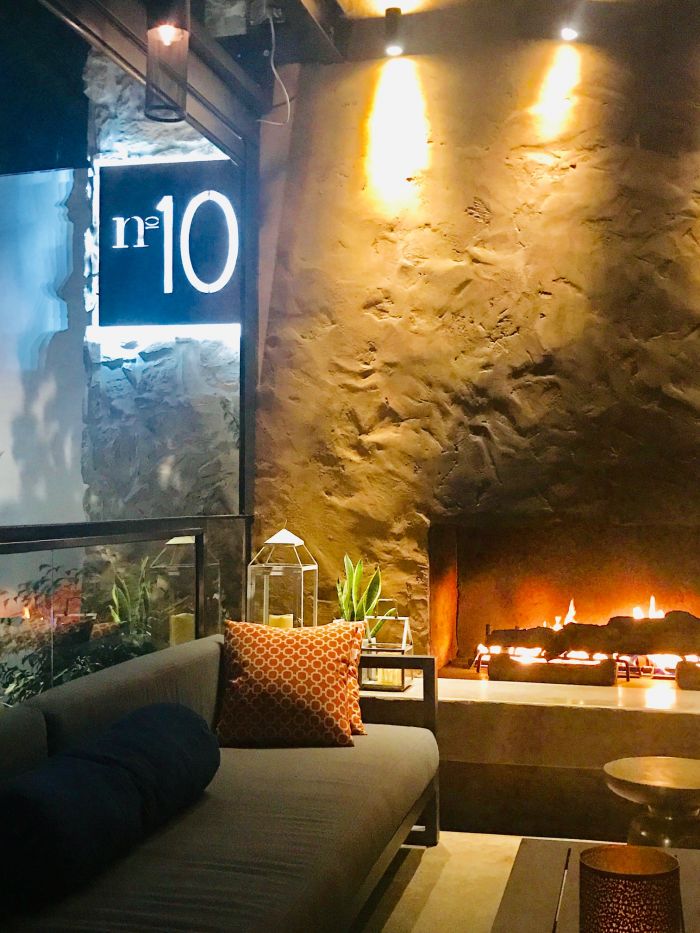 Photo by Jill Weinlein
Los Angeles restaurant No. 10 is named after the number on the jersey of former Juventus soccer star Alessandro Del Piero. This 2006 World Cup winner's restaurant took over the ground floor of an office building and transformed it into a sexy, Spacecraft-designed club-like dining venue. It's lively in the evening, with a weekend DJ spinning music out on the open-air dining patio and lounge. On Wednesday, they offer live jazz to enhance one's dining experience.
Inside the front lounge area are huge copper dome lights and a wide marble bar with a peek-through kitchen window. The dimly-lit dining room has a few deep circular booths, and tables with rich and comfortable leather chairs. General Manager Maurizio La Rose runs the restaurant smoothly chatting with guests, pouring flutes of Prosecco, and helping whenever needed.
The outdoor dining patio offers a flickering fireplace lounge area featuring two comfy gray couches decorated with pumpkin colored pillows. It's an ideal spot for a cocktail and charcuterie board or after dinner drink and dessert.
Starting with a long and thick charred Mediterranean octopus tentacle, it was served with cooked broccoli, white grapefruit sections, a swirl of yogurt, and delightful crispy chickpeas giving this dish a touch of crunchiness.
Enjoying a glass Forchir Pinot Grigio with chef Fabio and Chef Parker's Tartufata white sauce pie, it arrived piping hot with melted spheres of burrata, shavings of black truffles and decorative squash blossoms. The thin crust had crispy edges that were cut into 8 pieces. Chef Parker likes to create seasonal dishes that feature hand-picked, organically-grown vegetables and herbs.
Studying the pasta section, the Paccheri with Maine lobster; Ravioli with butternut squash; and Pappardelle with lamb ragu and shavings of white truffles sounded appealing. We decided on the Paccheri that was served in a bowl with large and smooth pasta tubes. They were mixed with chunks of lobster, tomatoes and onions, sautéed in olive oil and garlic, before olives and a sprinkle of oregano and basil topped this dish. It was dazzled with a splash of crustacean broth offering the essence of the sea.
Other popular entrees include Diver scallops in a caviar sauce; roasted duck breast and thigh with polenta; grilled Australian lamb chop served with eggplant caponata; and Mediterranean sea bass. The Spigola al Cartoccio Mediterranean Sea Bass is vacuum-sealed and steamed with sliced zucchini, potatoes, fennel, olives and herbs. The sous vide vegetables provide a healthy side dish with this protein.
With seven desserts offered, we opted for the Mele in Gabbia that arrived on a plate with layers of sliced apples stacked with golden raisins and a pleasing scoop of cinnamon gelato on top. Chocolate lovers will enjoy the rich N10 Sphere made with three different types of chocolate and meringue into a semifreddo. When delivered to us, it looked like a chocolate and gold snowball. It arrives with a luscious chocolate sauce to be poured on top of this classic semi-frozen treat that has the texture of frozen mousse.
No. 10 offers a contemporary Italian seasonal menu prepared by American and Italian chefs blending their gastronomic cultures into a creative new wave of Italian delights.
Open at 6 p.m. nightly. 8436 W 3rd St. (310)924-2011.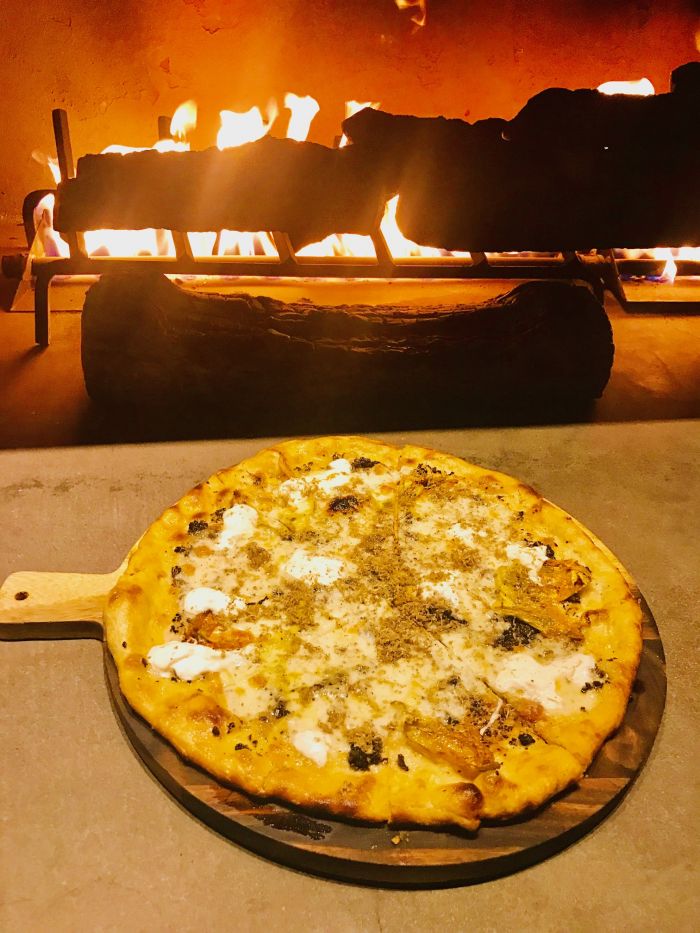 Photo by Jill Weinlein
No. 10 offers salads, pasta, pizza, and seafood with an Italian flair.