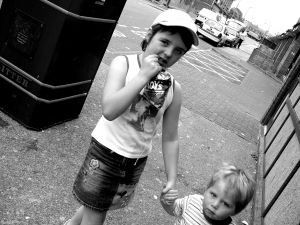 image from sxc.hu
The rich and famous never do anything in small measures. They propose with a huge diamond and get married in even grander style. Remember the reality star Kim Kardashian's engagement ring from ex-husband Kris Humphries? That 20.5-carat sparkler reportedly cost 2 million dollars. Their high-profile wedding was broadcasted on reality TV and supposedly cost a whopping 10 million dollars. This amount is a paltry sum though compared to the cost of Lady Diana and Prince Charles' fairytale wedding, which is said to have cost $115 million. Sadly, their union didn't have a happy ending. When the rich and famous divorce, it can get nasty. Sometimes the bulk of divorce settlements fall on child custody. Below are some of the most expensive child custody battles.
Russell Simmons and Kimora Lee Simmons
Russell and Kimora first met when she was only 17. They got married after four years of dating in December of 1998 and had two daughters Ming and Aoki born in 2000 and 2002 respectively. The couple separated in 2006 and Kimora filed for divorce in 2009, which was finalized in January of 2009. Russell agreed to pay the amount of $40,000 each month in child support for his daughters, which will continue until the girls reach the age of 19 ½.
Charlie Sheen and Brooke Mueller
In 2010, Charlie Sheen was at the top of his career, becoming the highest paid actor for his role on the television show,Two and a Half Men. In fact, he earned $1.8 million for each episode. A bulk of that fortune went to his 2011 divorce settlement with Brooke Mueller, which includes $55,000 monthly support for their twin sons, Bob and Max. In June 2011, Sheen's former bosses--at Warner Bros. Television--were ordered to garnish the "Two and a Half Men" star's wages to make sure that the monthly child support was met.
Francois-Henri Pinault and Linda Evangelista
When model Linda Evangelista gave birth to a son, Augustin James, on the 11th of October in 2006, she refused to name her son's biological father, sparking a myriad of rumors. It was only in late June of 2011 that Evangelista revealed her son's paternity, when she filed court papers for child support. The father in question is billionaire Frenchman Francois-Henri Pinault who was at that time already married to actress Salma Hayek. When Evangelista finally filed for child support order at the Manhattan Family Court, she reportedly demanded $46,000 from Pinault as monthly child support. In the court papers, the model declared that she was spending the said amount on their 5-year-old son's expenses, which include bodyguards and a round-the-clock nanny. Several days before their scheduled trial, Evangelista and Pinault finally agreed on an out-of-court settlement, though it was never revealed if the model's demands were all met.
Child custody battles can be nasty especially if they drag on for years. They can also drain your finances. In fact, Gossip Girl actress Kelly Rutherford has declared bankruptcy following a still ongoing divorce and custody dispute with her second husband, German businessman Daniel Giersch. Should you ever find yourself in a custody battle and don't want want to drain your finances, you can take advantage of affordable monthly rates from legal services providers such as Legal Shield. Before you reach a settlement with your soon-to-be ex-spouse, make sure that your children's best interests will be covered.