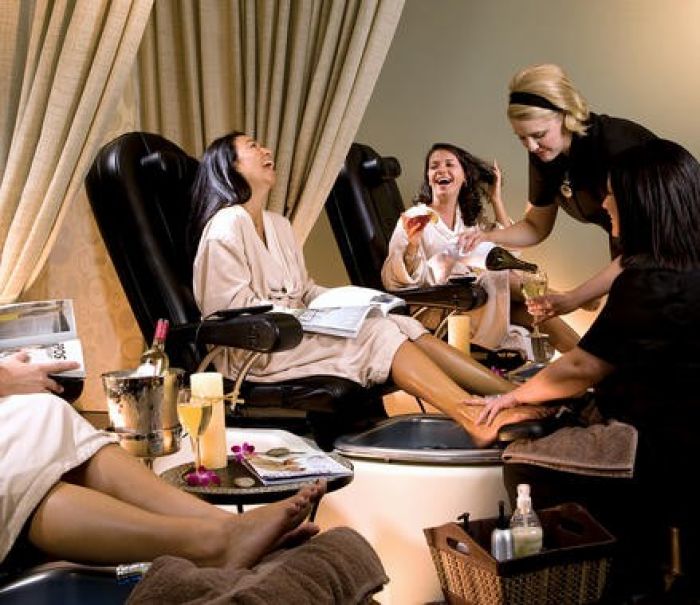 Spa Grand Traverse
My visit to Spa Grand Traverse was the "cherry" on top to a wonderful Spring visit to the refreshing and bustling cherry capitol, Traverse City, Michigan. Housed in the Grand Traverse Resort, the Spa at Grand Traverse is an integral part of the resort facility and a top notch sanctuary with a full line of services, treatments and products spoiling guests from head to toe. (http://www.grandtraverseresort.com/spa/index.cfm )
Dawn Olsen, Spa Manager, and native to the area, has brought an innovative background to the spa. She has vested about 5 years at Spa Grand Traverse after working several years in the salon industry. Though the two environments tend to be night-and-day to one another, with the salon having hustle and bustle and the spa being slower-paced and more serene, Ms. Olsen has managed to foster a well-oiled machine at Spa Grand Traverse.
The spa is real and unpretentious. Its natural charm, befitting the environment that surrounds its location in Michigan, is the perfect and subtle transition to the softer side of rustic nature. The staff is quite lovely—very warm and personable. As you step into the spa lobby, they address and acknowledge you with genuine smiles and authentic greetings. You are then whisked down the staircase to the inner sanctum of the spa where the body services and treatments take place in one of 23 rooms. Before heading to your appointment, an attendant orientates you to the locker room to have you change into a robe and slippers. Afterwards, you are directed to the relaxation area in front of a warm fireplace to enjoy a refreshing beverage and snacks. A must-try is the spa's homemade granola.
Spa amenities include:
• robes and slippers
• guest lockers
• health club access
• mineral pools
• sauna
• refreshments of healthy snacks and beverages
The typical spa guest at Spa Grand Traverse is either someone visiting and staying at the resort, corporate groups or health club members. Approximately 85% of Spa Grand Traverse guests are female. As a result, the goal is to draw more men to seek out spa services. There are packages and services catering to men's specific needs which can be found under "Men's Services". http://www.grandtraverseresort.com/media/docs/Spa_Grand_Traverse_Brochure.pdf
Ms. Olsen has also indicated that she desires that more locals are attracted to visit by offering them discounts on services. ( http://www.grandtraverseresort.com/specials-packages/index.cfm?catid=SC_20090327135302451485 ). She hopes that locals will see the spa as one that they can come to for a "spa-cation" since it is right in their community and offers a premium service in a short break and getaway from the daily grind. Ms. Olsen has also indicated that there is much more in store for Spa Grand Traverse's future in terms of planning and instituting a new look, products and services.
Also available are salon services which are found under "Hair Artistry", waxing services, as well as makeup & specialty services. In addition, the spa features special bridal packages for individuals and groups.
My Spa Visit
My first service was the Spa Grand Traverse Body Renewal which can be found under "Hydrotherapy & Bodycare" in the spa's brochure
( http://www.grandtraverseresort.com/spa/services.cfm ) . This 100 minutes of bliss is described in the spa brochure as "…indulgent and deeply relaxing treatment begins with an aromatherapy soak incorporating the relieving and calming benefits of wild birch and wintergreen grown in northern Michigan. A relaxing massage, which combines hot stones and our Spa Traverse Signature Massage Oil follows this. Finally, while you drift away in a warm linen wrap, your therapist will provide you with a soothing neck, scalp and face massage." Let me just say, if you're looking for only one service, look no further. If you're looking for a day of bliss, please make sure this is incorporated into your appointment series.
When my therapist brought me into the room where the aromatherapy soak took place, I was a bit intimidated by the state-of-the-art jet tub. It was like none I'd ever seen. Plain and simple, it looked like a spaceship. I now know why…because the service is out of this world! Yeah, that may sound corny, but it was something else! The tub has a hard-shelled top that is pulled down to cover most of the body during the soak. The jets are then turned on along with a light and sound presentation. I was like a baby in a cradle with music. Very soothing. After 15-20 minutes in the soak, my therapist awakened me out of my spa trance and directed me to dry off and robe up for the next phase, the hot stone massage. Ahhh, yes. This treatment included the use of Spa Grand Traverse's Signature Massage oil. After the massage, I was cocooned in a warm linen wrap while my therapist massaged my head and neck areas. Sadly, after 100 minutes expired, I had to leave. Bummer!
My next service was the Cherry Infused pedicure. This can be found under "nail care" in the spa's brochure. ( http://www.grandtraverseresort.com/spa/services.cfm ) This 50-minute service, accented with locally-made cherry products, begins with a bath soak in one of 6 relaxing massage chairs with a whirling and gentle footbath that mimics the flow of a babbling brook. The soak is then followed by a divine foot and leg massage. Coming next is the paraffin foot mask where your feet are dipped in paraffin wax, wrapped in cellophane and placed in booties to seal in moisture. My feet felt like a baby's bottom after this service.
Recommendations for newbie and veteran spa-goers:
For first time spa-goers, Ms. Olsen recommends that they try the Spa Grand Traverse facial, mani and pedi (found under "Nail Services"), and relaxation massage with light to medium pressure. (http://www.grandtraverseresort.com/spa/services.cfm ) She indicates that these services gradually initiate guests to the spa and may be less intimidating.
For veteran spa-goers, Ms. Olsen recommends the following: bamboo massage with heated bamboo rods, the Shio Doro Detoxifying Body Treatment that includes a salt mud application and Vichy shower (found under "Hydrotherapy & Bodycare"), and The Ultimate Anti-Aging Facial with glycolic peel application.
Spa Products
Spa Grand Traverse has worked hard to make sure that its retail products match its professional products used in services. They have customized their own line of Signature products through CBI Labs. They also carry other products in their retail area of the spa, including Neuma chemical and paraben-free hair care, Jane Iredale Cosmetics, and other fine brands.
Tips for Spa Visit
To make your spa visit a pleasant one, please take note of the following before booking your spa appointments at Spa Grand Traverse:
• Arrive 20 minutes prior to scheduled services to allow time for orientation to the spa and unwinding in the relaxation lounge.
• Children under 16 may receive spa services if accompanied by a guardian.
• Cellphones should be turned off in the spa to maintain the serene environment.
• Arrangements for child care and babysitting can be made in advance of appointments at the Cub House across the hall from the spa.
• Please give at least 24-hour's notice if there is a need to cancel appointment.
• For group visits to the spa, contact Chloe Nash, Spa Desk Supervisor and Spa Group Coordinator.
For more information:
Dawn Olsen, Spa Manager
Spa Grand Traverse
100 Grand Traverse Village Blvd.
Acme, MI. 49610
888-437-2SPA
Originally published on Examiner.com 4/26/12--http://www.examiner.com/article/my-trip-to-spa-grand-traverse-traverse-city-michigan