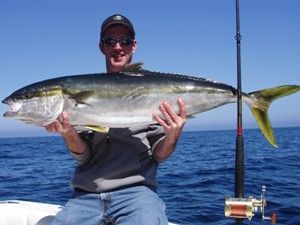 davyslocker.com
Are you one of those guys or gals who love the sport of deep sea fishing? You don't have to travel too far to make your dreams come true. Here in California there is a terrific place called Davey's Locker located in Newport Beach. They have just about everything there that you will need to capture that "big one" to hang on the wall.
Depending on the amount of time you want to spend on the water, they offer 1/2 day, 3/4 day and overnight excursions. You don't even have to be an expert fisherman because they are there to share all their experience and knowledge with you. The overnight excursions will take you to such places as Catalina Island, San Clemente Island and several other exotic places. The variety of game fish is extensive and your sure to enjoy "hooking" just the right one.
Not much of a fisherman? If your not inclined to spend the day out on the boating trying to "land" the "big one", then you might enjoy an afternoon of "watching" the "big one". Whale watching is available to those who prefer to take pictures rather than toss out the poles. These trips generally last around 2 1/2 hours. The boat is 65' and has an upper deck and enclosed lower deck complete with a snack bar for your convenience.
You may also be interested in:
Seven4One is Fun for All in Laguna Beach
davyslocker.com