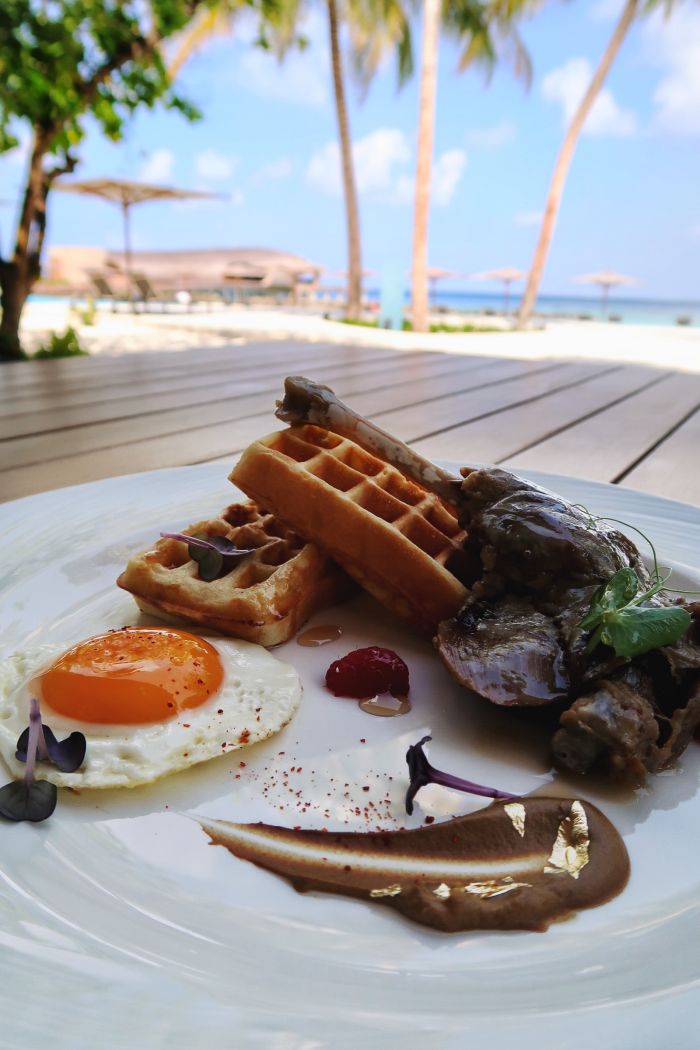 Photos Credit: Courtney Brandt
I am a high maintenance traveler. When an opportunity came up to travel with my best friend to the St. Regis Maldives, I didn't hesitate—my answer was an immediate and enthusiastic yes. As my friend and I are both discernible travelers, I was relieved and impressed when impeccable service for the resort started from our first interaction at the airport.
Greeted by a linen-clad airport butler, we were whisked to the Trans Maldivian Airways counter and then seated in a private air-conditioned luxury SUV for the 10-minute drive to the Great Room. This private lounge includes bathrooms, shower facilities, light snacks and drinks. Check-in for the resort is finalized at this time (including a video introduction from our butler), leaving nothing but the official start of the vacation. The resort is a 40-minute flight from Malé, providing the first view of this modern beach property from the air. Set in crystal blue waters, the Indian Ocean provides a backdrop to the Dhaalu Atoll and the 77 rooms that make up the resort. From above, I spotted the unique design of The Whale Bar as well as the crustacean-like Iridium Spa, both set over the water.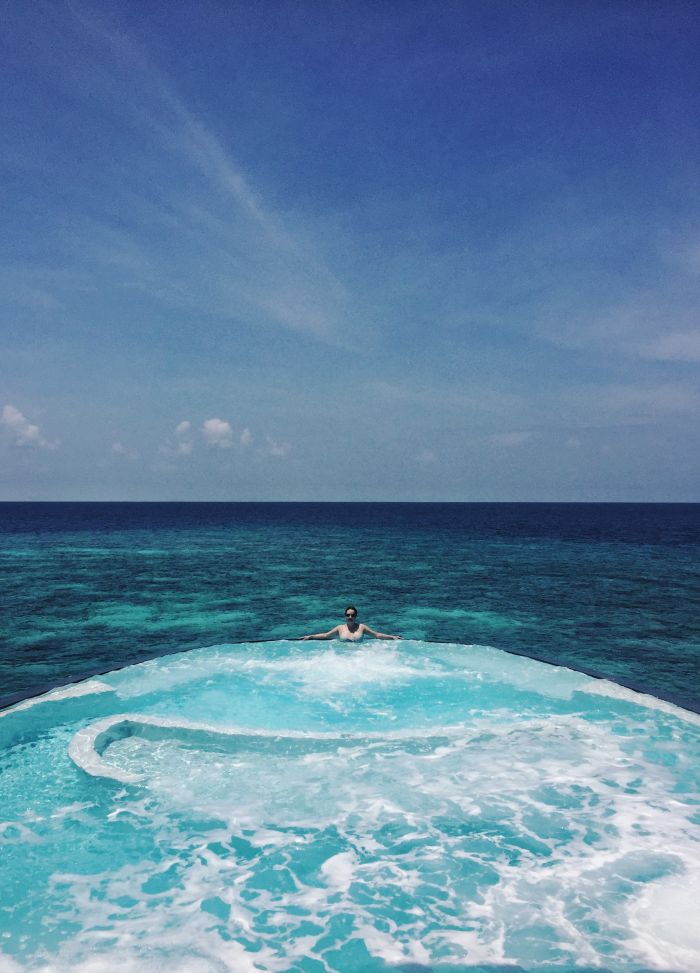 After enjoying a preselected welcome drink (served with a scented, cooling towel), we are driven via golf carts by our personal butler and given a tour of our villa. As the bulk of the rooms are overwater, each offers similar design elements including large terraces with a daybed, sun loungers, overwater hammocks and a private plunge pool. Inside the expansive villa, I appreciated the sophisticated space with understated, but elegant appointments. Floor to ceiling windows invite the stunning exteriors of the ocean into the room, and it's possible to jump straight off the deck into the inviting Indian Ocean. Bathrooms also include substantial windows, where one can soak in the deep bathtub overlooking the cerulean waters outside, or bathe under a rainfall showerhead. As someone who loves high-end amenities, I was happy to see an exclusive array of Remède toiletries. Small details like lush robes, sun visors, a wine fridge, matching bikes and branded flip flops don't go amiss either.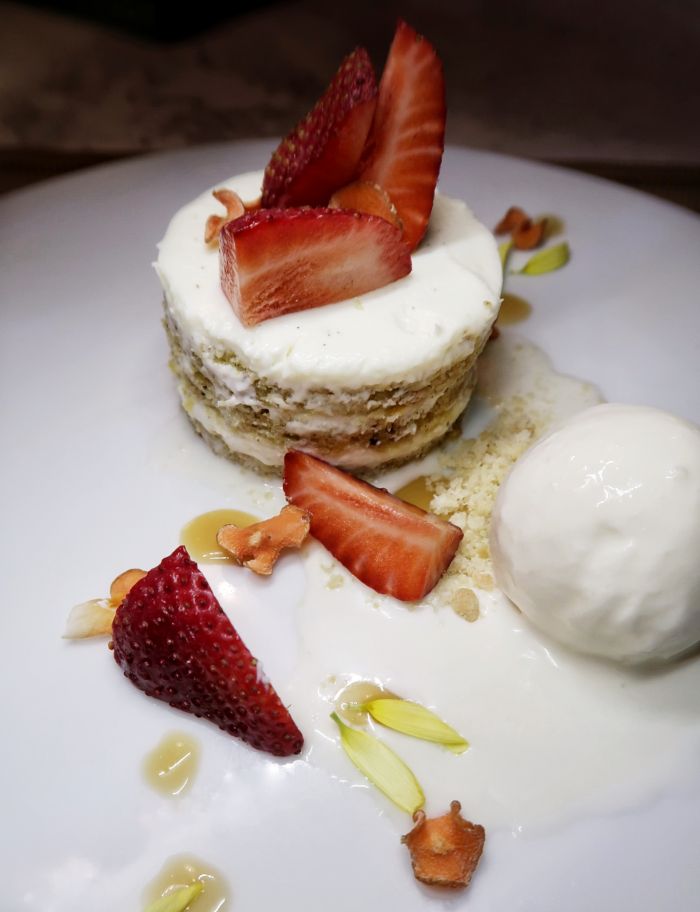 While lush natural beauty appears across 360-degree views, technology has not been overlooked at the resort. Easy-to-use tablets control a number of elements within the villa, and once connected, the large television acted as a speaker for our personal playlists and a location to log into my Netflix account. Seamless and complimentary wireless internet kept us easily connected throughout the entire property.
For a resort with less than 100 keys, the number of dining options to choose from was far more than I expected. Alba, the all-day, open-air dining destination is home to one of the world's most extensive and decidedly decadent breakfast selections I have ever enjoyed, including Bloody Marys and mimosas as well as waffle and duck leg confit. Open only for dinner, Orientale serves a variety of Asian dishes across multiple cuisines and cultures and yielded my favorite dish from the trip—succulent, sweet and smoky tandoori scallops. The romantic beachfront venue sits amid a group of three open-air kitchens and under swaying palm trees. The Whale Bar (named for its distinctive whale shark-inspired shape), opens close to sunset for tapas and sundowners, and provides a unique backdrop both on its interior and exterior. For other more informal dining, there is Crust, which serves a variety of pizzas by the beach. The resort is also home to Decanter, a dinner-only establishment intended for a five-course continental menu with paired wine. Cargo, billed as a 'pop-up diner in a tropical garden' serves a range of traditional Middle Eastern dishes.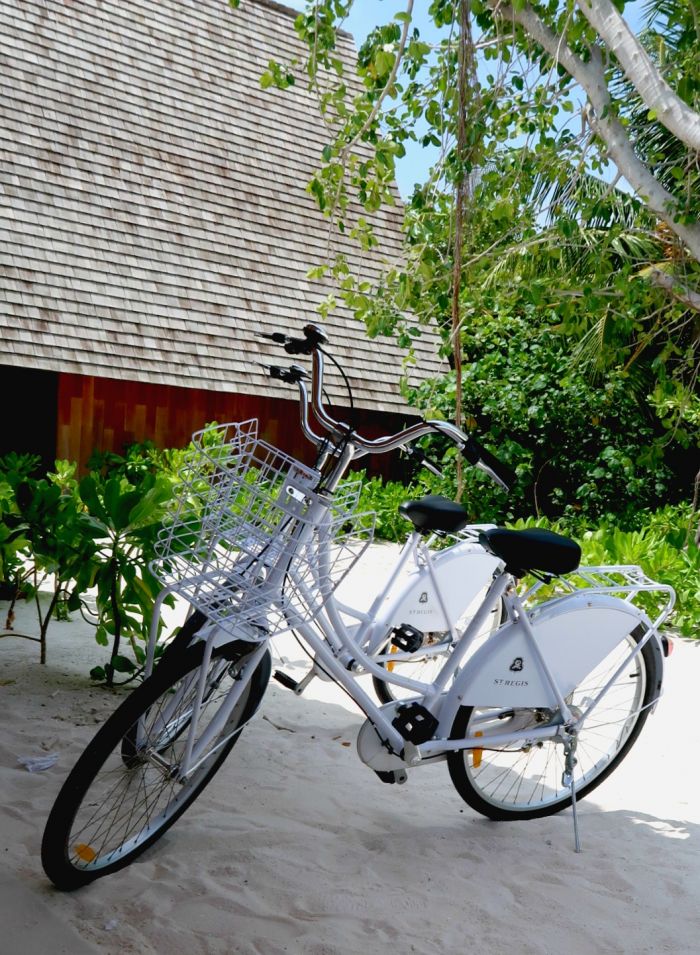 While I tend to enjoy doing nothing more than reading a book and deciding what cocktail I'm going to enjoy next while on holiday, there is almost every form of outdoor sports available at the St. Regis Maldives Vommuli. There is a public infinity pool (located in between Alba and The Whale Bar), a small beach (with requisite soft white sands), a fitness center, a dive and water sports center, daily fitness classes, and an outdoor tennis court. Some of these activities are free of charge, while others come at an additional cost and your Butler can help coordinate everything. As we were staying in a room with direct ocean access, we requested snorkeling equipment and swam directly off our furnished terrace. Although not in our particular wheelhouse, the hotel is equipped to arrange a selection of recreational activities, dining options, and childcare services for families traveling together.
Like many St. Regis properties, the resort is home to an Iridium Spa, which is located directly over the ocean in a uniquely designed space. There are six couple's treatment suites, including two Ayurvedic suites with private steam rooms. We decided to try the Instagram-worthy Iridium Blue Hole Experience, which takes place in the largest hydrotherapy pool in the Maldives. Essentially, you paddle through the oversized pool while a variety of different jets release tension in corresponding muscle groups. In reality, you take tons of photos of yourself floating and posing in the incredible venue and perhaps wondering what sort of reality you've landed in to deserve such a life.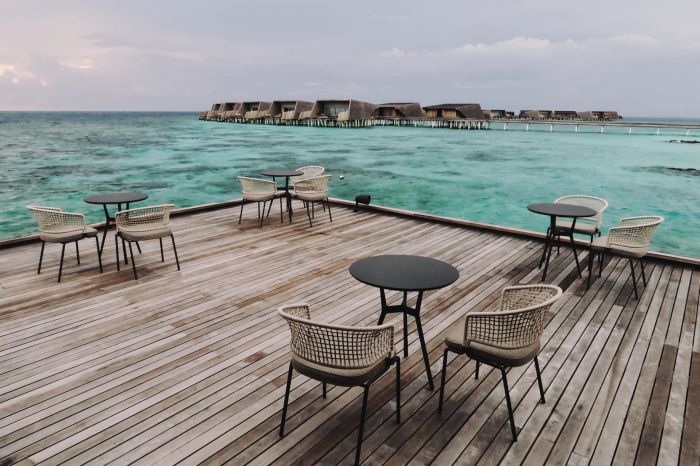 In a busy market with some of the best hotels brands in the world, the recently opened St. Regis Maldives Vommuli provides strict competition. Although the price tag matches the experience, if this is a one-time visit to the island nation, consider saving (or spending points) to make a stay a reality for your next special occasion.
With a bit more exploration, we found that the resort is also home to a salon, beautifully designed library, 'Socialite' (an entertainment space for younger guests including table tennis, foosball, pool and air hockey) and a small boutique souvenir shop, which also serves as an observatory and the highest point on the island.
After checking out and returning to Malé via seaplane transfer, we are once again greeted by St. Regis representatives. Depending on the layover between domestic and outbound international flights, guests are invited to once again relax and enjoy themselves in the comfort of the Great Room. The St. Regis airport butler service extends not only to the terminal but all the way to the final security checkpoint—allowing the guest to have nothing but fond memories of the professional and extensive service of the resort.