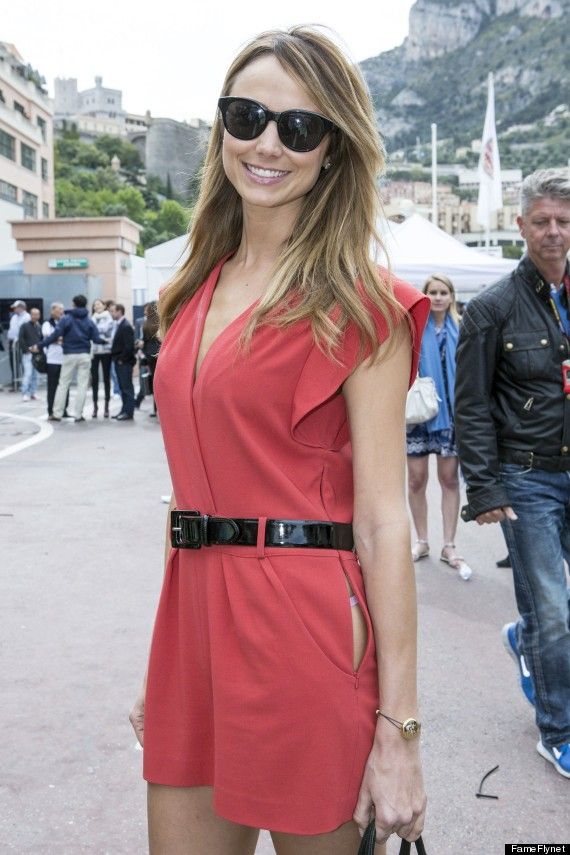 Image from FameFlynet
At first glance, Stacie Keiblers red and black ensemble looks like an instant fashion prize winner. Whats not to love about the curve-courteous red outfit, accented with a black belt, sunglasses and a matching bag? It's probably the pink panties poking out that ruined the effect, but hey, she still looks great.
Talk about an oops moment: George Clooney's prettier half, Stacy Keibler, suffered a wardrobe malfunction this weekend at Monaco Grand Prix when the zipper on her romper came undone. Lucky for Keibler, the zipper didn't hold up the entire ensemble and thus didn't leave her completely in the nude, but it did give us a little peek into what she usually reserves for Clooney's eyes only -- her stringy pink underwear.
The 33-year-old beauty was her usual stylish self in a short red romper, a thin black belt, giant sunglasses and studded sandals. And from the looks of things, she didn't even notice the zipper on her lower half had come undone.
Back in March, rumors started swirling that Keibler and her A-list boyfriend were about to split, citing the couple's noticeable age difference as cause. (Read More)