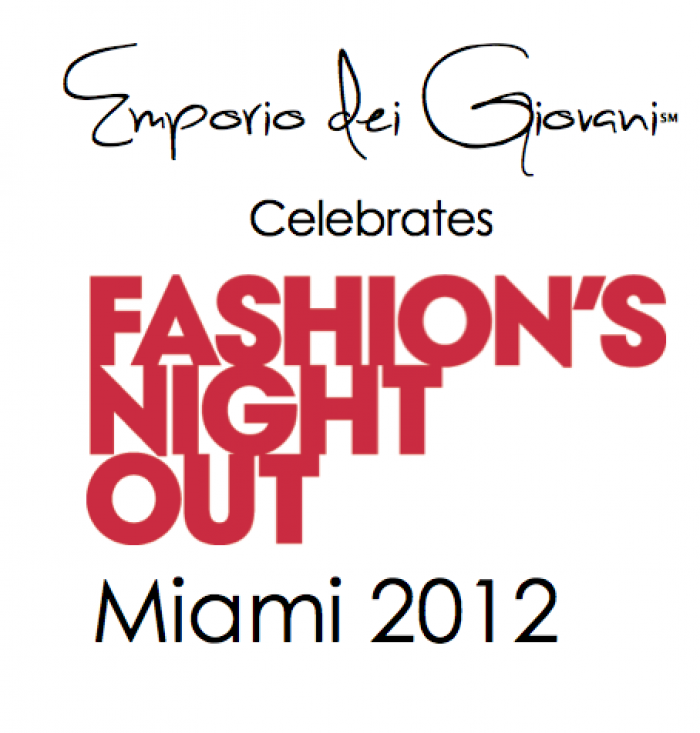 On September 6, 2012, Emporio dei Giovani, a high-end line featuring the best of awarded designers from Italy, will celebrate Fashion's Night Out at LMNT on 59 NW 36 St Miami, FL 33127. VIP guests will be treated to an Italian experience.

In a special VIP lounge, guests will indulge in decadent Sweet G's Cupcakes inspired by the flavors of Italy such as Limoncello, Cannoli and Tiramisu. The cupcakes are the creation of Gina and Dario Milani who lend their spirit and love of "la dolce vita" in baking every delicious bite. Guests will sip complimentary prosecco wine as they read Where South Florida, a magazine to that keeps us up to date with the best events and places to visit in the area. Hi Tech the School of Cosmetology Paul Mitchell, A Partner School will provide information about the latest beauty treatments and products available at the salon. And to complete the VIP experience, guests will receive a complimentary sample of Huntress, by Ephiphany Beauty, an organic fragrance inspired in the ancient Roman goddess Diana. The fragrance is the product of three sisters of Italian American background with the surname, Diana. The sister owners of 3D Beauty Consulting offer a 360 degree transformation in the three key areas of life-- Beauty, Mind and Soul. The fragrance greatly compliments the performance art piece, "Numina," depicting ancient Roman goddesses and muses.

During the performance art event, guests will also have the chance to admire the jewelry of RockCandy Leatherworks by designer Shannon Marie. The designer completed a special collection of jewelry for the Fashion's Night Out event based on ancient Roman techniques. Her jewelry and leatherworks are available online at her website RockCandyMiami.com.

Blo Blow Dry Bar in Midtown will provide the hair styling for the models. Hi Tech The School of Cosmetology Paul Mitchell, A Partner School and the cosmetology editorial professionals of Eliza Cosmetics will provide the creativity behind the makeup artistry for the models turned performance artists.

The event will start at 6pm and extend till 10pm. It will include a short movie about the Italian fashion designs, a performance art piece and a unique shopping experience. Limited editions of Emporio dei Giovani's custom sized dresses will be available for sale at the event. For musical entertainment, Italian DJ David Scaloni has provided a special house track called Suntastic.

The event will count with the presence of Herbert Piramid of the House of Piramid, Angela Posillico from the Ms. Latina International Organization, Candy Woolley-Humphreys of Candy Woolley Accessories, Denise Gonzalez, Miss Brickell USA 2013 and the adored Princess Oberle-Lopez.