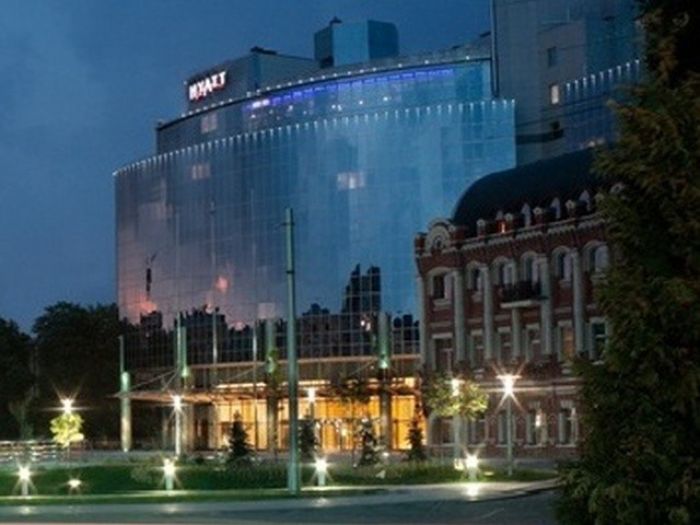 n/a
Stylish restaurants in Ukraine's Capital City - Dining Chic in Kiev
'Chic in Kiev'; see what we did there? The truth is that, these days, visitors would probably be hard pressed to find a humble Chicken Kiev in Ukraine's cosmopolitan capital. It might be one of the oldest cities in Europe but Kiev is moving with the times to become a destination of choice for the discerning modern traveller; witness the emergence of luxury hotels such as the spectacular Hyatt Regency Kiev with its ultra-contemporary reflective silver façade. Similarly, the crumbling cafes of the cold-war era have all but been swept away, to be replaced by a new breed of stylish and elegant restaurants designed to satisfy the expectations and palates of the twenty-first century traveller. Here's our pick of seven of the most stylish restaurants Kiev has to offer.
Concord, Pushkinska
Concord is a terrace restaurant on the eighth floor of the Kiev-Donbass Business Centre building simply oozes style and ambience. Gorgeous décor in black, chocolate and tan hues, wooden and parquet floors and tastefully positioned plants set the scene for fusion food that justifies a price tag that's almost as elevated as the restaurant itself. Satisfied patrons agree that the bill is worth every penny for perfectly-executed dishes including kobe beef, sushi, veal and suckling pig and for the tremendous views of the city afforded by Concord's terrace dining area.
Restaurant and Patisserie Surprise, Pirohova
Employing gilt-laden French décor and sumptuous soft furnishings that wouldn't look out of place in the court of King Louis XIIII, Restaurant and Patisserie Surprise offers a comprehensive menu of classic and contemporary dishes that embraces not only the finest French cuisine but also takes in superb Thai, Itailian and British dishes along the way. Dining al fresco on the restaurant's delightful summer terrace is the icing on the cake; and since this is an exquisite patisserie too, they know a thing or two about cakes.
Citronelle, Bohdana Khmelnytskogo Street
Cool and classy, Citronelle offers the kind oh high-end French dining that you'd expect to find in downtown Paris. Cream-toned with tiled floor and soft ambient lighting, Citronelle's dining room is as tasteful and appealing as its menu is inventive and appetising. House specialities such as osso bucco, veal cheeks, bouillabaisse and veal Rossini are prepared from the freshest ingredients, served by attentive waiting staff and can be enjoyed either inside or on Citronelle's charming terrace.
Lipsky Osobnyak, Lypska Street
In a lovingly restored mansion house decorated in Ukrainian Baroque and Victorian styles, Lipsky Osobnyak is frequently referred to as the best Ukrainian restaurant in Kiev. The opulence of the dining room certainly helps to give the restaurant a unique ambience, but it is the quality and execution of the menu – a collection of classic Ukranian dishes from the eighteenth and nineteenth centuries that have been lovingly recreated and given a modern twist, which truly sets this restaurant apart from the crowd.
Veranda na Dnepre, Naberezhnoye Shosse
Romantic, ambient and elegant, the Veranda na Dniepre – as its name suggests – is situated on the shore of the River Dniepre which winds through Kiev. Polite and attentive service, gorgeous views from the veranda which overlooks the river and an eclectic and exciting menu which features dishes from cuisines including Ukrainian, European, Italian, Uzbek, Armenian, Georgian, Turkish and Thai all add up to a stylish and memorable dining experience.
Beef: meat and wine, Shota Rustaveli Street
Admittedly, that name will do little to appease non-carnivores but as steak-houses go, Kiev's Beef: M & W is a cut above the rest. A natural-wood themed décor that borders on cubism is accentuated by plenty of natural light during the day thanks to an abundance of glass, to provide a stylish and modern interior. As you might expect, the meat here is the star of the show and it isn't simply limited to beef. A vast charcoal grill dominates the open kitchen allowing diners to watch as their orders of duck, pork, lamb, steak or beef are cooked to order and to perfection.
Under Wonder, Velyka Vasylkivska
This achingly stylish cellar-restaurant is surprisingly bright thanks to its pale décor and judicious use of lighting which maintains a perfect ambience without keeping diners in the dark. Ostensibly an Italian restaurant, Under Wonders wide and varied menu holds something for everyone including stuffed rabbit, calf fillet, sea bass, and, for the truly adventurous, horse meat carpaccio. But no Chicken Kiev.