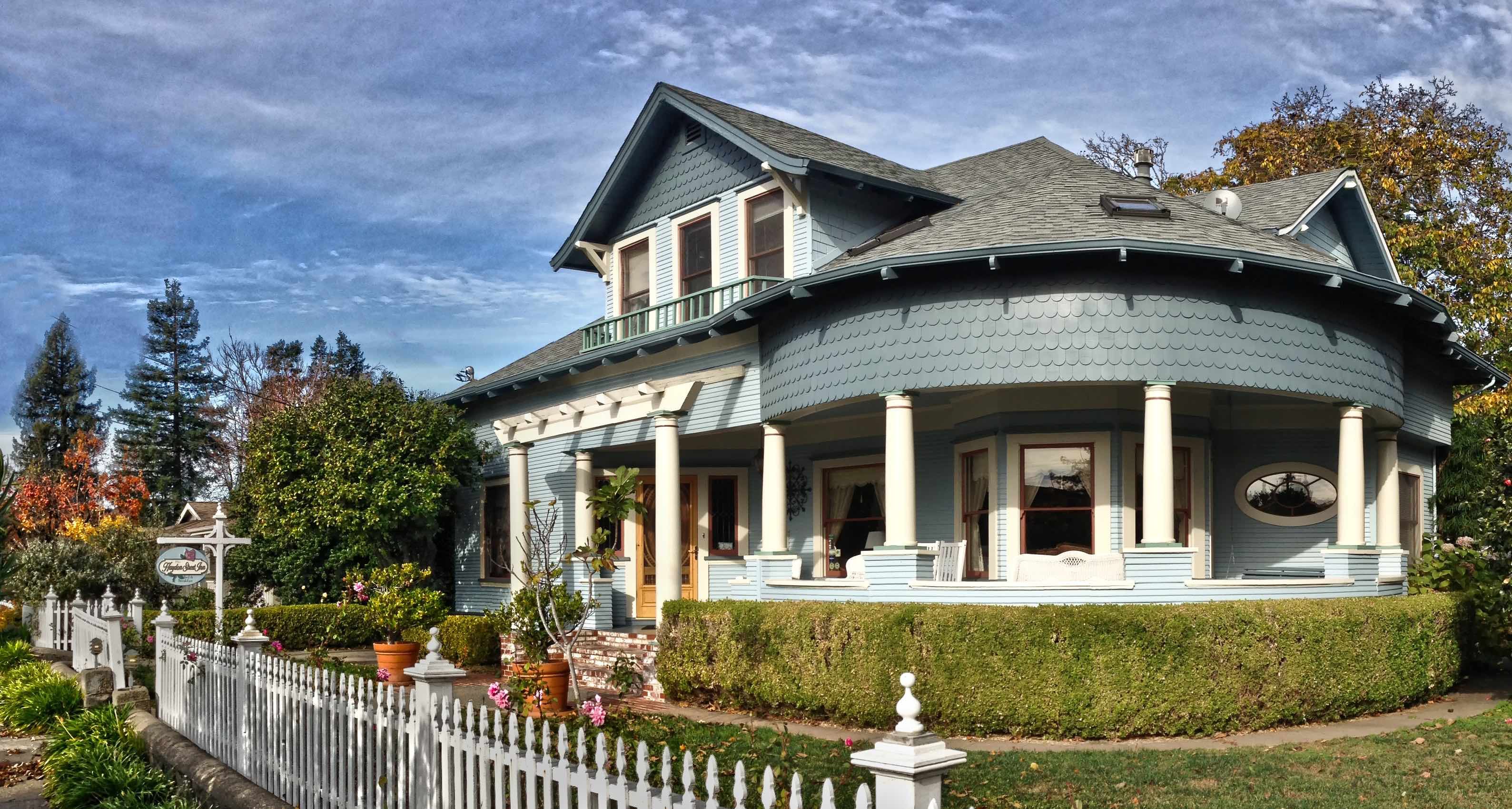 Photo Credit: Haydon Street Inn
Healdsburg is still a town for those seeking the good life. In 1851, Ohio-born Harmon Heald gave up on the Gold Rush and built a cabin, small general store, and post office in what is now known as Healdsburg. The land was rich and the sunshine was abundant. The Russian River supplied farmers with plenty of water and settlers in the 1860s found they could grow nearly any crop in the region. Today, the quaint town of Healdsburg has a population of only 11,000 or so, yet visitors from around the world are enticed to savor its romantic setting, outstanding farm fresh cuisine, and the slow, simple life of a small town. Healdsburg is one of my favorite day trips from San Francisco, and I paid a visit this summer to discover more of this Sonoma county gem.
A number of exceptional Victorian-era homes dot many of the quiet residential streets of Healdsburg, and a few have been meticulously repurposed into charming luxury inns. John Harasty, the former executive chef of Churchill Downs, and his partner Keren Colsten operate the lovely Haydon Street Inn. This Victorian was previously a convent for Irish nuns who taught at a local Catholic School. The home was re-opened in 1984 as an inn after a laborious renovation. The property is quaint and sprinkled with citrus, olive, and walnut trees among rose and lavender bushes. Harasty's culinary skill is reason enough to stay at this inn. The daily three-course breakfast is divine and home made, from the sausage to the scones. The bacon, orange juice, pressed olive oils, and tomatoes are also sourced on the property or nearby. Every evening, the inn hosts a wine hour with rich hors d'oeuvres or wood-fired pizza, made right on the patio.
Photo Credit: Grape Leaf Inn
The Grape Leaf Inn, built in 1900, should also not be missed. Just past the white wood front gate, one takes in the massive,curving porch that hugs around the main house and rests under the shade of pine trees, maple branches, and rose bushes. Inside, the home is crisp and polished with white and bold blue accents, a modern aesthetic rare in historical inns. It works beautifully. There's a bookshelf in the living room that opens to reveal a cellar stairway, which leads to the inn's guests-only "speakeasy." Each room is distinct, and I had the separated room that featured an outdoor shower, stained glass windows, and a cozy patio with flowering vines. Early evenings in the warm summer sun are idyllic on the main porch with card games, cheese, and wine, all compliments of the inn. I tried to only nibble on the decadent local cheese (which is usually futile when I'm in Napa territory) because I knew I had a fantastic dinner promised down the street at Barndiva.
Photo Credit: Barndiva
Although I had visited Healdsburg a number of times, I had somehow missed Barndiva. Fondly considered an icon of the town, I'll now never miss a visit whenever I'm in Healdsburg. Barndiva is what happens when a hip couple from Britain and Los Angeles bring their 40 years of farming expertise straight into downtown Healdsburg with their own self-built barn. A Thomas Keller-trained chef, a few Wine Spectator Awards of Excellence, and a big city cocktail menu make this Healdsburg creation a destination in and of itself. Part gallery, part event space, and part indoor/outdoor restaurant, the Barndiva conglomerate is as debonair as it is casual. The whole creation is delightfully dichotomous, but one could expect this from anyone who'd put "diva" next to "barn." The gallery and bistro are housed in the barn alongside local artworks, chic wire sculptures, and a vintage cigarette stamp collection. Jil Hales, the Angeleno of the Barndiva couple, was convinced that Healdsburg was missing a world-class bar. Thus, the handsome bar showcasing a range of high-end "divatinis" was born. I sat under the grapevines on a pebble patio and devoured a herb-roasted filet mignon and a perfect bacon-crusted pork sirloin. The Barndiva brunch—which I must return for—apparently packs more people than the local Sunday service.
Photo Credit: Spoonbar
If one can't snag a seat at Barndiva, a solid alternative is Spoonbar about two blocks away. Named after the "Spoonful" water sculpture made of 3,500 espresso spoons nearby, Spoonbar sits on Healdsburg Avenue, prominently overlooking the town square. The architects behind the modern Hotel Healdsburg and h2hotel, David Baker + Partners, infused similar tactile materials in the restaurant to create a warm, yet cosmopolitan effect. The 60-seat indoor space is filled with reclaimed acacia table tops, polished concrete, and beautiful golden wood paneling. Another few dozen guests can enjoy the quiet outdoor nooks of the restaurant under the shade of budding grape vines. Vegetables are a surprising standout at Spoonbar. I loved the roasted corn ravioli, the delicate spring pea risotto, and prosciutto wrapped County Line Carrots.
Photo Credit: Spoonbar
Healdsburg continues to evolve with its chic accommodations, culinary destinations, and timeless charm which is splendid in any season, particularly the summer.