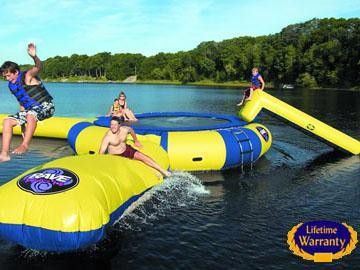 Summer vacation is just around the corner and families across the country are looking for some new ideas to entertain the kids in these months before the inevitable return to the classroom.† The days of the simple water gun, water balloon and slip and slide are past; the offerings of today are exciting, creative and even the parents will want to get in on the action.
RAVE sports offers many innovative products, from large water trampolines and bounce platforms to multi-rider towables, their product line will provide hours of summer fun for the entire family!
Other exciting products to look for this summer include Hammacher Schlemmer's inflatable water ride which is equipped with two water chutes for the kids to enjoy before plunging into a splash pool.† Also a ten person water totter, in which the boys on one side can take on the girls on the other to see who can rock the teeter-totter hardest and splash the other team.
Looking for the greatest family summer adventure?† For $190,000 you can purchase your own flying hovercraft.† Taking flight at speeds up to 70 mph, you and the kids can soar for up to 160 miles in this craft which has a seat for a pilot and a passenger.† Take it on your family vacation and fly over your favorite lake, river or even out to sea.† Your children will think you are the coolest parent around when you take them on a flight above the water!
If you need something new for the yard, your daughters will never cease to thank you for Le Petit Chalet, which includes three balconies, a slide, Dutch accents and a floral motif.† Their summer days will be spent enjoying the beauty of this playhouse and you may just want to move in yourself!