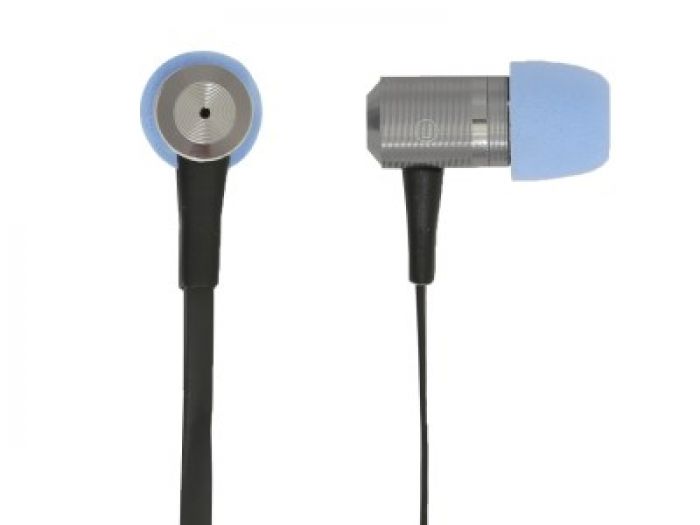 AirBuds
Now that the summer is heating up, we have a lineup of some of the hottest new products in store for him this season. Here are our favorite picks:
For the guy who loves music, be sure to check out AirBuds, maker of the super soft memory foam earphones (which reduce outside noise) that are not only extra comfortable but deliver a superior sound quality. Whether he is traveling, working out or simply relaxing on the back deck, he will love these earbuds. When hooked up to an iphone, the smart mic technology allowed us to quickly and easily answer calls. The flat cable enables the compact design to be easily stored without getting tangled, which is always so annoying.
The golf season is in full swing so to celebrate, give him a pair of ECCO Men's Tour Golf Hybrid Shoes that he will surely love. The stylish 2014 collection is designed for the stylish golfer who wants to dress up his look on the greens. What makes these shoes so unique is they can be used off the course as well. The versatile shoe can be worn in the office before he heads to the golf course or out for dinner after without having to change shoes. The comfortable hand crafted classic design is made from TPU wear-resistant material and a moisture-wicking Second Skin leather lining. The shoes also receive a HYDROMAX treatment for weather protection. There is also a removable ECCO Comfort Fiber System insole to increase air circulation so his feet stay a fresh and cool all day.
When it comes to iPhone cases, we like ours as stylish as they are functional. If your guy is like us, don't miss Griffin Technology's Beamhaus leather limited edition case. Made with tan and black leather, over time, the leather will darken to a color unique to each user. It's so easy to swap out as well and contains a hidden magnetic closure and outside pocket to store cash and credit cards. The case is made of soft Horween leather that embraces a hard polycarbonate interior shell for added protection while the compartment where the iPhone is stored is lined with suede.
If he is a music enthusiast, he will love Cambridge Audio's Minx Air Wireless Speaker. The portable wireless design makes it easy to take with him on the go while the Bluetooth and Internet Radio offers some cool added features. The excellent sound from this portable system is crisp, clear, loud and delivered with unparalleled quality. (The Minx Air 200 includes a 6.5" subwoofer). There is a tutorial setup video included to show him how to access up to 20,000 different Internet radio stations.
Some guys love listening to music with a great set of headphones. For these men on your list, be sure to check out V-MODA's XS foldable headphones. The slim design makes them sit on your head more comfortably without all of the bulk of most other large designs while still offering the same quality sound that V-MODA is so well known for. The fashionable yet durable (made with steel and metal and live up to military level standards) style, compact quality and clean base only further enhanced our sound experience. It also comes with two Kevlar-reinforced microphone cables for universal smartphone compatibility along an exoskeleton carrying case for protection.
For the real trendsetting guy, we recommend Randolph Engineering's new Corsair sunglasses. Named after the famed F4U Fighter Jet, an American fighting aircraft used during World War II and the Korean War flown in combat by the United States Navy, Air Force and Marine pilots, these sleek shades are made in America. He will not only love the UV protection from the polarized lens but also the contoured lines, cool design of these Top Gun shades and comfortable fit. The frames are available in Almond Gold, Antique Silver and Antique Bronze. They also throw in a case, cleaning cloth and even a small maintenance kit with every purchase.
If he loves listening to music just as much as we do, be sure to check out Tego Audio's CERA Wireless Portable Speaker. Pair it up with a Bluetooth device and you won't believe the clear sound that comes from such a small hand-sized device that can be delivered from up to 33 feet away. He will love this sound system's ability to daisy chain allowing an infinite number of CERAs to play at the same time. We love the illuminated touch control panel, which comes in handy when listening outdoors in the evening. The unit uses a rechargeable Lithium Ion battery for easy plug and play capabilities. This smart speaker has voice notifications that will inform him when CERA powers on, enters the pairing mode and also when the pairing is complete.
Most guys are always on the go so when it comes to shaving, they prefer something fast, portable and easy to take with them wherever they may go. Meet ShaveTech, a unique power source USB shaver. He will love the sleek non-electric shaving design that is the size of a smart phone –perfect for traveling or even a quick trim in the car before work.
For the guy who loves cigars almost as much as we do, gift him with a box of Montecristo Chicago Connoisseur Edition. You can order them directly from the Altadis USA site and have them delivered directly to him. He will love the specialty aged and hand selected Dominican and Nicaraguan tobacco leaves (think hints of coffee and nuts) that offer each complex smoke a perfect combination of aroma and flavor. This is the first Montecristo created exclusively to honor the city of Chicago. The cigars are wrapped in a beautiful Ecuadorian Sumatra wrapper and come in a gorgeous black box and gold trumpet to pay homage to Chicago's jazz heritage.
With the warmer weather here, it's officially grilling season. To kick it off right, we recommend giving him Oregon Scientific's AW133 Grill Right Bluetooth BBQ thermometer. This is one of the easiest ways to ensure everything he cooks is done just right. Simply pair the wireless device with his smartphone using the Grill Right mobile app and he will receive an alert when the meat is done.Gone are the days of overseared steaks and undercooked chicken.
ECCO Shoes
Griffin Technology
Cambridge Audio
V-Moda
Randolph Engineering
Tego Audio
ShaveTech
Altadis USA
Oregon Scientific