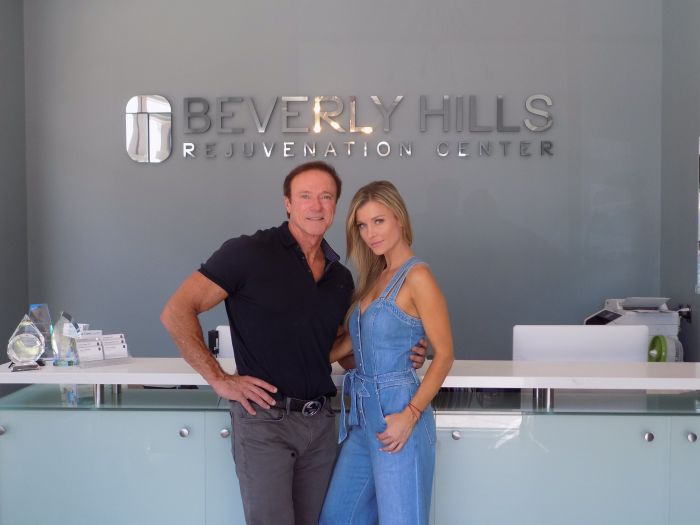 Photo Credit: Devin Haman
If there's one thing that people love and are willing to spend money on, it's anything which will keep them looking young and feeling great. With that in mind, a dynamic duo of entrepreneurs is helping the anti-aging and aesthetics industry boom. According to the Small Business Administration, only half of all businesses survive five years. The Beverly Hills Rejuvenation Center has beat the odds, opening their first location in 2005. By the end of the year, they will have 11 centers open around the country. "We have seen first hand that when you are in business for the right reasons, success follows," explains Dan Holtz, co-owner of the Beverly Hills Rejuvenation Center. "We started out with one location and an idea to help people be the best version of themselves, and we couldn't be happier about where that idea has led to."
Holtz co-opened the Beverly Hills Rejuvenation Center with Devin Haman in Los Angeles, offering wellness and hormone replacement therapy. Since that time, the rejuvenation center has seen tremendous growth, having just recently opened a new 3,600-square foot clinic and corporate offices in Los Angeles. Their next location is slated to open August 2017 in Cedar Park, Texas, and they currently have four more locations under construction in Las Vegas and in Texas, which will be open by the end of the year.
According to the Global Wellness Institute, the global wellness market is worth $3.7 trillion, with the spa industry making up $99 billion, and the beauty and anti-aging market being a $999 billion market. Injectibles and peels are two of the most popular minimally invasive options that people turn to for anti-aging and aesthetics. According to the American Society of Plastic Surgeons, 2.6 million people got soft tissue fillers in 2016, and 1.3 million had a chemical peel.The industry is reaching record numbers in terms of growth. The American Society for Aesthetic Plastic Surgery (ASAPS) reports that in 2016, there was a $1.5 billion increase in how much was spent on surgical and nonsurgical procedures. Overall, in 2016 there was a 10 percent increase in the number of people who opted for injectibles, according to ASAPS , which include such options as Botox, Juvederm, and Radiesse, which are used for removing addressing wrinkles on the face. "We've known for a long time that the fountain of youth isn't exactly possible," added Devin Haman. "The good news is that for those who want to look great and feel amazing, there are options to help them get there. We are happy that we have been and continued to be at the forefront of helping this industry grow and to help people look and feel their best."
Haman and Holtz have watched the industry grow and have been at the cornerstone of helping to make it happen. Haman, a former mechanical engineer and owner of a marketing company, opened up the famous Sunset Tan tanning salons in 2003, which became a favorite spot for the likes of Britney Spears, Megan Fox, Paris Hilton, Lindsay Lohan, and Kim Kardashian. Holtz is known as the "Wellness Expert to the Stars."
Having clientele that includes a list of celebrities helps solidify the center as a leader in the industry. Offering a full menu of anti-aging and wellness options, the anti-aging and medical spa center offers laser treatment, injectibles, hormone replacement therapy, medical-grade peels, facials, coolsculpting, feminine rejuvenation, and ultherapy, among other options. They aim to offer people everything they need to feel great, including a dermatologist, dietician, cosmetic doctor, and a spa therapist.