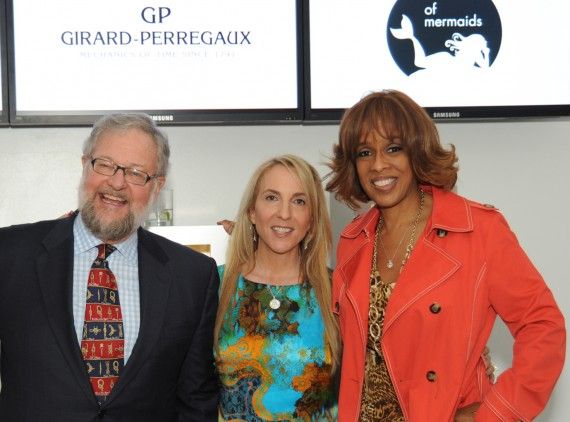 David Rockefeller Jr, Susan Ro
Susan and David Rockefeller, Jr.
Celebrate World Oceans Day at MoMA
Presented by Girard-Perregaux
New York, NY (June 6, 2012)- Susan and David Rockefeller, Jr. celebrated World Oceans Day in New York City on June 5 at The Museum of Modern Art, in partnership with iconic, luxury Swiss watch brand Girard-Perregaux. Avid environmental conservationists, Susan and David created this event to raise public awareness to the plight of ocean health and the need for its protection.
The evening featured a special screening, and the New York City premiere, of Susan's most recent documentary, Mission of Mermaids. A 15-minute call to action viewing the ocean through the eyes of the mythical mermaid, it explores ocean acidification, overfishing and pollution.
Presented by Girard-Perregaux and emceed and moderated by Italian actress Jo Champa, the event's sentiment "Protect what is Precious" relates to both the state of the world's oceans and the rare art of fine watchmaking. Following the screening, Michele Sofisti, CEO of Sowind (Girard-Perregaux and JeanRichard) presented Susan and David with their own Girard-Perregaux SeaHawk "Big Blue" watches, which were created to honor their environmental efforts.
"People like Susan and David work as our guardian angels, always reminding us of the importance of protecting our planet," said Sofisti. "We are honored to be working with them and hope that together we will shed more light on the issue of ocean health and its protection."
"Girard-Perregaux timepieces remind us of how precious time is," said Susan Rockefeller. "We have very limited time to save our oceans. My hope is that Mission of Mermaids will help everyone better understand why we need to do our part to protect our waters. The film is dedicated to supporting the work of Oceana, the only global nonprofit solely focused on ocean protection."
After the presentation, guests were welcomed into a new environment inspired by Susan's film. Mythical mermaids dressed in gorgeous gowns, Girard-Perregaux watches and Susan Rockefeller jewelry greeted guests amid a sea of light and projections of Ricardo Cisnero's ocean-inspired work. Mermaids passed Susan Rockefeller stainless steel straws, engraved with the night's "Protect what is Precious" theme, to discourage single-use plastic. This call-to-action is also engraved in both the Girard-Perregaux limited edition "Big Blue" and Susan's new jewelry collection which launches on June 8th at www.susanrockefeller.com.
Guests attending included Nile Rodgers, Gayle King, Almudena Fernandez, Anna Carter, Rich Gelfond, Peggy Bonapace, Sydney Davis, Andy Sharpless, Vin Cipolla, Judith Rodin, Julie Gilhart, Nina Manuel, Janet Wallach, and more. At the end of the evening, they all parted with unique gifts including an OPI nail polish kit with limited edition colors Mermalade, Sand Castle and Beaty and the Beach created specifically for the occasion.
About Girard-Perregaux
Girard-Perregaux is a Swiss high-end watch manufacturer tracing its origins back to 1791.The history of the brand is marked by legendary watches that combine sharp design with innovative technology such as the renowned Tourbillon with three gold bridges presented by Constant Girard-Perregaux in 1889 at the Paris Universal exhibition where he was awarded a gold medal.
Devoted to the creation of state-of-the-art Haute Horlogerie, Girard-Perregaux is one of the very few watchmakers to unite all the skills of design and manufacture under the same roof including the forging of the "heart" of the watch, the movement.With over 80 registered patents, Girard-Perregaux is fully committed to research and development to constantly fuse its unique heritage into modern watchmaking.Girard-Perregaux is majority owned by PPR, a worldwide leading Luxury and Sport & Lifestyle group.
About Susan Rockefeller
Susan Rockefeller is a documentary filmmaker, author, jewelry designer and avid conservationist. Deeply committed to nurturing our planet, Susan is a board member and chairs the Ocean Council for Oceana, is a member of the global Leadership Council for Natural Resources Defense Council and serves on the program committee for the Stone Barns for Sustainable Agriculture. Always a creative and positive force, Susan's other efforts include producing and directing the HBO documentary Making the Crooked Straight, which received a 2011 Christopher Award, and co-producing the internationally acclaimed A Sea Change. She launches her signature jewelry collection on June 8, 2012 as an extension of her work in support of World Ocean's Day and Oceana; each piece is meant to be a beautiful tool to spark a conversation about ocean conservation. For more information please visit www.susanrockefeller.com.
About Sailors for the Sea
Founded in 2004, Sailors for the Sea is a nonprofit organization that educates and empowers the boating community to protect and restore our oceans and local waters. For more information or to participate in any of the Sailors for the Sea programs, or to support the organization, visit www.sailorsforthesea.org.
Press Contacts
SUSAN ROCKEFELLER- Alex Dickerson- E-mail: alex@thecollectiveagency.net T 917.261.4074
GIRARD-PERREGAUX- Fernanda Zapata - E-mail: Fernanda@thepromofact.com T 212.217.9065
Watch Technical Specifications
SEA HAWK PRO 1000m- $10,900
A genuine diving instrument with assertive personality and ergonomic design, the Sea Hawk pro 1000m is distinguished by its performances.
Ready for the most extreme adventures, it is equipped with a Girard-Perregaux self-winding movement with power reserve indication. Its case entirely developed and manufactured in-house has a unidirectional rotating bezel for calculating dive times and a helium valve used for decompressing the watch after deep dives. It is also equipped with a screw-down crown and case-back.
Steel case
Diameter: 44mm
Sapphire crystal
Unidirectional rotating bezel
Helium decompression valve
Screw down case-back and crown
Water resistance: 1000 metres
Girard-Perregaux movement GP033R0
Mechanical with automatic winding
Calibre: 11''' ½
Frequency: 28'800 vibrations / hour (4Hz)
Jewels: 27
Power reserve: minimum 46 hours
Functions: hour, minute, small second, power reserve indicator, date
Rubber strap with safety folding buckle