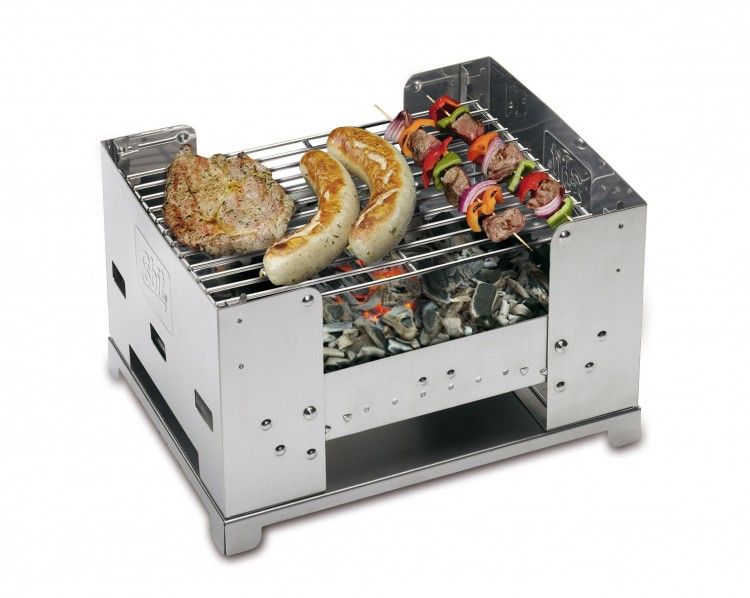 Esbit
Everyone loves eating outside once the warmer weather starts but sometimes it can be difficult if you are traveling and don't want to eat out at a restaurant every meal. It's almost virtually impossible to drag along a full-size grill so what can you do when you are camping, tailgating at a summer concert or barbecuing with the family?
Meet Esbit's new portable barbecue grill-in-a-box that offers everything you need in a grill compacted into a collapsible tiny box. Store your charcoal inside, and when you are ready to grill, simply pull open the sides of the grill, light and you are ready to grill.
We love the idea of mobile grilling and being able to take this portable grill with us on the road wherever we were headed. While most portable grills are bulky and require you carry charcoal separately, this small grill is not designed to take up that much needed cargo space.
Setting the grill up is easy because of its simple collapsible design. Simply unfold and pull open the sides of the grill, add charcoal, light and you are ready to start grilling. You can even store some charcoal in the grill while you are transporting it (which is what we did) to save room in the car.
After using the grill (which weighs around five pounds), simply wait until the stainless steel unit is entirely cooled down and return it to the carrier bag, which will contain any grease or drippings from spilling into the car.
For more information, visit www.esbit.net.