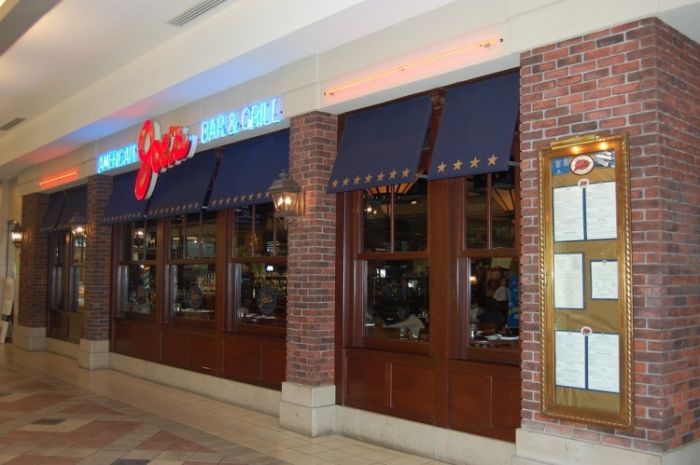 Photo Credit: Emily Knudsen
If you live in Massachusetts, chances are you've been to a Joe's American Bar & Grill before. With locations throughout Boston and scattered about New England, the brand has been around since 1984. Recently, Tavistock Restaurants has taken over the restaurant and introduced a new menu. We visited the Braintree location to see what the buzz was all about. Joe's American Bar & Grill is well known for its classic American fare, including burgers, pastas and sandwiches. The new menu still features many of the classics but you will also discover some unique finds, all made from a scratch kitchen.
For starters, the menu now includes a Maryland-lump, blue crab cake, jumbo shrimp cocktail with chili cocktail sauce and a fajita quesadilla with pulled chicken, peppers, onions, guacamole and pico de gallo. We loved the ahi tuna tartare, a generous portion of fresh fish arrived with a side of avocado, cucumber, soy reduction and super crunchy wonton chips. Main classics feature prime rib, roasted chicken, blackened chicken fusilli, short rib meatloaf and a five-cheese mac and cheese made with cheddar, jack, blue, gruyere and parmesan cheeses.
We had to try the Wicked Big Sandwich, a massive combination of hot pastrami, melted gooey provolone, coleslaw and brown mustard on thick slices of Texas toast (oh, and did we mention there are French fries in the sandwich?). Other neighboring customers couldn't believe their eyes when this enormous sandwich arrived with a steak knife sticking straight out of it.
The pan seared Atlantic salmon was a delightful surprise cooked medium-well and served with sautéed artichokes and spinach atop a mustard cream and dill pernod sauce. For the hearty appetite, try the sweet and juicy two-pound full rack of barbecued baby back ribs made with jerk rub and brown sugar served with a side of coleslaw and French fries. We didn't save room for dessert but next time, we are looking forward to trying the warm skillet chocolate chip cookie with candied pecans, vanilla ice cream and chocolate sauce.
Photo Credit: Emily Knudsen
Photo Credit: Emily Knudsen
Photo Credit: Emily Knudsen