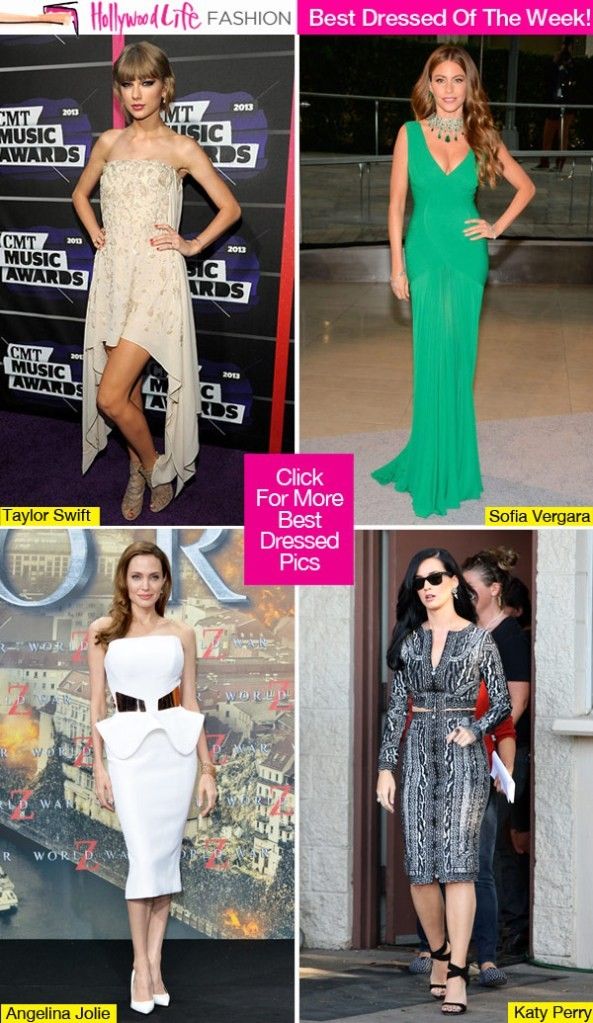 Image via hollywoodlife.com
It's no secret: Taylor Swift is my guilty pleasure. That said, it pains me to admit that she was thoroughly trounced in the fashiondepartment by stylish ensembles like Sofia Vergara's green wonder or Katie Perry's stylish gray and white print dress. I don't hate Swift's flowing gown, but it left a lot to be desired and, to be honest, looked particularly unfinished.
Stars have been flooding red carpets all week. From movie premieres to to the CMT awards and the CFDA Awards, these lovely ladies showed off their hottest looks this week — and you can see our top 10 right here.
Katy Perry:
Katy Perry look absolutely flawless on the Kroll Show this week in a crop top and long skirt. Her skin-tight ensemble from Hervé Léger by Max Azria Fall 2013 collection looked amazing on her toned bod! The long sleeve crop top showed just a sliver of her midriff but she zipped the neckline down, revealing some cleavage. The pencil skirt fell to her knees and hugged her legs and hips perfectly. (Read More)