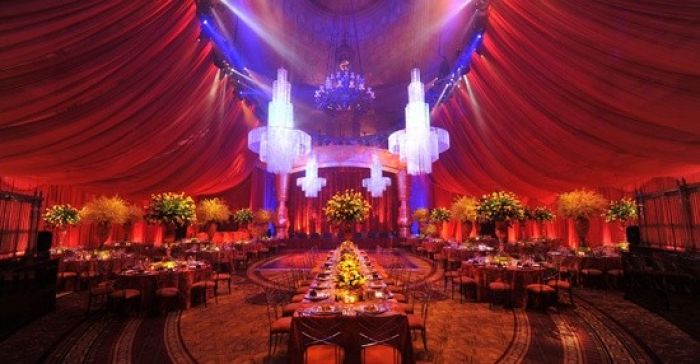 http://pinterest.com/pin/12413
Everyone wants to celebrate their wedding in style and luxury. So why not go for it? Whether opting for an over-the-top centerpiece, a lavish ceremony space, or spectacularly unforgettable wedding dress, going luxe on your special day will indeed make it a day to will remember.
There's no right formula in capturing the "wow" factor. You can either use a stunning style or an elaborate design to pull it off. But if you find yourself confused, here are a few inspiring ideas to get you started.
1. Invitations
Instead of sending them via mail, hire a messenger service to deliver all the invitations personally. The cards may come with mini bottles of champagne. If that's too expensive for you, send a flower along with the invite instead - a rose or orchid may be nice.
2. Colors
For a luxe touch, choose monochromatic colors. Color choice shows the refined style of your event. The classic black and white or cream with black or gold accents is a premier example. Pastel shades, paired with a metallic one can also convey an upscale event.
3. Tents
Tents always give off an aura of mystery and magic, making guests clueless of what to expect inside. Take advantage of this chance for drama and bring the indoors outside by mixing silk draping and chandeliers with nature-inspired elements.
4. Venue
What better way to leave your guests impressed than a breathtaking view. When picking a possible venue for the reception, go for ballrooms and restaurants with high ceilings and a scenic view of the city or the sea. You can even take your wedding to a whole new level by arranging a fireworks display and making it a highlight of the reception.
5. Lighting
Lights can transform any space and plays a major role in making your wedding a classy and elegant one. Dim and yellow lights go better than bright white ones. There are also many lighting tricks you can use for more flair. Ultimately, when you invest in lights, you'll definitely hear "ooohs" and "aaahs" from your guests as they walk in.
6. Ceiling
Most couples spend so much time on decorations that they sometimes forgo one of the most important aspect - the ceiling. Ceilings are huge spaces that, when used correctly, can transform any ballroom into a magical one. For a stunning appearance, embellish the ceiling with paper lanterns, chandeliers, or flower arrangements.
7. Music
Instead on relying on your trusty cd or mixed tape, invite a live wedding band to perform on your wedding.  There are many wedding bands for hire. Choose one that defines your taste. You can go for Jazz band musicians or even stick with classical music performers.
8. Wardrobe change
One grand entrance is not enough. For a luxe wedding, the couple must make two grand entrances, each with different outfits. Grooms may be exempted, but brides aren't. Just like brides in India or other parts of Asia, they wear one gown for the ceremony and another one - which is more party-friendly - for the reception.
9. Cocktail reception and open bar
Butlers and waiters in tuxedos and white gloves passing trays of different kinds of hors d'oeuvres look more upscale than having dishes on a buffet table. In addition, you wouldn't want to leave the guests short on drinks right? An open bar is the way to go.
10. Photo favors
Ask your photographer to snap photos of each smiling couple and ask him to print them during the reception. This way, when the ceremony is done, you can give your guests framed copies of their photos, along with your thank-you note. It might be a bit of a hassle, but in the end, it's definitely worth it.
There you have it! Do you have any other ideas? Share them here!
Congratulations on your luxe wedding!
About the author: Melissa Page loves everything about weddings. She usually writes about wedding planning, wedding ideas and wedding bands in Scotland. She also loves traveling, bowling, and books.