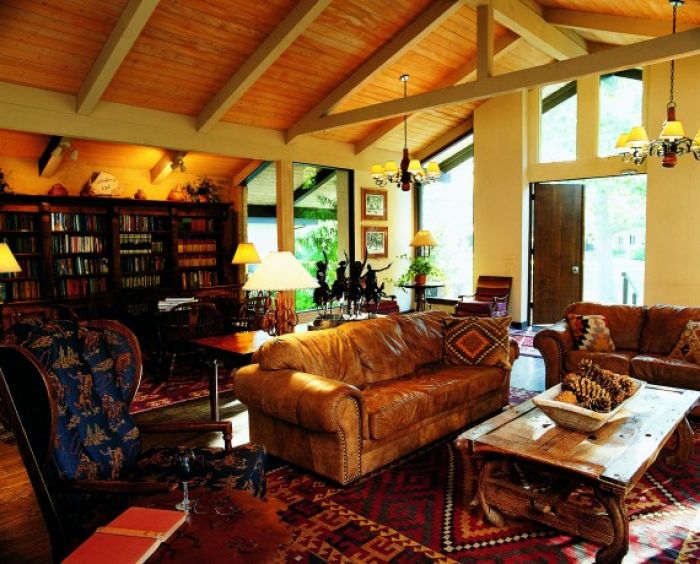 Alisal
Ten thousand acres, two hundred horses, and one giant bald eagle's nest is a good formula for a dude ranch.  Plop it in California's Santa Barbara wine county, throw in a stunning spa, two 18-hole golf courses, and a 100 acre private lake, and you've uncovered Alisal Guest Ranch and Resort. Since 1946, the "Alisal," meaning grove of sycamores, has entertained and inspired guests in its quiet outcrop within the rolling hills of theSanta Ynez River area. Here are my top delights on a recent visit:
That Land: The more I travel, the more I find my favorite destinations are those that suspend me in time from daily travails and offer a quiet refuge.
I love a place where the soundtrack is composed mainly of bird chirps, the clopping of horses' hooves, and the occasional raucous rooster.  Alisal is just this place.  I jogged for miles one morning, down a tree and hay bales lined road, with just the music of rustling leaves to accompany me.  During the afternoon, a group of guests and I embarked on a two hour horseback ride along one of the hundreds of trails that crisscross property's stunning chaparrallandscape. The resorts' two thousand working cattle grazing the hillsides seemed curiously entertained by the lines of guests trotting past nearby. Horseback riding is available twice daily and is a staple activity not to be missed. Beginners through advanced riders are encouraged to saddle up. (The ranch offers rides by skill level, a nice aspect, to ensure every guest rides at a fun pace.) As we looped around the resort's lake, our guide pointed out a massive bushel of sticks within a lofty tree, the home of a pair of bald eagles currently nesting an egg or two.
That Lake: Just a mile or two over the hillside of the ranch is its pristine private lake. Like a sparkling sapphire, this lake is the definite jewel of Alisal, the meeting spot for picnics, archery lessons, air rifling, and boating. My guest and I took a little canoe along the rim of the lake, admiring the bluegills and communing with another pair of guests in a kayak. The ranch boasts guided fishing trips, led byJason Grupp,an Orvis endorsed guide, who shows eager guests the tricks for reeling in foot-long bass. As the property's private watering hole, with no outside visitors permitted, the lake maintains Alisal's "escapist" atmosphere. 
The Story: Something about Alisal's deep history lends to its multi-generational guest appeal.  I chatted with several guests who cheerfully quipped it was their third, 6th or 11th stay at the ranch with their families, girl pals, or significant others. One lake attendant said the best thing about his job was, "seeing the same folks, year after year." Few resorts have this level of loyalty or enthusiasm, and it only comes by doing many things just right. The stunning backdrop from Mother Nature doesn't hurt, but the tennis courts, golf courses, and an impeccable restaurant, the Ranch Room, are the impressive, obvious amenities to the property. For me, it's also the real fireplaces, homemade oatmeal pies, packed picnic baskets, horseshoe toss rings, and the other comforting delights, that make a resort a secondary "home" to guests.
The other experiences: If guests tire of the usual horse rides and golfing, Alisal offers several experiential packages during the year. I liked the BBQ Bootcamp, a four-night extravaganza of all things BBQ, assisted by Grill Master and Hitching Post II owner, Frank Ostini. Rib rub, tri-tip, wood chips-this is the Bobby Fly wantabe's fantasy excursion. For cowgirls wanting to master everything from hat shaping to barrel racing, a Cowgirl Bootcamp takes place a few times a year as well.
Learn more: www.alisal.com
Alisal
Alisal