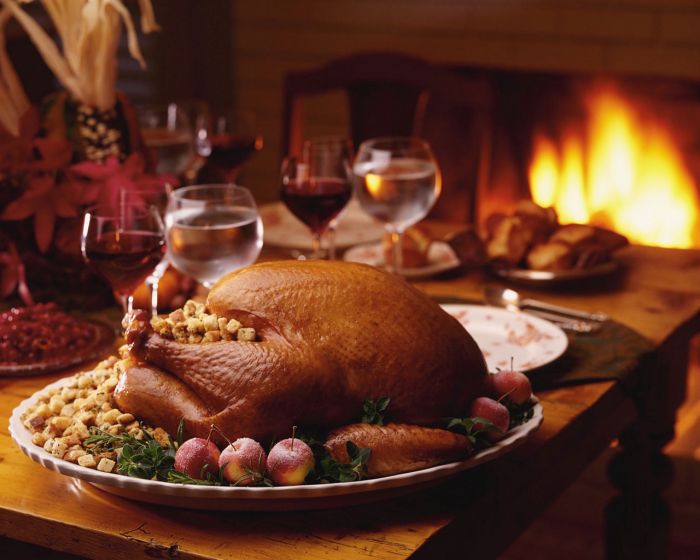 indianluxurytrains.com
While all major faiths preach gratitude, Thanksgiving is a non-religious holiday that is embraced by people of all faiths and is a good time to come together and kick-off the holiday season. On the occasion of thanksgiving Indian Luxury Trains (ILT) wish all the members, readers and visitors of Justluxe a happy Thanksgiving, a fun-filled holiday and delicious dining full of apple pie, turkey and gravy, ham and mashed potatoes.
Thanksgiving began as a tradition of celebrating the harvest of the year. It is currently celebrated on the fourth Thursday in November by federal legislation in 1941, has been an annual tradition in the United States by presidential proclamation since 1863 and by state legislation since the Founding Fathers of the United States.
Thanksgiving is truly a food-centric feast, ushering in the beginning of the holiday season. The star of the day is the turkey. Since 1947, the National Turkey Federation and the Poultry and Egg National Board have given a turkey to the president.
That was typically the case, until 1963, when President Kennedy pardoned the first presidential bird, deciding he'd rather keep the official bird that year than kill it. However it is believed that the actual pardoning tradition started with George HW Bush, who performed the "pardon" in the Rose Garden and repeated it every Thanksgiving of his presidency, thereby solidifying the tradition. Regardless of when that first pardon took place, it's been a Thanksgiving tradition ever since, with the pardoned birds earning names like "Apple" and "Cider," or "Pumpkin and Pecan." They might not be eaten, but they sure sound delicious.
This year President Barack Obama has given two turkeys the traditional Thanksgiving reprieve. The official national birds to be spared are named Liberty and Peace. The president gave a speech full of jokes, flanked by his daughters, Sasha and Malia. The president and his family planned to deliver and serve two less fortunate birds to a local food pantry, or soup kitchen. So you too be sure to enjoy your delicious platter as Thanksgiving is surely about a lot of food.
indianluxurytrains.com
Bush Jr pardons Turkey