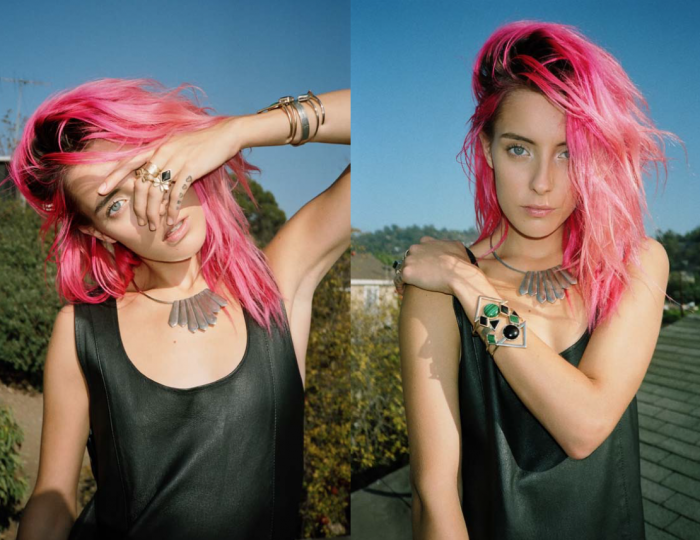 If there ever were a jewelry brand with a cult following, The 2Bandits is definitely it. The young contemporary jewelry brand, launched just a few seasons ago by San Francisco based designer Tamar Wider, has introduced each collection with an attention-grabbing lookbook that defines the collection in true visual detail. For Spring 2014, Wider has created an assortment of statement-making jewels, true to her refined bohemian signature style, that was heavily inspired by the magestic Northern Lights, a natural electrical phenomenon characterized by the appearance of streamers of reddish or greenish light in the sky usually near the northern magnetic pole.
"Many cultures believe that the Northern Lights are the appearance of "dancing souls" - Mother Nature at its raddest. I wanted to capture that in a way that could be enjoyed everyday, from every angle." explains Wider
Capturing the collection's essence with a unique lens was photographer Jason Lee Parry, who shot indie sweetheart Chloe Norgaard in a range of images that merged a bold braveness with un-hindered innocence. The result speaks for itself. For those who are already loyal and those who are first being introduced to The 2Bandits, the Northern Lights collection just dropped at the2bandits.com. For inspiration, enjoy the lookbook!
Credits:
Photographer: Jason Lee ParryModel: Chloe NorgaardHair: RamsellMakeup: Jeannie JeffriesStylist: Zara Mirkin
The 2Bandits
The 2Bandits
The 2Bandits
The 2Bandits
The 2Bandits