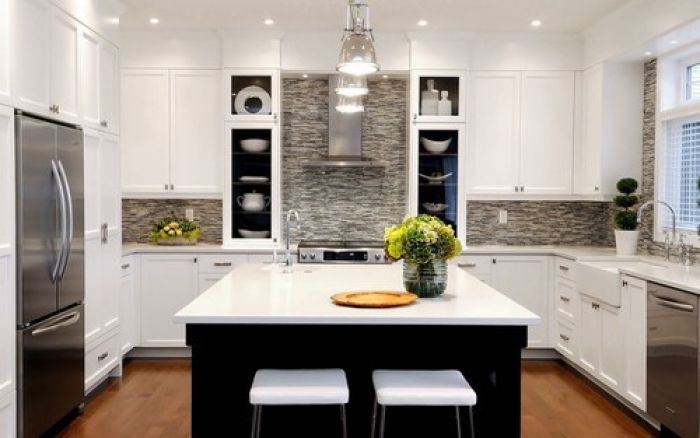 http://weheartit.com/from/igno
If this is your first, brand new kitchen, finding the right appliances to go in your cooking area is an exciting experience. It can be difficult to know where to start! So you can get the best out of your kitchen space, we've made a list of 7 fun appliances you should consider purchasing.
Crock Pot
After a long day at work, the last thing you want to be doing is slaving over a stove. Put your feet up in front of the television instead and let your crock pot do the work. Perfect for winter, when you feel like warm stews and casseroles, a crock pot slowly cooks your food during the day so you don't have to, and tempts you with a welcoming smell as you open the front door. There are all sorts of recipes online for a variety of diets, so experiment with a whole menu of dishes.
Get a Gaggenau
You've heard of induction cooktops, but nothing quite like Gaggenau's 36 inch, full surface cooktop. It turns an entire work surface into a large cooking area. Limiting yourself to circular rungs is a thing of the past, now you can cook pots and pans of all different sizes.
Portable Toaster
Running late for work? Grab your portable toaster and jump in the car. The portable toaster works like a ceramic knife and moves across the bread like an iron. If that doesn't sound fantastic enough, a butterfly pattern informs you of the level of toasting you have reached. All you need is a little pot of butter and you're good to go!
Bang Bang Steamer
Following the line of toasting, the Bang Bang Steamer is like a toaster for your eggs. Want a nice boiled egg for breakfast, but can't be bothered with faffing around in the kitchen? Just pop your eggs in the holes and pour in enough water, lower your eggs, and hey presto! Perfect eggs pop up when they are done, just like your morning toast.
Coffee Machine
Every coffee-lover needs a coffee machine. Purchase a coffee maker with a timer that is in synch with your alarm clock; that way, you can stumble towards the coffee machine first thing in the morning and get that initial pick-me-up without having to prep the coffee yourself.
Magic Bullet
This blender has a strange name. We won't think too much about it. What we will think about though is how great this blender is! It comes with a variety of plastic mugs and jugs that you lock into the machine easily. Fantastic for smoothies and protein shakes, this blender has cast a spell on us.
Bread Makers
If you don't already have a bread maker, get one now. It's worth it just for the way your house smells, but you can save money by baking your own bread. There is something satisfying about a home baked loaf that store bought Hovis can never achieve. 
Zoe is a twenty-something Brit blogger with a keen interest in lifestyle-related topics. She has written this guest post today on behalf of Range Cookers.