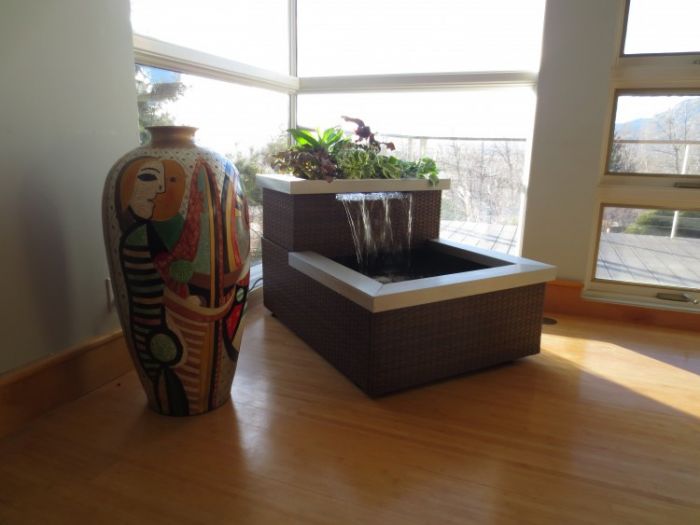 The Aquaponic Source
Winning Combination of Form and Function with Designer Elegance
For gardeners looking to grow their own food year-round without worrying about the harsh winter weather, aquaponics is the way of the future. With 2.5 billion dollars spent nationwide on U.S. food gardens and a $21 billion return on investment, the incentive to implement this revolutionary system combining raising fish and plants symbiotically is met with growing interest and passion. Aquaponics is quickly becoming increasingly popular throughout the U.S., and The Aquaponic Source is the leader in innovation and design. Their newest line, AquaDesigner Living Fountain, will be released the second week of February and can be used both indoors and outdoors.
"The harsh winter months are a constant problem for people who enjoy growing their own vegetables and herbs," affirms Sylvia Bernstein, president of the Aquaponic Source and author of the book, Aquaponic Gardening: A Step-by-Step Guide to Raising Vegetables and Fish Together (New Society Publishers, October 2011). "That is just one reason why the Aquaponic systems appeal to so many people. The new AquaDesigner line combines décor with a sustainable way of living," she says.
The AquaDesigner Living Fountain series consists of two new lines, perfect for the indoors or outdoors:
Tranquility. Available in colors such as chocolate, charcoal, & terra cotta, the series of waterfall gardens feature different shapes and sizes that are perfect for an indoor or outdoor aquaponics source. The Tranquility products are sold for $199.95.
Ambiance. The Ambiance series is the largest Living Fountain available. The hand-woven, weather-proof wicker creates a light, durable fountain that can hold 45 gallons of water. Perfect for a larger diversity of plants or those who want more fish. The fountains are available in chocolate or silver and sold for $795.00.
"The beauty of the AquaDesigner Living Fountains is that they have perfect form and function," affirms Bernstein. "Beneath the lovely decor resides the heart of our professionally designed and crafted aquaponic plumbing system, which will keep your plants and fish healthy and growing symbiotically with very little care"," she affirms.
For more information, visit the website at www.theaquaponicsource.com.