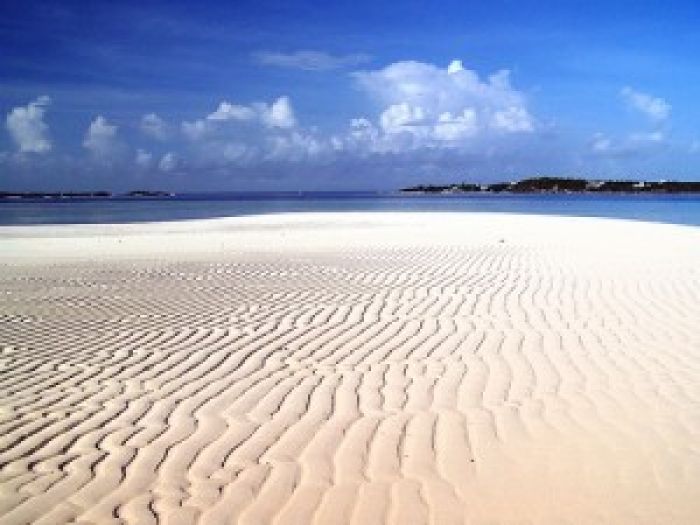 Image by Rick Wickliffe
When the temperatures dip and the cold winds blow, is there anything possibly better than an escape to a sandy beach, where warm tropical gusts caress your hair and you can relax to the sound of gentle waves?
The world is full of stunning and exotic beaches that are just begging to be explored by the likes of you. Whether you want to lie in the sun and soak up the rays, swim in crystal clear waters or perhaps engage in a slightly more exciting sport on the water – windsurfing, anyone? – there is a beautiful beach waiting for you.
Bali
For any beach lover, a visit to Bali is a high priority in life, without a doubt. With soft white sand that is like plush under your feet, water so crystalline blue it's unreal and moderate temperatures throughout the year, Bali's beaches consistently make lists of the world's best each year. The best time to plan Bali holidays is in the dry season, April to October; the erosion is minimal and the beaches tend to stay free of debris from the ocean during the dry season. Many consider Geger Beach/ Mengiat Beach in Nusa Dua to be the best in all of Bali, with powder-like sand, clear water and fewer vendors than other beaches in the country. The Sanur area is also popular with visitors, featuring a walkway measuring 7 kilometers that's ideal for taking in the spectacular Bali sunrises. Surfers would do best to head to Echo Beach in Canggu. Although the beach itself is rocky, the surf is consistent – even if you don't surf, it's worth a visit to check out the surfers as they ride waves in the Indian Ocean.
Seychelles and Maldives
Also in the Indian Ocean, these two island chains offer unparalleled luxury in addition to stunning beaches. The Seychelles were good enough for the honeymooning William and Kate – that should tell you something!
The Seychelles are made up of 115 islands; La Digue is the home of L'Anse Source d'Argent, a pink sand beach that is one of the most photographed in the world. The Maldives, southwest of Sri Lanka along the Equator, consists of 1,102 islands best known for snorkeling and diving.  The waters surrounding the Seychelles are comparatively shallow and protected from the ocean surf by a large reef, while divers in the Maldives can see hundreds of species of tropical fish in water's that are more than 75 feet deep. In either locale, landlubbers can enjoy lounging in the tropical sunshine on immaculate beaches – and spend nights in some of the world's best resorts.
Bora Bora, Tahiti
Those considering romance need to look no further than this lush strip of land in the South Pacific:   the island's nickname is actually "Romantic Island." Just 18 miles long, Bora Bora is located in a protected lagoon, meaning it offers white shores just begging to be relaxed upon. And if you want to spend some time in the water, Bora Bora's sparkling turquoise seas are beyond compare. Book a stay in one of the island's secluded overwater bungalows and enjoy a quiet tropical getaway.
Hawaii
There's a reason that the islands of Hawaii are one of the top vacation destinations in the world. With warm temperatures for most of the year, a laidback island vibe and some of the most gorgeous beaches in the entire world, Hawaii is a family friendly destination that offers both relaxation and adventure. Waikiki Beach is certainly the most well-known of Hawaii's beaches, but it's also by far the most crowded. For a more secluded beach visit, head to Kauna'oa Beach on the big island; the soft white sands are fringed with palms and in the evenings you might catch a glimpse of majestic manta rays cavorting in the water. Or enjoy the soft sands and emerald waters of Lanikai Beach; the beach is protected by a coral reef, making it a great place for swimming.
Of course, if you want a change of pace from the tropics, the winter months are the perfect time to visit more far-flung coastal destinations such as the Hamptons in New York or Nantucket Island, which offer seaside charm along with beautiful beaches.
With thousands of miles of coastline in the world, the most difficult part of booking your beach holiday should be choosing where to go – and if you visit one of these beach destinations, you'll probably have a hard time wanting to return home!
Brandon Adames, Brandon is a freelance writer and travel enthusiast who enjoys exploring the world and writing about what he finds.
Fashion is one of those rare things that allows you to say everything without speaking a single word. Designer shoes are just a form of this unspoken sartorial communication, but it's one so subtle that only other sneakerheads are likely to pick up on it. And it's this understated luxury that makes tennis shoes so appealing—at least to us. Over the years with the release of exclusive collaborations, limited-edition lines and one-off collections that sell out in mere minutes, it's easy to see how collectors can drop thousands of dollars on sneakers. But there are plenty of designer kicks that cost just as much, if not more, then pre-owned, special-edition Jordans. The only difference is you don't have to spend months on resale sites trying to hunt down your preferred size, color and brand. Here are the most expensive kicks you can still own. None of these bad boys have sold out—yet.

-->