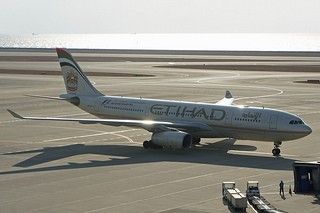 Luke Lai
Whether youíre attending an important board meeting or just taking a much-deserved break, your journey should be as luxurious as the destination. This is especially true when youíre traveling overseas. A flight to the other side of the world can be unbearable without the comfort and amenities of a first-class seat.
However, not all first-class cabins are created equal. If you have a particular service or amenity in mind, you may have to dig deep to find it. But if youíre simply looking for the best, youíll find it from any one of these best-in-class airlines:
Cathay Pacific Airways
Booking a first-class seat on this airline is like booking a premium suite at a small bed-and-breakfast. Sit in a herringbone layout pod that reclines for sleep or sits up straight for work. If youíre hungry, order a gourmet meal made especially for your tastes. Maybe you wonít be watching video over cat6 on Cathay Pacific, but you will be able to turn on your private screen and choose from 100 movies, 500 TV shows and 22 radio channels in 10 languages.
Emirates
Few first-class cabins offer the same pampering and privacy as a cabin on Emirates. Luxurious leather seats can be flattened into comfortable beds, or turned on to give you a soothing massage. Private suites come with a mini-fridge and vanity mirror. Enjoy a drink with your fellow passengers in the onboard lounge as you discuss your companyís new video distribution strategy. If you need to freshen up during your flight, the cabinís two restrooms each include a shower and marble sink.
Etihad Airways
Etihadís first class seating has been named the best by Skytrax two years in a row. Some say itís because of the leather seats from Poltrona Frau that convert into 80-inch beds. Others think itís the full-length vanity mirrors in the lavatories. Still others think itís the 23-inch entertainment screens included in each of the cabinís private suites, or the meals prepared by in-flight chefs. The real reason for the commendation is all of the above!
Singapore Airlines
Your first-class experience starts with a 35-inch wide seat upholstered in hand-stitched Italian leather and featuring a mahogany wood trim. It continues with a 23-inch entertainment screen, where you can watch newly released movies or play the most popular video games. You can also dine on lobster tail or rack of lamb at dinnertime, and then get turndown service when youíre ready to go to bed. In other words, first class on Singapore Airlines is like nothing else in the air.
If you want the best in first class, youíll only find it on a handful of flights, including those offered by the airlines listed here!