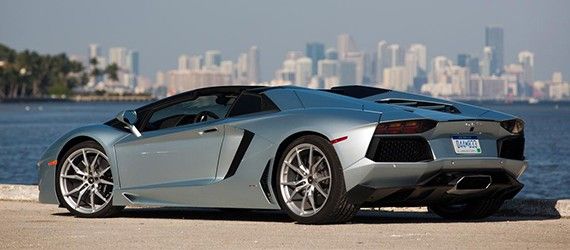 google
The year 2013 has been a very exiting one so far, at least when luxury supercars are concerned. A lot of the top makers have been working hard on providing us with stunning new designs and machines capable of reaching incredible speeds in a very short amount of time. The best thing is that we can expect even more good surprises in the near future, as soon as 2014, but let's not get ahead of ourselves. It was difficult to choose favorites among such great options, but these three stood out amongst the crowd, both in terms of sheer looks and by outperforming many of the competitors. Allow me to introduce you to the very best high-performance luxury cars of 2013.
Ferrari F12 Berlinetta
As usual, Ferrari has succeeded in creating an awe inspiring car. The Berlinetta tops its predecessor, the 599, and manages to amaze with the technological superiority, performance and style. The lines are very slick, elegant and soft, a true symphony of rounded surfaces that blend into one another – every line carefully design to allow great speed and optimal drag. The 6.3 liter V-12 engine is capable of an explosive 729 horsepower, allowing this magnificent machine to cruise the concrete at a top speed of 210 mph. The acceleration is astounding – 0-60mph in 3 seconds flat.
All that insane power is transferred to the rear wheels, but the dual-clutch 7 speed transmission allows you to effectively tame the fire breathing monster that resides under the hood. The electronics will take good care of you as you drive, making slight adjustments to give you the best ride possible under various circumstances. The Berlinetta looks incredibly elegant and sophisticated while at the same time having good maneuverability at great speeds that make it a one of the best super-cars available today.
Lamborghini Aventador LP700-4 Roadster
The Lamborghini Veneno nearly made this list, but because its production was limited to only three units, and it's already sold out, it seemed a bit unfair to tease people with a beautiful super-car, knowing full well that none of them will ever get a chance to drive it. The Aventador on the other hand will be available at your local exotic car dealer for a little under half a million US dollars. It boasts 700 horsepower, produced by the 6.5 liter V-12 engine which makes this monster capable of extreme feats of acceleration – 0-60 mph in 3 seconds flat.
The top speed is 217 mph. However, the true value of this super-car lies in the breathtaking lines and the elegant interior. There is an old joke about how Lamborghini designers like to design new models with a hatchet, but the aggressive, sharp angles and deep cuts look phenomenal – particularly on an open top model like the Aventador. It is both a beauty and a beast, and a true joy to drive.   
Pagani Huayra
Pagani has finally awakened from its long creative slumber and given us a worthy successor to the legendary Zonda. The almost unpronounceable name comes from the old Inca language name Huayra-tata (Father of the Wind), a deity associated with hurricanes. A very fitting name for a car with a top speed of 230 mph, pumped out by a 6 liter, 720 horsepower engine. It accelerates from 0-60 mph in 3.4 seconds, which is a bit slower than the previous two cars on this list, but it more than compensates with a higher top speed and incredible performance on the road. On the popular BBC series Top Gear, the Huayra has made the fastest lap around the track (only street legal cars are allowed), defeating great names such as Koenigsegg, Lamborghini, Ferrari and Bugatti. The exterior is also something to brag about – the design is very appealing, but also very functional. The design features carbon fiber and independent flaps on both sides that allow active, separate adjustments to provide the right amount of drag in the corners. Huayra is also the cleanest and greenest super car out there – capable of going 21 miles per gallon. So you don't just get the looks, extravagance and high performance, you get a pretty eco-friendly work of functional art.     
After much careful consideration and deliberation, the three cars you see before you - the F12 Berlinetta, the Aventador Roadster and the Huayra – were the ones that managed to prove themselves through technical perfection, incredible speed, optimal performance and unparalleled aesthetics, the other cars just paled in comparison. 

Find out more about these luxury cars on http://www.carsearchbrokers.com.au/
google
pagani huayra 2013