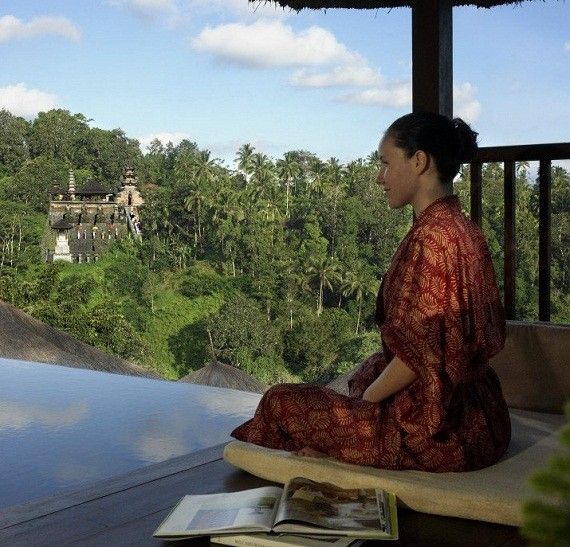 For many travelers, a trip to the spa for some pampering is one of the highlights of any trip. A few hours spent in a tranquil environment, getting massaged, cleansed and relaxed can do wonders for any stressed out globetrotter.
In the tropical paradise of Bali, the spa experience goes to a new level. Nestled in lush gardens or along sandy shores, the spas in Bali are legendary and thousands of travelers book flights to this tiny nation every year for rest and rejuvenation. From full service spa resorts to simple day spas, these are some of the best bets for your money in this paradise. All prices are in Australian dollars.
Tamarind Spa at Murni's Houses
Located under the shade of a Tamarind tree in the tourist hotspot of Ubud, Tamarind Spa at Murni's Houses is one of Bali's most consistently top rated spas. With trademark Balinese hospitality, the spa is surrounded by tranquil gardens and fountains, and offers a full range of spa services from massages and rubs to manicures and pedicures. Tamarind Spa is also unique in that it is an artistic as well as relaxing experience. Murni, the owner of the spa and adjacent guest houses and villas, has a background in fine art and has filled the spa with Balinese and Indonesian art, offering a glimpse into the local heritage. Prices for such luxury are surprisingly reasonable, with full day packages average about $100.
Jari Menari
If a heavenly massage is what you're looking for, then Jari Menari is where you need to be. In the heart of Seminyak, Bali, Jari Menari focuses exclusively on massage, and has been called "the best massage in Bali." All of the massage rooms are open air, with garden views, and the all-male massage therapy team provides traditional Balinese massage that relaxes and heals tired muscles. For those who want to learn more about massage and new relaxation techniques, Jari Menari (literally translated to "Dancing Fingers") offers massage classes for beginners and experienced professionals each week. Massages average $25-$35 per hour.
Prana Spa Bali
Also in Seminyak, the Prana Spa Bali is one of the largest spas on the island, and a haven of luxury and opulence. Owned by Australian artist Jim Elliott, Prana Spa is decorated in Middle Eastern and Indian styles; treatments take place either under intricately painted ceiling or an opulent tent. The treatments themselves are the height of luxury and relaxation, ranging from basic massages to Ayurvedic treatments designed to treat the body and mind. Prana offers free transportation to the spa from several areas of the island, and packages range from just under $30 for a massage, to several hundred dollars for a full day of treatments.
Bekar Sagat Spa
Just fifteen minutes from the beach, the Bekar Sagat Spa in Nusa Dua is a traditional Balinese spa, offering relaxing massages, body wraps, floral baths and skin treatments. And with three hour packages starting at just $70, it's one of the best spa bargains anywhere. Treatments take place in private air-conditioned rooms or open air treatment areas overlooking lush gardens. Bekar Segat Spa will pick you up at your hotel or you can opt for an airport transfer package. Before leaving Bali (reluctantly), the staff of Bekat Sagar will pick you up, and transfer you and your luggage to the airport after you experience a three hour relaxation package with a massage, bath and traditional Balinese skin treatment.
Aroma Spa Retreat
For the ultimate relaxing retreat, book one of the retreat packages at the Aroma Spa Retreat in Sanur. The day retreat package includes transportation to and from the spa from your hotel, meals and a selection of treatments that include traditional Balinese massage, nail and skin treatments and a refreshing hair wash and blow dry. The day treatments are reasonably priced as well, with the top end packages around a mere $300.
No visit to the island of Bali is complete without spending at least a few gorgeous hours at one of the world-renowned spas. For the cost of just a few cups of coffee, you can have the cares of life rubbed away in a traditional massage – or have any other of the hundreds of treatments designed to clear your mind and allow you to enjoy all that this island paradise has to offer.
This article was written by Erica Gustafson who is a freelance media consultant and writer. She enjoys traveling throughout the world and writing about her experiences.