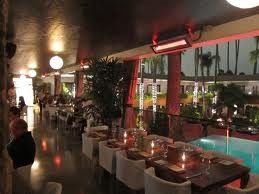 shopeatsleep.com
The Bridge is an al fresco extention of the Dakota Steakhouse. During the summer months The Bridge takes main stage in serving up some of the most enticing California and continental cuisine. The menu will vary from week to week with an exciting new array of tempting culinary creations. The Bridge known as the famous Marylin Monroe Bridge is the setting for an "adventure" in dining from week to week.
The appetizer menu is creative and will be hard to choose from. The entree's can range anywhere from seafood to a hearty steak. With a weekly change in the menu the anticipation from week to week is like waiting for Christmas! If your into exotic or just plain creative cocktails their mixologists have all the ingredients needed to create you a spectacular one of a kind drink to compliment your dinner.
For the wine connoisseur with the sophisticated palet, you'll be delighted with the vast array of wines or champagnes to choose from. The perfect wine for the perfect dinner.
Are you the adventurous type? Do you like surprises? Then from week to week The Bridge will captivate you and grab your attention with all the many culinary creations that you can image and then some. The atmosphere is comfortable for large groups and corporate gatherings or simply for that romantic evening with someone special.
You might also like:
Learn About Wine with Ian Blackburn
losangeles.grubstreet.com