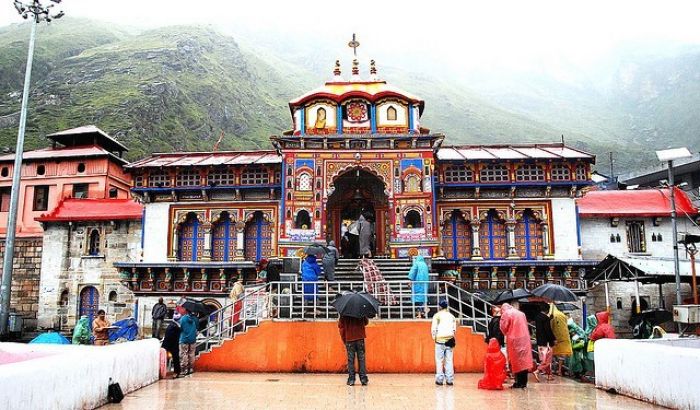 Flickr
Sitting in the high elevation of the mountain peaks the four most consecrated places of India - Gangotri, Badrinath, Kedarnath and Yamunotri, together forming a word known as "Char Dham Yatra". It is strongly believed by many people that one undertaking this holy trip will not only rinse off all the sins, but also break the cycle of death and life. Moreover, these are the dream destinations of millions of people who yearn to scout the charisma of goddesses.
The ancient philosopher "Adi Shankaracharya" was the person who invented the holy word - Chardham Yatra in 8th century. He had done this in an effort to amalgamate all the Hindus from all over the world. One must visit these holy destinations at least once in their lifetime to attain harmony and peace.
The places render the soothing environment where lords supposed to be existed in the laps of the Himalayas. Let's take a glance at the four pilgrimage centers of Uttarakhand.
Yamunotri
Nestling at a height of 3,293 m in the Garhwal Himalayas, Yamunotri is the sacred destination of goddess Yamuna, opposed Gangotri. The hot water springs are used by innumerable devotees for making rice and potatoes and after cooking them, they take back home as a gift of god or "Prasadam".
Gangotri:
Sited at an elevation of 3200 m above sea level among the scenic surroundings, Gangotri is visited by thousands of devotees every year in order to offer their prayers to River Ganga, which is enclosed by ice-mass. There are innumerableAshramasaround the temple where devotees can stay for a while and experience the natural beauty and perfect weather.
Kedarnath:
Surrounded by breathtaking snow clad peaks, Kedarnath is supposed to subsist from the Mahabhrata time when Pandavas pleased Lord Shiva by carrying out atonement at this destination. It is an abode of Lord Shiva, and a statue of Adi Shankaracharya is also placed at the Samadhi Mandir who established this temple. The only way to reach the temple is by trekking, which covers 8 miles from Gaurikund. The sacred place opens in Vaishakh from April to May and closes by the end of October.
Badrinath:
Home of Lord Vishnu and considered as one of the highly visited holiest temples, Badrinath is lying at an altitude of 3133 meters above sea level in the laps of Mother Nature. The main gate also known as "Singh Dwar" adorned with superb paintings, which entice the visitors on their visit. The nearest airport – jolly grant close by Dehradun is situated at a distance of 197 miles, while the railway station covers the same distance from Rishikesh to reach here. Due to heavy snowfall, the Dham remains closed during the winter season.