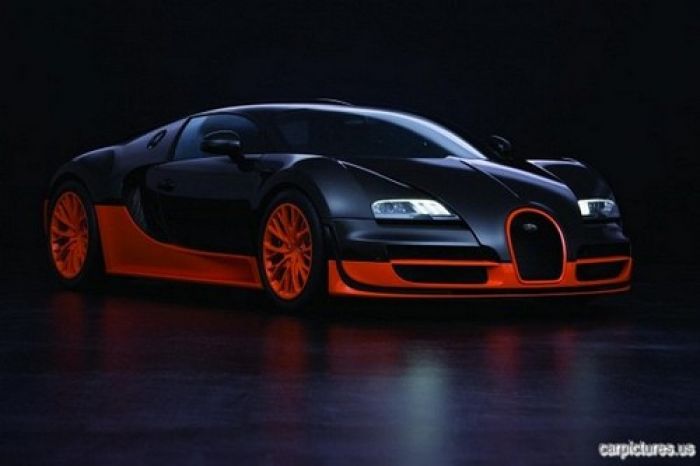 Motor74
Ferrari, Lamborghini and Porsche may be the most desirable marques in the world of sports cars, but they don't make the fastest models. If you want to own one of the world's quickest road legal cars, you'll need to look at some of the niche manufacturers and, of course, have a massive budget.

1) Bugatti Veyron Super Sport
This £1.6 million monster is recognised by Guinness World Records as being the fastest ever production car, after being clocked at 267.8mph on Volkswagen's test track at Ehra-Lessien in 2010. The company isn't satisfied with that though, and it is rumoured the new Bugatti SuperVeyron, scheduled for release late in 2013, will have a top speed of 288mph.

2) SSC Ultimate Aero TT
This US-built two-seater is the former holder of the world record, after recording a speed of 256mph in 2007. The supercar manufacturer recently launched the SSC Tuatara, which has a theoretical top speed of 276 mph, but it is yet to be proven on the test track.

3) Hennessey Venom GT
You'll be wasting your time if you try to beat the Hennessey Venom GT away from the lights, as the American supercar set the Guinness World Record for fastest acceleration by a production car when it went from 0-186mph in a staggering 13.63 seconds in January 2013. Don't expect to see too many of the 7-litre V8-engined motors in your local supermarket car park, as only 29 will be manufactured and the list price is a little over £900,000.

4) Koenigsegg Agera R
If environmental concerns are the only thing stopping you buying a Hypercar, then the Koenigsegg Agera R could be the answer to your problems. It runs on bio-fuel, but the 5-litre V8 engine still generates 1,100hp and the Swedish manufacturer claims the car can hit 273mph, although that has yet to be demonstrated in an independent test.

5) 9ff GT9-R
German tuning company 9ff specialises in transforming Porsches into road legal supercars. The GT9-R started life as a Porsche 997, but was reconfigured to make it a mid-engined car and tuned to give it 1,120hp and a top speed of 259mph in track conditions. Only 20 of them were made, so you won't see too many for sale on eBay.

6) Saleen S7 Twin Turbo
The Saleen S7 Twin Turbo was one of the cheapest supercars, with a price tag of around £300,000 when it was launched in 2005. Its 7-litre Ford engine generated 750hp and gave the S7 a reputed top speed of 248mph. With that combination of price and performance, it was no real surprise when the company ran into major financial difficulties.

7) McLaren F1
When a Formula 1 team makes a road car, it is reasonable to expect it to be quick; and the McLaren F1 did not disappoint. It is now more than 20 years old, but it remains the fastest ever naturally-aspirated production car, with a recorded top speed of 242mph. Only 106 of these beautiful cars were ever made, so the F1 remains one of the world's most sought-after autos.

8) Zenvo ST1
The marketing tagline '100% Danish Design' may not generally mean much in the world of cars, but the striking looks of the Zenvo ST1 are certainly something to boast about. It has performance to match, with the turbocharged and supercharged 7-litre V8 engine giving it an impressive 1,104 hp and an electronically-limited top speed of 233mph.

9) Pagani Huayra
The Pagani Huayra boasts classic Italian sports car looks and heritage, married with a Mercedes-AMG 5.9-litre V12 twin turbo. Its maximum speed is only around 230mph, but the Huayra has exceptional handling, as was demonstrated when it topped the Top Gear Power Lap leader board, ahead of its more powerful rivals.

10) Noble M600
Volvo and Leicester don't seem like a great combination for a sports car, but the Noble M600 shows that reputations can be misleading. The ultra-stylish M600 is built in Leicester and features a 4.4-litre V8 Volvo engine and twin Garrett turbochargers, which give it 650hp and a top speed of 225mph.

It's fair to say that most supercars aren't really built with comfort in mind, and to describe them as being impractical for everyday use might be understating the picture. However, when it comes to looks, speed and one-upmanship, there really is nothing to beat a limited edition high-performance car. As long as you've got the odd million pounds to spare, not just to purchase the car itself, but also to ensure the car has the relevant insurance cover.
Image of Bugatti Veyron Super Sport by Motor74