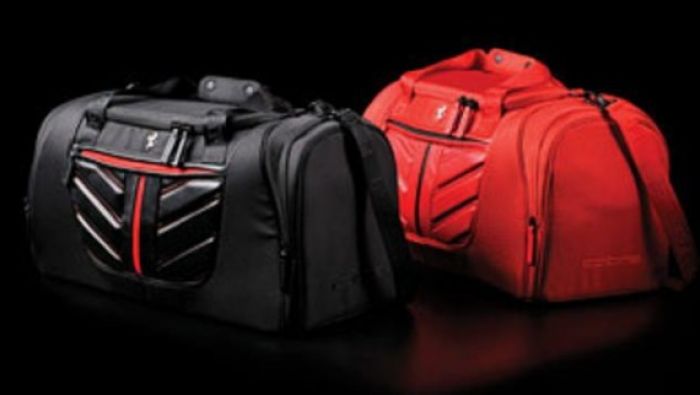 Ferrari Golf Collection
Luxury, performance and style are what the Ferrari brand has become so well known for. When we heard the Italian car company was working with COBRA Puma Golf on a luxury line of golf equipment, footwear, apparel and accessories, we could hardly wait to see what they had in store.
The Ferrari Golf Collection engineered by COBRA Puma Golf offers golfers everything they need in terms of performance while providing a sleek elegant design at the same time. We love the luxurious performance duffel bag crafted in Poltrana Frau Leather, the same leather used in Ferrari GT Cars. The bag takes the best of COBRA Puma Golf and combines it with the luxury of the Ferrari brand.
Inside, there is large main compartment with u-shaped opening along with a side shoe pocket with ventilated grommets not to mention a soft cotton lining. There is also an interior section for small items organization and key clip. The outside 1680 ballistic nylon bag features the signature Ferrari stitch detailing and metal Ferrari horse on the front panel and has a small items zippered pocket on the exterior as well.
We wanted a bag that was as comfortable as it was durable and the Ferrari performance duffel delivered both. The padded, adjustable (and removable) shoulder strap provided the support and comfort we were looking for. You can easily pick the bag up and ensure the items are packed securely with its dual tote handles and snap closure wrap.
Other accessories in the Ferrari Golf Collection include visors, belts, gloves and umbrellas while the apparel collection features polos, knits, jackets and pants. Don't miss the COBRA Ferrari Driver that delivers fast club head speed and exceptional distance.
For more information, visit www.ferrarigolfcollection.com.