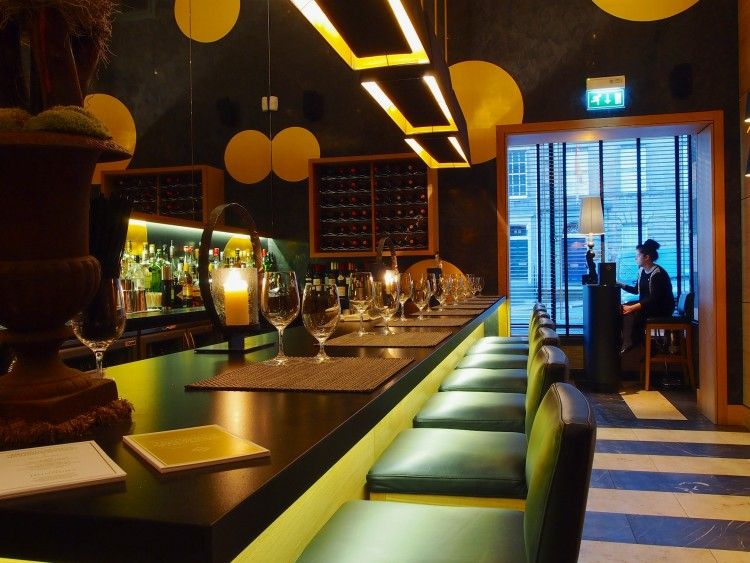 Columbia Hillen
Word has it that this Edinburgh cuisine landmark was once 'James Bond' actor Sean Connery's favorite eatery when Cosmo Tamburri ran his Italian restaurant here back in the '70s. Seeing satisfaction on the faces of diners in what is now The Honours, I'd bet it won't be long before it becomes so again, if it hasn't already.
Centrally located in the city, the brasserie - one of three eateries owned by chef Martin Wishart - provides a warm and welcome respite after a shopping expedition or a simple, meandering stroll along nearby George Street and its immediate environs.
Clients enter from the steeply-sloping North Castle Street into an intimate, cozy area comprising a simple reception desk and a well-stocked bar running almost the entire length of a side wall. Pre-meal drinks are served at comfortable soft seating in an open lounge area featuring turquoise and black leather seats. This allows guests the opportunity to have a leisurely read of the menu before entering the restaurant proper beside it. Small, delicate amuse bouche including mini-haggis and couscous bonbons ably tantalize one's appetite especially when accompanied by cool glasses of champagne. Facing difficulty with the menu, having left my reading glasses in my car, I was pleasantly surprised to be handed a second pair by our attentive waiter.
Established by Martin Wishart in 2011 The Honours' brasserie-like concept offers a marriage of the classic with the contemporary. The floor is of chocolate and butterscotch-colored marble and the ceiling, with its black abstract twig-like stripes, grants greater sense of depth to the internal space. The whole is enhanced by wall-length mirrors and delicate Parisian lamps. Subtle hints of gold set off this simple bi-color scheme. The Honours is a relatively new addition to Edinburgh's many eateries and its name resonates closely with Scotland's history and legend. It refers to the occasion when Sir Walter Scott — who lived nearby — uncovered the Scottish crown jewels, also known as The Honours of Scotland, reputedly the oldest such jewels in the British Isles.
Scottish produce dominate the menu with a generous variety of local fish including bream, lemon sole, John Dory and halibut as well as lamb, rabbit and beef. Shellfish include crab from Lough Fyne in the Highlands and scallops from the north-easterly Orkney Islands.
The atmosphere we enjoyed over dinner could best be described as relaxing and informal with a lively buzz of conversation in the air and a waiter/waitress service that, while observant, was in no way over-fussy or pestering. Subdued lighting and the restaurant's division into several separate discreet areas added to our overall sense of well-being, enhanced by soft background music.
Rillettes of port and duck, spiced prune chutney, cornichons and toasted hazelnut caught my eye on the list of starters, while my companion chose T-bone of Scottish halibut with garlic puree, pistachio pesto and bone marrow. Soft, smooth, with added nutty flavors spread on generous slices of warm, multi-seed bread, my starter disappeared rather fast, so fast I was able to indulge in a taste of my companion's. Bordelaise sauce with a very fine touch of green cilantro created a harmonious combination to the halibut.
Damp, chilly weather outside led us to opt for the more hearty fare on the meat and grill menu next. My fillet of steak was so tender a steak knife was simply not necessary while my companion's Presa steak of acorn-fed Iberico pork was an example of perfection attained through skill and simplicity. Instilled with a distinct grill-smoked flavour, without being overpowering, it was complemented by roasted cherry tomatoes on the stem. Even our vegetable accompaniment - glazed organic carrots come al dente, in a butter and lemon sauce - was tasty beyond words. Talk about not leaving one's carrots on one's plate.
A generous list of wines presented a pleasant challenge but Steven, the manager, was always ready to help. We decided on a 2006 Chateau Bel-Air Graves de Vayres which proved a delightfully complex addition.
Excluding the various ice creams and sorbets, the 7-item dessert menu is diverse enough to satisfy most palates, with delicacies ranging from pear poached in Demerara tuile to a luscious sundae featuring a rich mix of toffee and caramel ice cream, honeycomb and caramelized banana and pecan nuts.
Word of advice: Do keep time and belly space for the soufflé du jour - served as a little fluffy cloud pierced delicately with a spoon to allow decadent amaretto and coffee creme anglaise to ooze through. The pear sorbet that comes with it also deserves mention. It's as close as one might get to the embodiment of autumn pear flavour on a plate.
As well as dinner, The Honours offers lunch time and pre-theater meals. Further information can be obtained at http://thehonours.co.uk
Columbia Hillen
Columbia Hillen
Columbia Hillen