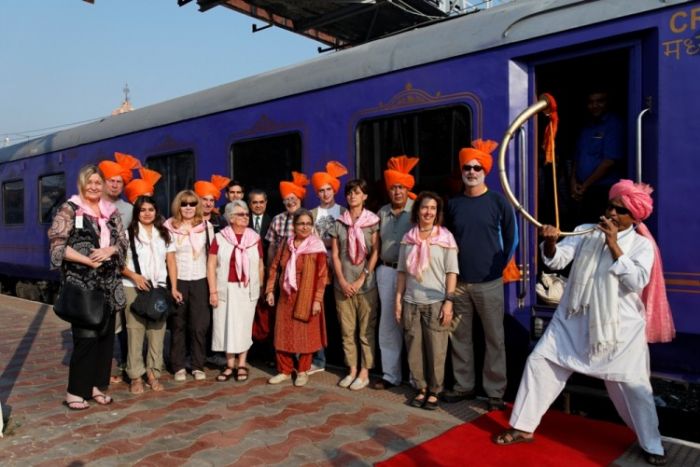 Summary:    Indian Maharaja, an Indian luxury train has gained a lot of popularity amongst the Indian and the foreign tourist too. You will be able to spend a quality time with your loved ones while being on the train.
If one talks about a royal travelling experience which you can cherish for a lifetime, then an option for it seems to be a journey on-board the Indian Maharaja, one of the luxury trains of India. This can be said as the train has got international recognition. The traveler is going to have an unforgettable regal trip. The journey of this luxury train stretches for 7 nights and 8 days. You are going to get a chance to pay a visit some of the most sought-after destinations of the country, namely Mumbai, Aurangabad, Udaipur, Sawai Madhopur, Jaipur, Bharatpur, Agra, Fatechour Sikri and Delhi. Along with visiting famous monuments, you also get to catch a glimpse of the exotic wildlife of the country.
The Indian Maharaja tour has 2 options for the traveler, that is ha to offer two journeys to you which are Delhi To Mumbai and Mumbai to Delhi. You can take your pick as per your preference.  Both these journeys are reverse of each other. Not only the journeys but also the interior décor of the train as well as the cabins are filled with a sheer opulence. Along with this, the traveler can also take pleasure in the warm hospitality of the train staff.
The Indian Maharaja train has in a total of  11 passenger cars, which are inclusive of  2 Presidential Suites  as well as Deluxe cabins. All these cabins have been designed in a tasteful manner and have wall-to-wall carpeting too.  Each cabin is not only well-designed but sufficiently equipped with air conditioned,  private bathrooms with toiletries, LCD TV, electronic safety box, Channel music, CD player, telephone and so on. Along with this, one can also avail medical facilities, laundry services, and WI-fi accessibility too.
Aboard the Indian Maharaja, there are two multi-cuisine restaurants that serve Indian as well as other European cuisines. The dining on the train is taken care by the Taj Group. There is a sitting lounge too where you can take some relax and unwind yourself after spending the day of city excursion. This luxury train also features a health club and a spa a too. That?s all for leisure, if you have some business to do, there there is a well-equipped conference car also, which consists of a computer, a fax machine, a printer, a telephone as well that can accommodate 50 guests.
Author Bio : Geetika Handa is a travel writer  who has an interest in sharing her experiences with all. She provides a detailed account of any travel topic she chooses to write on. You can get detailed information and tips about choosing the right kind of holiday packages in the country from her write-ups.