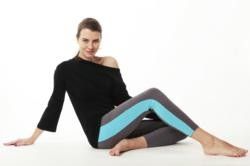 Prancing Leopard Organics
Since yoga is a fairly slow workout method, the athletic fashion being built around it is getting a lot of attention. You can find a good amount of people who actually wear the clothes in public and don't actually look terrible in them.
The move is on to yoga fitness clothing which is not only high-performance, but also fashionable and organic. And stripes are the style.
"Yoga is a celebration of life. Yoga and fitness clothing should express joy, taste and fashion - like our new striped Mandelieu Yoga Trousers." emphasizes Sevda Holland, founder of Prancing Leopard Organics. "But besides stunning style, customers are expecting more - like moisture-management, very high levels of comfort and cradle-to-cradle sustainability."
"The Mandelieu Trousers feature our cloud grey organic zeugma® cotton jersey. You can choose light blue stripes on the sides only, or in addition at the front for a more fashion-forward look," explains designer Sevda Holland, a graduate of the German Master School of Fashion in Munich. "The idea is to look great and feel great whether you are at the studio or out on the town." Read More