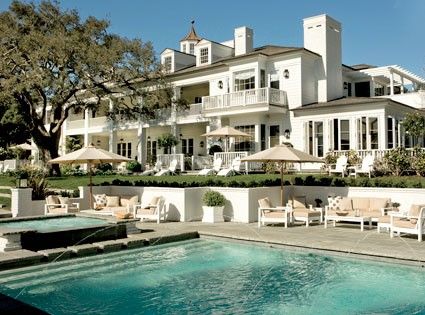 Everyone knows Hollywood as being home of 3 things; plastic faces, fast cars, and lavishly expensive celebrity homes. Some of the world's most renowned celebs call Hollywood Hills home, and their dream houses are enough to make Barbie and Ken jealous. But in the land where money is everything, how much did these celebs splash out on their dream home? Linens Direct takes a look:
The Osbourne's Mansion
The Black Sabbath and bat-eating rocker splashed out $10,000,000 on his family's home in the hills, which is famously featured on the MTV reality TV show, 'The Osbournes'. The TV show ran on the music channel from 2002-2006, and showed that money doesn't make family life any easier...
Ryan Seacrest's Hollywood Hills House
Ryan Seacrest, the presenter of American Idol bought film star Kevin Costner's old home from him in 2006 for the tidy sum of $11,000,000. This Hill's home boasts a lighted tennis court, pool house and lap pool. Is that all? 
Pink's Malibu House
Pop star Pink and her professional motor cross racer husband Carey Hart bought their mansion in the hills for $11,800,000 to make room for their new daughter Willow Sage Hart. Their nosey neighbours include Matthew McConaughey.
Howard Stern's Long Island Home
American TV and radio personality turned actor, author, and photographer Howard Stern paid $15,000,000 for his oceanfront mansion. With three levels containing 8 bedrooms, 12 bathrooms, and the standard bowling alley (who hasn't got one?), Howard's many talents must be paying well.
Dr Phil's Hills House
Psychologist to the stars Dr Phil spent his client fees on a $16,500,000 residence with a formal dining room and two-bed guest house, theatre, gym and super-luxe master bed. He must enjoy a lot of company! 
Beyonce and Jay-Z's Private Island
Not quite a house, but Beyonce can't complain as for her 29th birthday she received a $20,000,000 present in the shape of a private island only accessible by yacht or helicopter from her loving hubby Jay-Z. Measuring 12.5 acres, the island is located in the Florida Keys.
Arnold Schwarzenegger's Brentwood House
The Terminator star and 38th Governor of California splashed out $23,500,000 on his marital home, found back on the market following his divorce. The house boasts 10 bathrooms, 7 bedrooms, spa and pool, tennis court, and a duck pond with natural stream.
Billy Joel's Beach House
The Piano Man and Uptown Girl singer snapped up his beach house for a steal at $35,000,000, with its contemporary onyx, stone and glass composition, hand carved fireplace and onyx studded bathrooms. No longer a downtown boy are we Billy?
Hugh Hefner's Playboy Mansion
The Playboy himself High Hefner spent just $54,000,000 on the infamous party palace with its 22 rooms, tennis courts and swimming pool, waterfall, aviary and zoo, and to seal the deal a pet cemetery....
Oprah Winfrey's Oasis Mansion
The third most expensive home belongs to American talk show queen Oprah Winfrey, who splashed out $85,000,000 on her home boasting just 6 bedrooms, and 14 bathrooms, 10 fireplaces, luscious gardens, and a lake of exotic fish.
Bill Gates's Xanadu 2.0
The second most expensive home belongs to renowned Microsoft creator and tech genius Bill Gates, who spent $147,500,000 on his high tech home complete with automatic room temperature, music, and lighting adjustment system, based on his guest's preferences.
Aaron Spelling's Spelling Manor
And the top priced Hollywood celebrity home is that of late TV producer Aaron Spelling, which was built in 1988 to his specifications. It sold in 2011 for $150,000,000, and was purchased by Petra Ecclestone, daughter of Formula One tycoon Bernie Ecclestone.