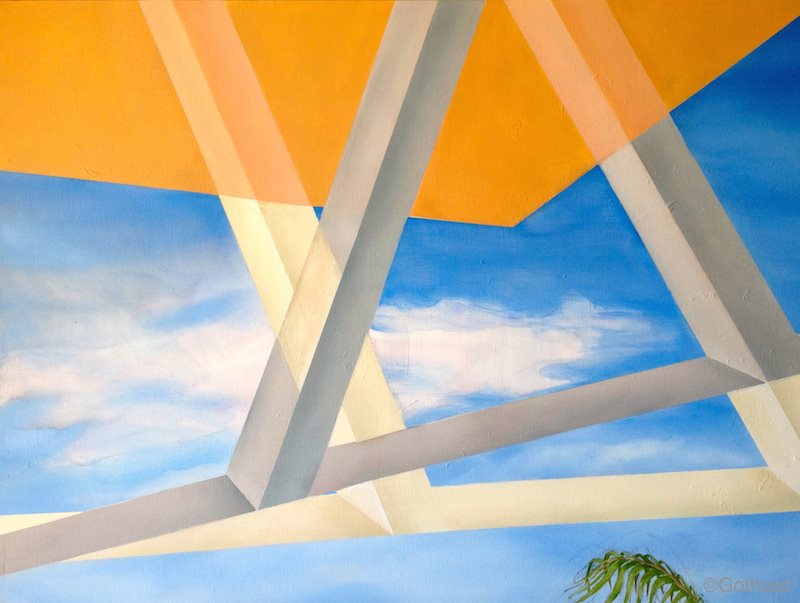 Photos Credit: Barbara Gothard
With a lifelong passion for the arts, mystical-urrealist painter Barbara Gothard's career has been in full force. Gothard has has shows both in the U.S. and internationally, her most recent being at the Galerie-Métanoïa in Paris. Based out of Palm Springs, California, Gothard's work is reminiscent of Dali and De Chirico. One can also see influences byHieronymus Bosch and Magritte, with each piece representative of her imagination and her desert surroundings. Her environment is encapsulated in dream-like states, while subtle subjects offer viewers varying perspectives. Gothard's surrealist style and bold paintings are opportunities to change your perspective and shift your focus, without moving an inch.From her time in school to her years traveling the globe, each endeavor influences Gothard's career and takes her work to the next level. Barbara Gothard took time out for her busy schedule to tell JustLuxe about her pieces of the past, current projects and what we can see in the future.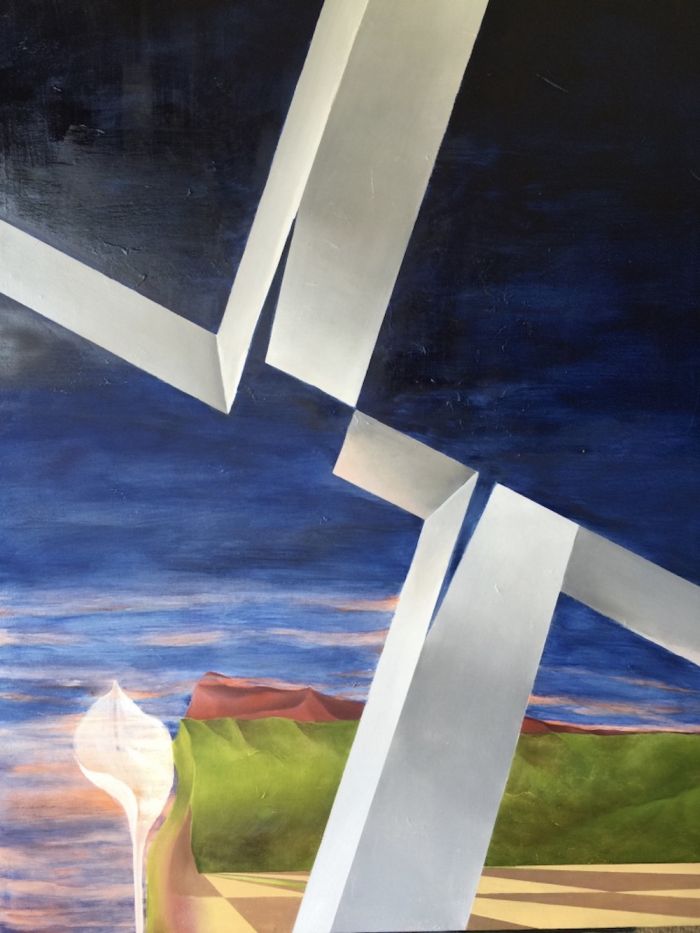 When did you start working professionally as an artist?
My work as a professional artist began initially after I finished college, which I refer to as Phase 1 or before children. And, not unlike many women, my full-time art career was postponed until 2008 whenStage2 began.
What has been your main impetus to work as an artist?
My impetus evolved in an intangible way as a means to communicate some of my innermost thoughts visually rather than through the spoken word. I was very fortunate that my mother not only recognized my budding ability but also took steps to encourage me by enrolling me in Saturday morning art classes when I was in the second grade. This creative drive has been an integral part of my life ever since, although the degree to which I was able to implement it was dictated by family and business circumstances.
After making the decision and commitment to return to my art, I was confronted with and viewed the prospect of losing all of my possessions due to a combination of molds and asbestos exposure following rain storms and dealing with the uncertainty surrounding my son's liver transplant operation — not as a tragedy but as an opportunity to refocus the way I approach and confront each blank canvas with a new kind of urgency, courage and excitement - all at the same time. With these drivers, the natural (metaphoric images) evoke contrasts with the abstract (confronting the viewer by their interdependence) I draw directly onto the canvas, watching the shapes and colors evolve and change as the dynamic of the contrasting elements take shape. This unfolding mystery of complex spatial systems is what compels me to continue painting, anticipating viewers' responses to the concept of dramatic challenges of change infused with great expectation.
The impetus is also driven by a commitment I made to myself to return to my art, to be as productive as possible and to share my art as widely as possible.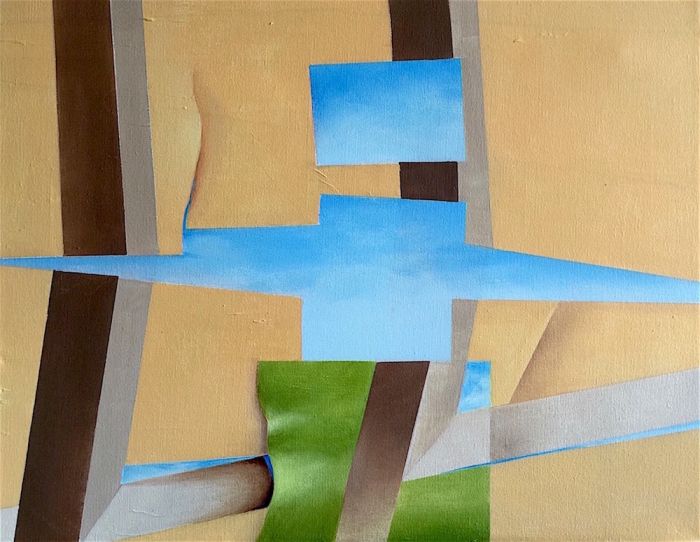 Who are some artists that influenced you?
My historical influencers: Hieronymus Bosch with "his use of fantastic imagery and placement", the Dutch Masters and Vermeer in particular with" ...his masterly treatment and use of light."Gustav Klimt and his"elegant and decorative elements", Georgia O'Keeffe and her "contoured forms that are replete with subtle transitions of varying colors", and Magritte, "his ability to place ordinary objects in unfamiliar spaces…", my inner vision as an artist is set against this backdrop.
How would you describe your artwork?
The focus of my artwork is the concept of expansion. Expansion of the visual space within the canvas, expansion of the principles that guide my creative process - moving from a more retro-surrealistic approach, expansion of my color palette from a minimalist color scheme to colors that are more reflective of my current environment, the desert, and placing of the organic with the abstract to result in a contrasting effect. I want viewers to be challenged by the reality they see — or think they see. Mystical Realism, the concept of real and existing, may be a term to describe my artwork, which incorporates dream-like metaphors into what at first appear to be realistic settings or images.
I'm inclined to create my artworks as a series of complex paintings and prints which enables me to pursue a method of investigating and contrasting realism-versus-surrealistic visual concepts in order to 'peel back layers' of metaphoric meaning for the viewer. The source of my creativity and inspiration - the concept of the impermanence and ever-changing aspects of life - creates the energy that facilitates seeing the way the artworks start to come alive. I let the artworks take me in new and unexpected directions, often resulting in unanticipated happenstance due to the use of the thin application of multiple layers of color.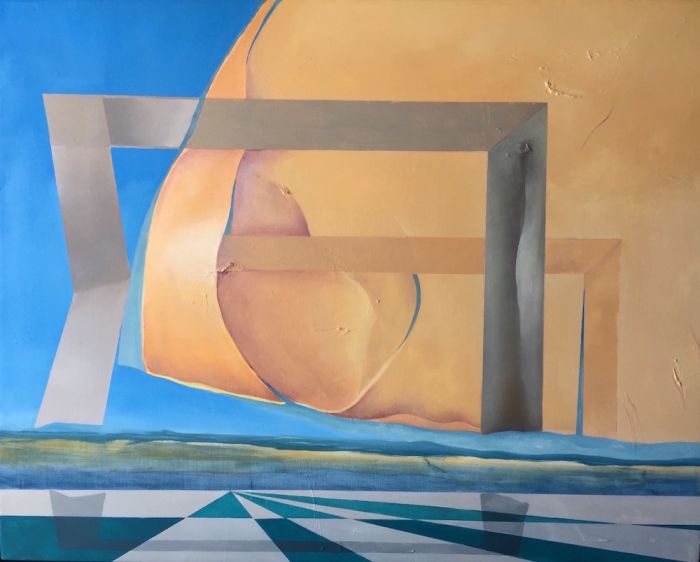 Do you feel your works tell a story?
Yes, but perhaps not in a traditional or literal sense. The "story" is about the options we have in life. In spite of the contradictory elements in my work, my artworks have been described by viewers as strangely peaceful. There is always an element of hope, which is often represented by the openings in the sky, windows or the more organic elements in the artwork. Since each series of work evolves from the previous series, I have the opportunity to convey the story of how or what triggered the evolution.
You've traveled quite a bit in your life, do you feel that's influenced your work?
I've been very fortunate to have lived and worked in various cultures throughout the world so I'm sure I've been influenced directly and indirectly by those experiences and the people I met. The universality of the importance of hopefulness and being adaptable to change in some of the direr circumstances I've seen and by the people I've met, influences my artwork. I've also been influenced by the simplicity of some of the design elements used by other cultures, which often resemble the same kind of spatial elements I try to create, and which supplemented their storytelling. Increasingly, I realize that some of the colors from those designs are creeping into my palette.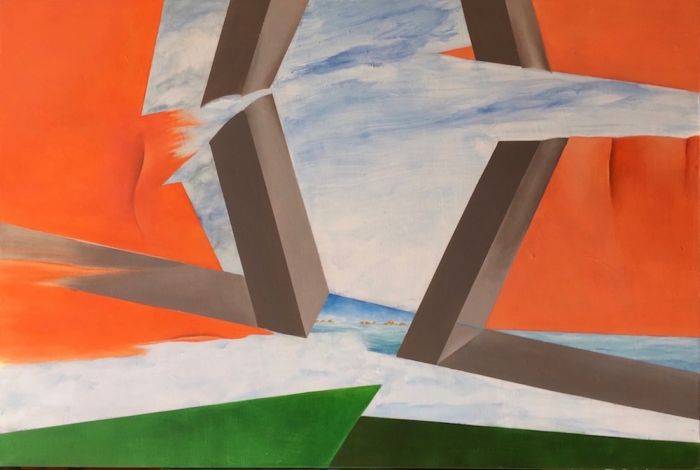 What would you like viewers to take away from your art?
That I've succeeded in making them think about what they saw, what it might mean and not just look at the artwork as purely decorative. When I see viewers return two, three or more times to take another look at my artwork I feel that I've connected with them in some way and that they are thinking about what they're viewing. I know my artwork can be challenging for some viewers, but my hope is the takeaway for these viewers is to appreciate that they were exposed to a different, and perhaps, new way of thinking about art. And lastly, I would like for viewers to recognize the optimism in my art.
How do you feel your art has changed throughout the years?
Not unlike other artists, my work has evolved from more traditional, nearly life-size figure, photo-realistic work to experimenting with abstract expressionistic images and evolving into a more Surreal approach. As the figurative paintings began to feel too personal I simultaneously began expanding the patterns I used in those earlier paintings into geometric architectural shapes with more dimensionality, expanding the space, and opted to incorporate flowers or other organic images. These were the precursor to my work today.
Additionally, my work today is also informed by my practice of Nichiren Daishonin's Buddhist philosophy in the Soka Gakki International-USA. When I've commented that my art is autobiographical but not in the sense of the realistic representational images, my work is greatly influenced by my everyday circumstances and experiences, which is where the hopefulness amidst conflicting elements comes into play and the joy I experience in the process. Perhaps the best way to convey this is one of my favorite quotes from Daisaku Ikeda, "When we create or appreciate art, we set free the spirit trapped within. This is why art arouses such joy." This sums up my essence as an artist — my art gives me great joy.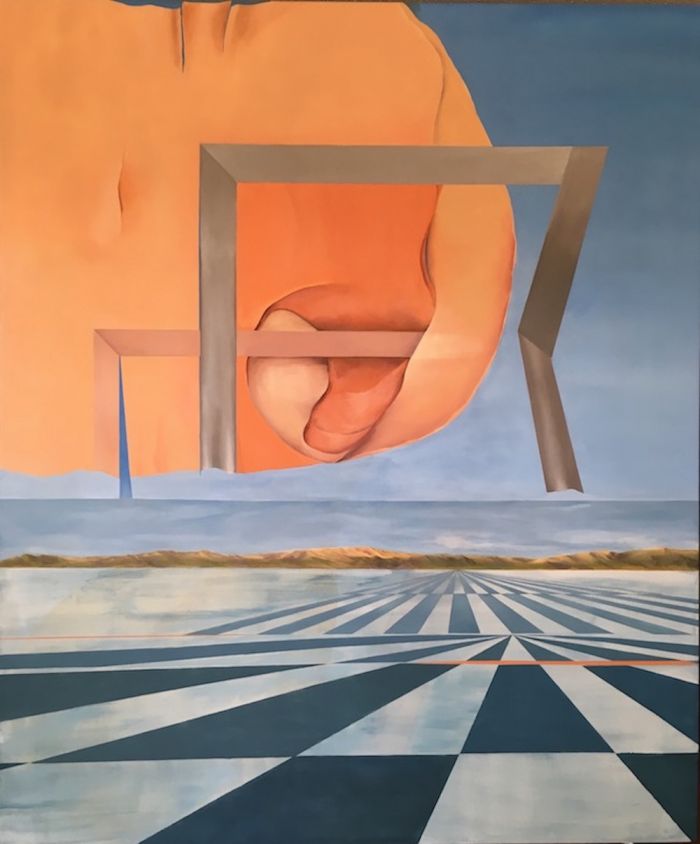 You have some current exhibits. Tell me a bit about those.
My work is in two exhibits currently and another exhibit which will open on November 4.
Palm Springs Art Museum 2016 Artists Council Exhibition
The Palm Springs Art Museum 2016 Artists Council Exhibition is the 48th annual juried exhibit of artworks by Artists Council Members at the Museum. This year's exhibit consists of 44 works of art submitted by 169 members. The jurors were Gerald Clarke, Jr., of UC Riverside Fine Arts Department; Susan Goodman, member of the Palm Springs Art Museum Board of Trustees and avid collector; and Philip K. Smith, renown installation artist. Quantum Leap is my oil painting from my 2016 Expansion series that was selected for the exhibit. The Expansion series evolved from my Hurdles series and focuses on the expansion of space and how the hurdles break up within the canvas, challenging the principles guiding my creative process, and my color palette.
The exhibit opened to the public on October 1, the Awards Ceremony and Reception is scheduled for October 29 and the exhibit will close on November 27. For over 50 years the Artists Council, which currently has 400 plus members, supports artists, the visual arts, and Palm Springs Art Museum. The Council thrives in a culture of learning and engages in arts activities, including exhibitions, networking opportunities for members, and educational programs designed for members. I've been a member of the Artists Council Board of Directors since 2013 having served as President-Elect, President, and now Past President.
Metamorphosis
I was invited to exhibit in Metamorphosis, the current exhibit at Joshua Tree Art Gallery (JTAG), Joshua Tree, CA, featuring eight regional artists. The exhibit is from October 8 to November 2. JTAG is a co-operative fine art gallery formed ten years ago to feature work by artists in the high desert. On occasion the JTAG artists identify and invite non-members to exhibit. This is third time I've been invited to exhibit.
My work in this exhibit consists of four 2016 paintings in my Expansion series. including Expansion No. 3, Expansion No. 4, Expansion No. 6 and Expansion No. 7.
It is the fascinating power of the artist . . . (vol III)
It is the fascinating power of the artist . . . (vol III) opens on November 4 at Galerie-Métanoïa in Paris, France. This is a collective show featuring me, Denis Lefevre, DUP, Oleg Gorbushin, Chloe D. Brocard, Ha Chaliah and Paul Jolicoeur. The theme is based on a quote by AndréMalraux,"It is the fascinating power of the artist to suggest, by his creations, that which inevitably escapes the eyes of the living." This international collective of artists share key principles about the spiritual nature of art via diverse forms but are consistent with the centrality of art as contemplative practice. Each artist seeks to express truths about human experience through their work in a way that inspires artists and viewers alike.
My work in this exhibit includes a new series of mono prints. I returned to the printmaking process earlier this year. The process has afforded me the opportunity to create with more spontaneity than in my oil painting process. I challenged myself to create a similar sense of depth of spatial dimensions as exists in my paintings, to lead the viewer beyond the surface of the print primary with color. The unanticipated benefit is the way this is making its way into my new series of paintings.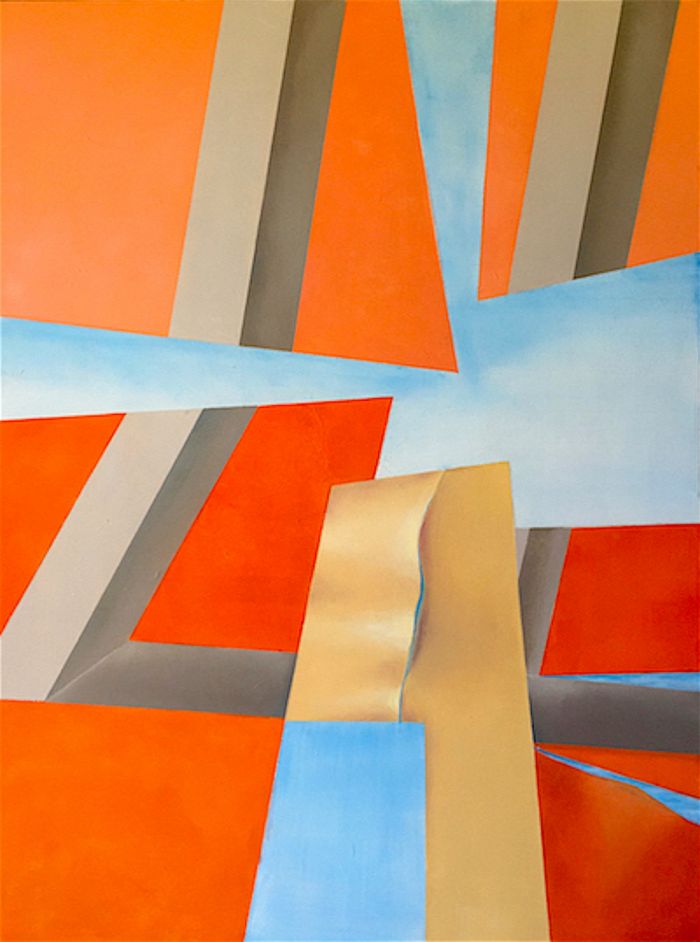 Where can people view your works?
I am currently represented by Jorge Mendez Gallery in Palm Springs, CA, Galerie-Métanoïa in Paris, France, via ArtSlant, Artsy, and my website, barbaragothard.com.