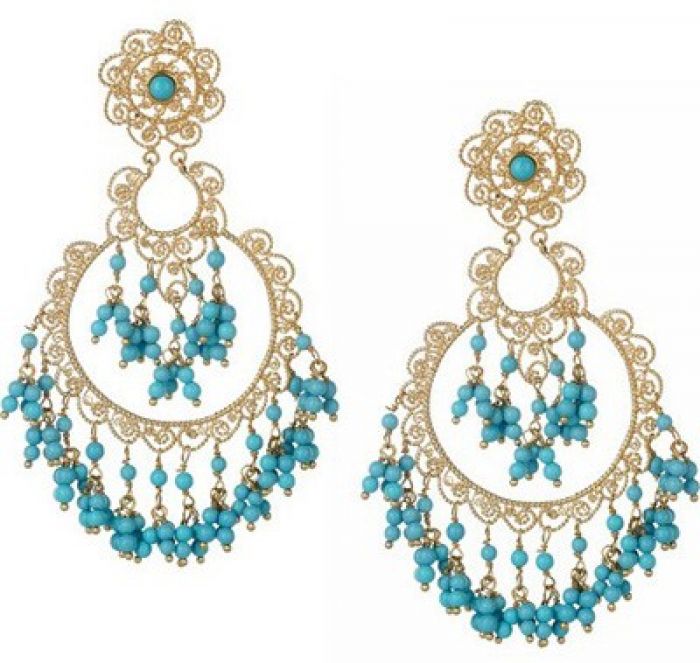 Net-a-Porter
The Perfect Chandelier Earrings: Sultana Bali Earrings by Isharya at Net-a-Porter
I've been on the quest for the perfect chandelier earrings for what seems like ages. In fact it's only been a few months, but my coveting reached fever-pitch in December when I fell in love with a pair of Ms Taylor's delicate seed pearl earrings during the sale of her iconic jewellery collection at Christie's New York. Sadly, not even her smallest item of costume jewellery was within reach of my credit card, though I'm thrilled with my bidding paddle as a souvenir (erm, sorry Christie's, I couldn't resist) and continue to lust after the images in the gloriously produced five-box catalogue set.
Post sale-of-the-century, perhaps not unsurpsingly every prospective piece I've looked at in London and online has fallen short of the mark, too cheap in quality if not in price. I'm in Marrakech at the end of the month and should hold out for some souk finds, but when I saw these Sultana Bali Bollywood-inspired filigree earrings by Isharya on Net-a-Porter I knew they had my name on them.
Half price in the January sale, at £120 they're still not an unconsidered purchase, but for me their quality and attention to detail makes them worth paying the extra. Hand-made in Thailand, they're intricate, yet feel solid without being too heavy and don't pull on the ears. The beads are synthetic turquoise, set in 18k gold plate, and they're a good size and drop (4.5cm wide x 8.5cm) without being overpowering.
They're my first purchase from Isharya (founded in 2004 by San Francisco-based jewellery designer Radhika Tandon and her Bombay-based sister-in-law Gauri) but a quick online search of other styles in the range tells me they won't be my last.
They've also inspired me to revisit Thailand, as well as digging out some handmade pieces I bought in Bali (including a particularly wonderful handmade silver lizard brooch) when we lived in Singapore in the late nineties, which I'd completely forgotten about. So many of our possessions are still in boxes after countless flat and several house moves, but I know they're here somewhere and now I won't rest till I find that lizard.
Follow LuxeGuru on Twitter: @LuxeGuru
Net-a-Porter
Isharya Sultana Bali Earrings Detail
Net-a-Porter
Isharya Sultana Bali Earrings Side