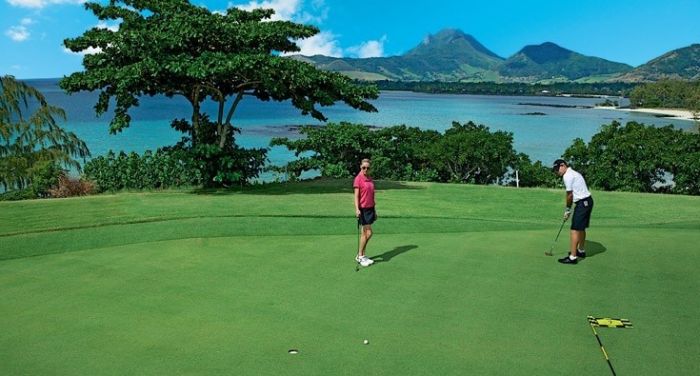 Photo courtesy of Sun Resorts
The Perfect Family Golfing Holiday
You love golf; you love holidays in the sun. You want to take some time off work to relax, doing what you do best, which is golf, obviously. This time you want to take the family with you – which may seem counterproductive – but you really want a perfect family holiday where you can enjoy the sun and play golf.
Though golfers can be myopic in pursuit of their pastime, they can also be responsible family members. So is there any such thing as the perfect union of golf and family holiday – or is it simply a case of you can't please all of the people all of the time?
After all, there are lots of beautiful golf courses around the world – but somehow for non-golfers the holiday experience can be a little lacklustre back at the hotel.
It is a shame that any disappointment should happen while on a happy family holiday. But this is golf and like many sports it is all-consuming. Both the hotel and the golfer will need to be on their A-game if they are to save the day.
A Great Destination for Families Who Love Golf
Recently two Pro-Am golf tournaments stood out, both taking place on Le Touessrok golf course in Mauritius, illustrating what it takes to deliver the perfect golfing family holiday.
The Long Beach & Air Mauritius Pro Am and the Standard Bank Mauritius Open in connection with Le Touessrok 5 star resort showed how a flawless golf course and a faultless hotel go hand-in-hand.
A winning team led by Wallace Booth struck a blow in the second round of the Pro Am with ​​a great individual score of 67 (5 under par) with two successful eagles. All the pro players who competed that day were full of praise for the wonderful golf course.
"I played well, but I'd also like to thank the members of my team with whom I spent two wonderful days," said Wallace Booth, who hails from Perthshire in Scotland. "I also thank the tournament organisers who helped ​​me discover an absolutely beautiful course on Ile aux Cerfs."
So What Makes a Good Golf Course?
A good golf course should be in great condition with well-maintained fairways and greens with interesting features. Every hole should possess unique factors, a combination of great scenery and well-worked contours with strategically created traps that make good use of the natural terrain, and allow for several options of approach.
Bernhard Langer designed Le Touessrok course in 2003 and had this to say: "What I have aspired to create is a golfing experience that truly arouses all the senses. From the amazing natural setting to the challenges presented by the course, I want it to be a game to remember for all who play."
The Ile aux Cerf is a small island on the east coast of Mauritius that houses Le Touessrok Golf Course. The 18 hole setting allows the course to snake through mangrove forests, hugging the coastline and leapfrogging volcanic outcrops and tidal pools while white sandy beaches flank impressive green fairways.
This is no walk in the park – Langer designed the 18 hole, par 72 championship course to challenge top players and provide recreational players with an exciting experience. Standout holes are the 9th,where those with ambition should hope to make the green in two, and the 18th, requiring a precise drive with a long iron over the hazard to reach home.
Of course you don't want to play on a course that is overly difficult to read, leaving you scratching your head at every tee. Tricked-up holes that are difficult for the sake of being difficult is not what this sport is all about. You want clear options so that however slender the margin of success, good decision-making is ultimately rewarded.
Sometimes, as the sun sallies forth between the trees, all of your tension is placed on hold as you recognise just how beautiful this island paradise truly is. The natural character of the Ile aux Cerfs has been retained by Langer. It is an essential ingredient that reminds you how special life can be – which at the end of the day is what it is all about.
What Makes a Great Golf Hotel?
It is said by those in the business that s hotel should resemble a duck; all graceful on top while underneath it is paddling away furiously. A five star resort must offer choice and no matter you want to do, will act as your invaluable best friend, pointing you in the right direction and continually providing services with an ease that is simply not possible elsewhere.
The fabulous five star hotel Le Touessrok achieves this effortlessly by fusing contemporary style with traditional values of service. The spectacular views across Trou d'Eau Douce Bay remind you daily that Mauritius is an exclusive holiday destination.
Alternatively you may be tempted by the Long Beach five star hotel which has received the award for 'Best Luxury Hotel for Families' at the recent World Luxury Hotel Awards. Created around a central piazza where it nestles on a white strip of idyllic coastline, every room at the Long Beach has an ocean view you will want to write home about.
Both hotels have excellent resources to offer. There are a multitude of different swimming pools and restaurants, as well as tennis courts, a climbing wall, a five-a-side football pitch and facilities for archery, not to mention kids' clubs to keep the children active.
Out on the water there is a lagoon perfect for those who wish to snorkel and get up close and personal to the marine wildlife. To add to this there are also extensive sailing and scuba diving facilities to take advantage of.
How to Achieve Golf Nirvana
If you are intending to take your family on a golfing holiday then the resort has to rival the golf course and the golf course must rival the resort. No one should feel short changed by the experience. Most tellingly, the best golfing holidays reside in the memory; these are the ones that stay with you for months or years afterward.
You will remember them as you lean back in your chair at work and revisit the past glories of that day on the sweeping tropical fairway on the Ile aux Cerfs. You see yourself studying the encroaching trees, the disguised dog-leg and feeling the tug of a breeze on your polo shirt from the south-easterly trade winds.
You will be reminded how you celebrated over dinner on the beach against the setting sun and the Indian Ocean. The location, the love of the game and the perfect company of your family all fused into one. It is only then that you realise this is as good as it gets.
Photo courtesy of Sun Resorts
Water hazard at Le Touessrok
Photo credit Ilse Reijs and Ja
Scuba Diving: One of the aspects of a perfect golf hotel.