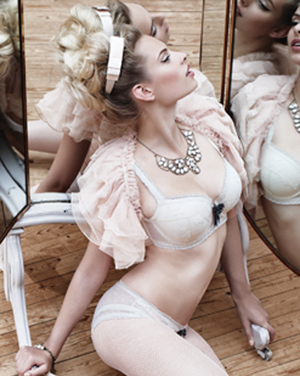 http://www.madameliberty.com
Early Origins
Lingerie was first designed in 19th century London as an overdue reaction to the bulky and constricting corset which had plagued women for centuries. These new undergarments were lighter, more practical, and (the greatest revelation of all) they were designed to be seen.
This liberating development meant that a whole new industry erupted as corsets got lighter and less cumbersome, and eventually they were replaced by Bras or "Brassieres" which were more comfortable and pragmatic. With the outbreak of World War I there was a greater need for more practical undergarments as women took on more masculine roles to fill in for their departed male counter-parts.
More Than Just Practical
After the Second World War various European designers began to improve on the structure, making it more complimentary to the female form and from more comfortable fabrics. By the mid-1900s lingerie producers began to challenge the public's perception of underwear as a more glamorous and fun extension to women's wardrobes; designer lingerie was born. These designs included matching sets with intricately embroidered designs, colourful and vibrant patterns (as pictured), and more form-fitting cup shapes to provide that quintessentially 1960s "cone-shape" which provided a stylised portrayal of youthful femininity. These creations were now more than merely "undergarments" they were becoming part of something great, a representation of female independence and expression.
Lingerie Becomes Art
As the market matured and the Womens' Liberation Movement simultaneously shifted into gear, the previous taboos and social constrictions placed on women were lifted and the 60s brought not only a sexual revolution but one of design too. Underwear was now meant to be seen and enjoyed and consequently received a new wave of innovative designs, moving away from the larger more practical brassieres and briefs to what we now know as designer "bra and panties" which were bought as indulgences.
Liberating Design Meets Big Business
By the end of the 20th century, liberating designer lingerie was no longer an indulgence exclusive to the wealthy: it had become a worldwide market worth $29 billion enjoyed by millions of women. The perception of lingerie had transformed into an expression of female confidence and control, and vast retailers such as Victoria Secret, Triumph International, and DB Apparel dominated the mainstream designer lingerie space. Additionally, French and Italian design houses such as Chantelle, La Perla, and Aubade began to establish distinguished niches for higher-range sets whilst smaller more dynamic online companies such as Madame Liberty, have blossomed in the early 21st century as this immense market matures.
Image Credits: MadameLiberty.com
http://en.wikipedia.org/wiki/F
The Original Brassiere
http://gamefowlsport.tumblr.co
1960s Underwear
http://www.madameliberty.com/b
Designer Lingerie is Big Business