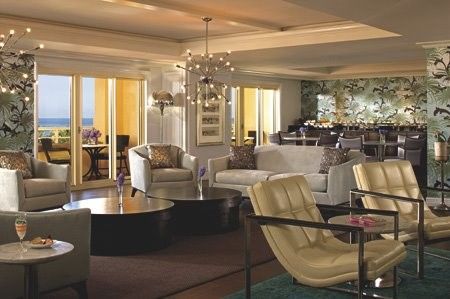 Ritz-Carlton Palm Beach
The Ritz-Carlton Palm Beach has recently rolled out the red carpet for the Eric Villency club lounge, the final glamorous and swanky stage of the property's recent transformation.
The lounge was designed by Villency, a legacy furniture artisan and designer from New York, who has captured the essence of mid-century Palm Beach chic while collaborating withfamed textile designer, Wook Kim. The result is a fantastic Palm Beach mystique design complete with monkeys in the custom wallpaper.
Villency was commissioned to refashion the resort's 2,000 square foot Club Lounge, as part of the continuing repositioning and redesign of the luxury hotel. Known for his fashion acumen and impeccable style, Villency and his design team brought tony and glamorous swagger to Palm Beach, capturing chic mid-century Palm Beach sensibility in a modern day interpretation. His design embraces a variety of details, from the cocktail lounge vibe to the decorative elements, such as custom-designed wallpaper murals and Carrera marble bar tops.
In addition to designing and creating the custom furnishings, Villency and his team captured touches of sophistication in their retro Palm Beach look, with an exclusive custom-made tufted bar featuring vintage serving ware, sassy light fixtures, and posh dining chairs.
The beautiful color scheme was selected to reflect the Palm Beach lifestyle; light aqua blue and Kelly green hues reflect the tropical South Florida beaches, with sunny highlights of yellow, brown from the palm trees and tan from the sand. The daytime joie de vivre is bright, sparkling with a cool hue of silvers and pale blues, while the evening ambience warms up with a simmering palette of gold, amber and creams.
In addition, the sofas and chairs here are all made of sustainable and eco-savvy materials--soy foam instead of petroleum based foam (which has naturally occurring fire retardant characteristics) and recycled steel. The wood is reclaimed from the Cape Fear River in North Carolina where hundreds of years ago logs fell off logging barges and are now being salvaged and used.
The Club Lounge is available to hotel guests who book rooms and suites on the Club Lounge floor and is open from 7 a.m. to 10 p.m., offering complimentary food and beverage throughout the day.
For more information, visit www.ritzcarlton.com/resorts/palm_beach.
Ritz-Carlton Palm Beach